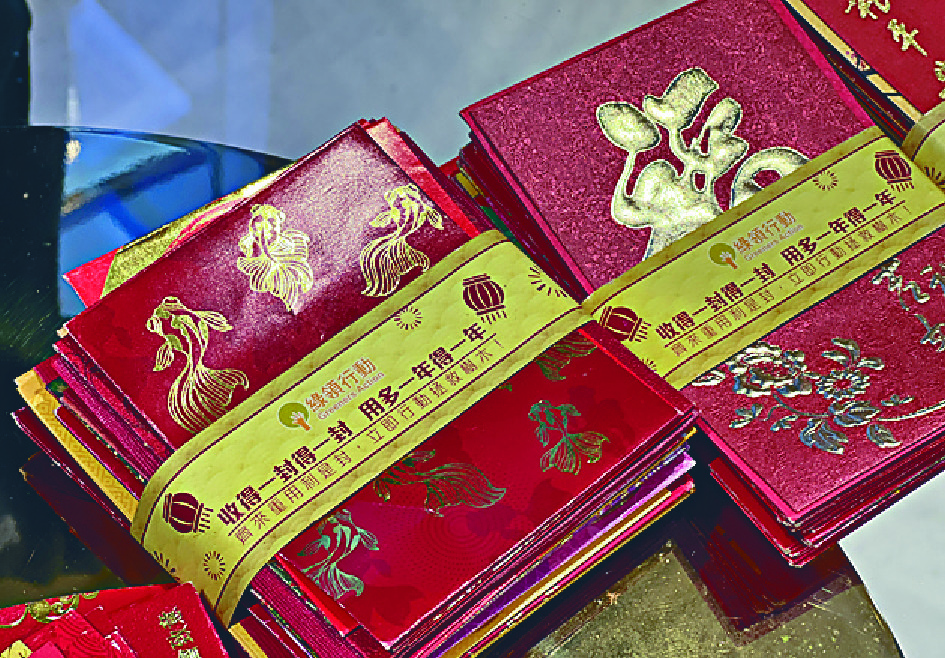 Green group hands out nearly 2 million recycled red packets
About 1.96 million recycled red packets were distributed by a green group before the Lunar New Year - the first time demand exceeded supply because people resumed festive gatherings to welcome the Year of the Rabbit and needed more packets than in the preceding few years.
Angus Ho Hon-wai, executive director of Greeners Action, said people used fewer packets printed with names or particular years, which meant that those free of identification could be recycled.

People can drop off used red packets at more than 300 collection points across the SAR, including at 50 Sa Sa stores and 41 Shell stations, until Monday.

Since the launch of the lai see recycle program in 2009 the group has collected 67 million red envelopes weighing 235 tons. That tally is reckoned to have saved 3,257 trees.

After repackaging 1.96 million reborn red packets were given out from January 9 to 21 this year. That outnumbered the 1.91 million the group prepared originally.

Ho said the easing of the pandemic rules and people's increasing desire to visit relatives and friends resulted in the better-than-expected demand.

He appealed for people to make a final effort to collect the packets before the deadline, and with that message was a reminder not to fold or damage them and to avoid those that include Chinese zodiac identifiers and family or company names so they can be reused.

The expectation is that more than eight million used red packets will be collected this year.

Cosmetics chain Sa Sa, which joined the program in 2014, has already collected nearly 800,000 red envelopes this year.

And executive director Melody Kwok Sze-wai believes the collection will be close to or even exceed last year's figure of 899,769 considering the number of days to go before the collection period ends. "The public's awareness of recycling has been increasing, and some stores have collected more than 100 kilograms or more of red packets," she said.

Kwok also said Sa Sa halved its own lai see packet production volume in 2020, and Chinese zodiac designs and references as well as adhesive flaps had not featured since 2015 to make reuse easier.

SF Express this year also collaborated with Greeners Action, launching a lai see packets distribution service via more than 900 SF Lockers across the SAR. Nearly 80,000 packets went from the lockers during the distribution period.

A total of over 880,000 were dispatched together with the regular delivery services.

The delivery company is also willing to explore the future expansion of support recycling, such as placing recycling bins at SF outlets.

A woman named Lee said she has donated more than 40 red envelopes this year and also taken non-recyclable envelopes to waste paper recycling points. The program is meaningful, Lee said, and she will recommend it to friends to promote recycling.