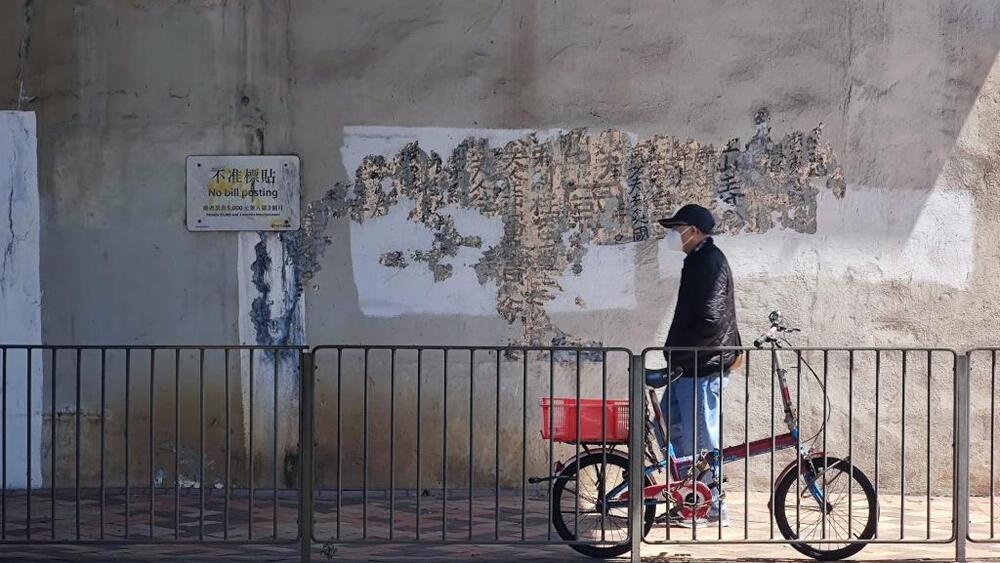 Graffiti by 'King of Kowloon' resurfaces after paint peels off in Mong Kok
Graffiti of the late Tsang Tsou-choi, dubbed the "King of Kowloon", once more see the light of day after paint peeled off a wall underneath a railway bridge in Mong Kok.
A team "When in doubt" posted recently that its members found a piece of artwork from Tsang, who shot to fame after his death, while taking a walk under the bridge on Boundary Street.

The graffiti could be found in its entirety on the Google Arts & Culture website, before the government covered it with paint back in 1997.

In response to media, the Leisure and Cultural Services Department said it would send staffers to the scene to assess the situation.

The self-claimed "King of Kowloon" had said Kowloon City was given to his ancestors as a fief before it was ceded to the United Kingdom during Qing Dynasty.

Dissatisfied with the government's occupation of "his" land, Tsang began to file petitions in 1956 and paint graffiti around town to declare his "sovereignty". Due to his unique style, the graffiti became widely known among Hongkongers.

His graffiti was included in the exhibition of the M+ Museum "Hong Kong: Here and Beyond".

His works were also auctioned after his death in 2007 at the age of 85. In 2009, his ink on woodboard and chromogenic print and a photograph of him in action with Lion Rock as backdrop sold for HK$212,500 in a Sotheby's auction, against an estimate of HK$20,000 to HK$30,000.