From Monday, everyone seeking entry to public buildings including libraries, government offices, wet markets must record their visits with the app.
Three government employees were among five people arrested on Monday for using fake versions of Hong Kong's coronavirus contact-tracing app on the first day its use became mandatory to enter public buildings, the Post has learned

Two of the suspects were Immigration Department staff, one was employed by the Audit Commission, and the other two were contractors working on site. They were held on suspicion of using false documents, an offence that carries a maximum sentence of 14 years' jail on conviction.

Officers were called to Immigration Tower on Gloucester Road shortly before 9.45am after four men and a woman were intercepted at the entrance of the department's Wan Chai headquarters. As of 12.30pm, the five were being held for questioning and had not been charged.

Restaurants have previously reported instances of their workers being shown screenshots of the "Leave Home Safe" app as part of fraudulent attempts by members of the public to bypass Covid-19 rules. Imitations of the risk-exposure app can also be found online for download, including one named "Back Home Safe" which is designed to help users trick their way into venues.

Chief Secretary John Lee Ka-chiu said it was unacceptable for civil servants to try to avoid using the official app, adding they would be dealt with in accordance with the law.

"It is not right of some people to use certain methods to break the rules. If it involves civil servants committing a criminal offence, then it is even more unacceptable," Lee said.

"I hope everyone can understand the measures we have taken are to reduce public health risks that could affect all of us."

Without mentioning the suspected involvement of two officers, the department said someone had been denied entry to Immigration Tower while trying to use a fake app in an attempt to enter.

A spokesman said the department would not comment further on the case as police were investigating.

The department said it attached great importance to the conduct of its officers and would act in accordance with the law and standard procedures if any personnel were found to have broken the law.

Under the new regime, people must use the app if they want to enter public buildings, including wet markets, government offices, health clinics and leisure facilities.

Exemptions apply to young children, the elderly and people with disabilities, who will instead be required to fill in paper forms. Manual registration is no longer available at such venues for those not exempted.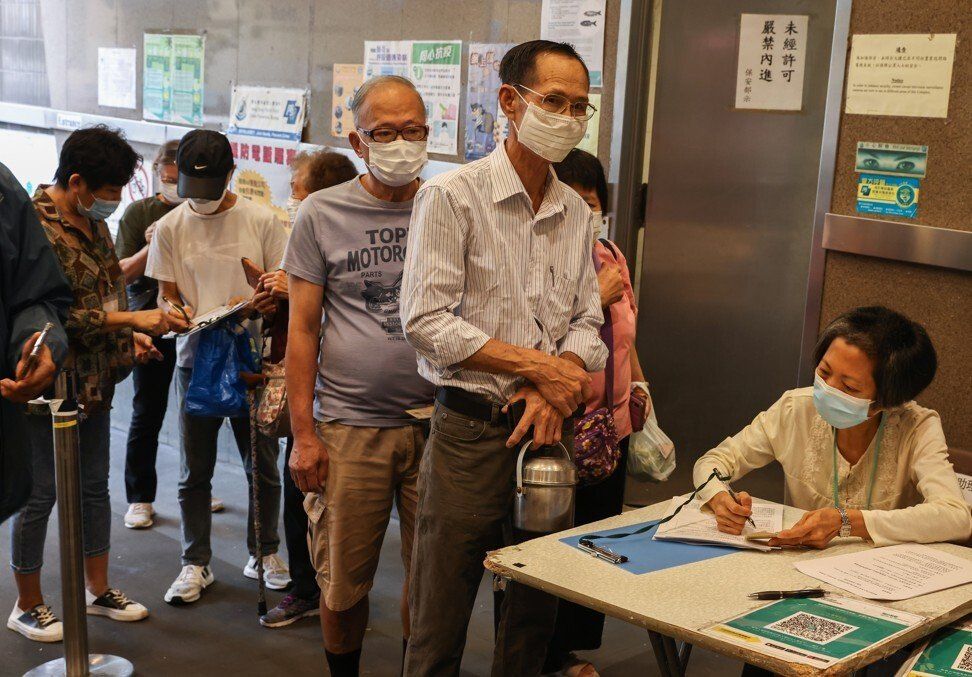 Residents queue to scan their apps at the government-run Tai Po Hui Market.

Observations by the Post at government premises including wet markets and a public hospital did not reveal any significant implementation snags. But about half of the 20 or so shoppers entering Lockhart Road Market did not appear to have scanned the app or written down their personal information.

"The new policy makes it very hard for us to do our job," said Leung Bong-mui, 60, who works at one of the market's entrances. "Will you not let the old people without phones in, when they just want to use the toilet?"

Leung said hundreds of elderly people visited the market daily, many of whom did not have smartphones and would not know how to use one.

The mandatory use of the contact-tracing app is seen as a necessary first step towards meeting Beijing's concerns over pandemic controls with the aim of eventually reopening the border with mainland China, a deal local officials have yet to secure despite an improving vaccination rate and months with effectively no local coronavirus infections.

Hong Kong on Monday confirmed one new Covid-19 case, an imported infection involving an aircrew member from Saudi Arabia. Fewer than five people tested preliminary-positive for the virus. The city's tally of confirmed infections now stands at 12,347, with 213 related deaths.

The official app was launched last November to help health authorities trace close contacts of Covid-19 patients and was adopted at most venues. Scanning the QR code was voluntary, but people who declined were required to write down their contact details.

The new compulsory requirement has raised concerns among organisations working with vulnerable groups such as the homeless, who often do not own smartphones.

St James' Settlement, an NGO supporting the homeless, last week collected about 60 donated and recycled smartphones for street sleepers. One recipient, a 47-year-old man who did not want to be fully identified, has been living in a stairwell in a government municipal services building for more than three years. He said the phone allowed him to continue visiting a number of government facilities that he relied upon daily, such as cooked food centres and sports facilities, where he showered.

Anyone exempted from using the app must provide identification and a contact number which staff would then call to ensure it was genuine.

Cheung Pui-lan, who at age 74 is not required to use the app, said she had nevertheless decided to stop visiting government markets because she did not have a smartphone to scan the QR code and filling in paper forms strained her eyes.

Raising manpower concerns, Lau Wai-tak, secretary of the Food and Environmental Hygiene Department Foremen Grade Staff General Union, said the government did not have enough resources to assign officials to all entrances of every wet market.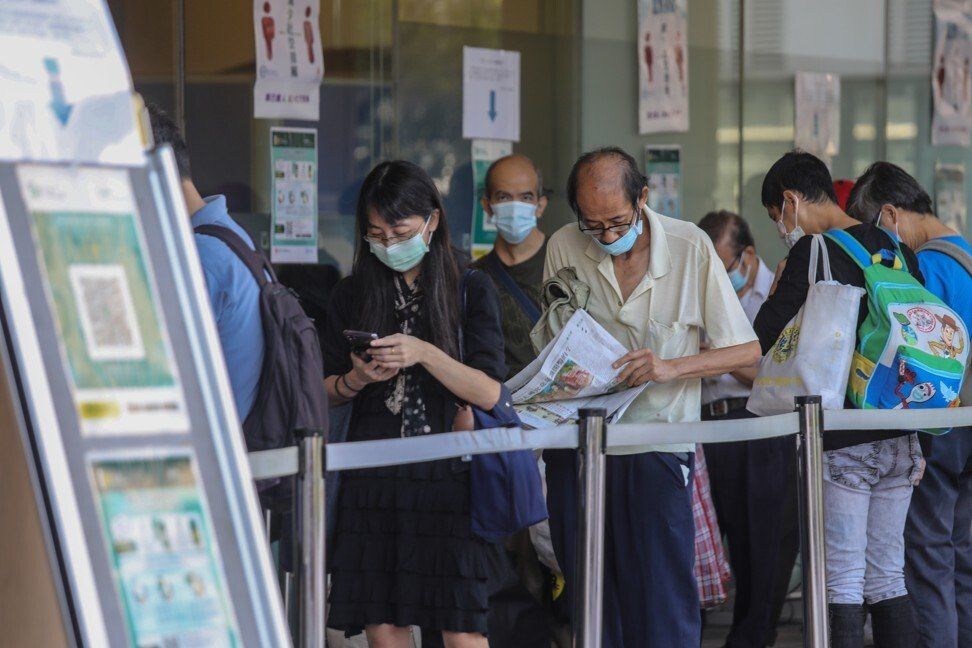 Residents queue to enter Causeway Bay's Central Library, where use of the official app for contact tracing is now compulsory.

"In some markets, we have no choice but to seal off the emergency exits, but we cannot leave the main entrance closed due to fire regulations even if we are understaffed," Lau said. "This means the rules are basically non-existent."

Chan Yuen-fai, chairman of the Yau Ma Tei Market Vendors Association, feared the new arrangements could see stall-holders in government-run markets lose customers, adding he was meeting the authorities to push for such venues to be exempted.

At the Prince of Wales Hospital in Sha Tin, some people also raised privacy concerns over the app.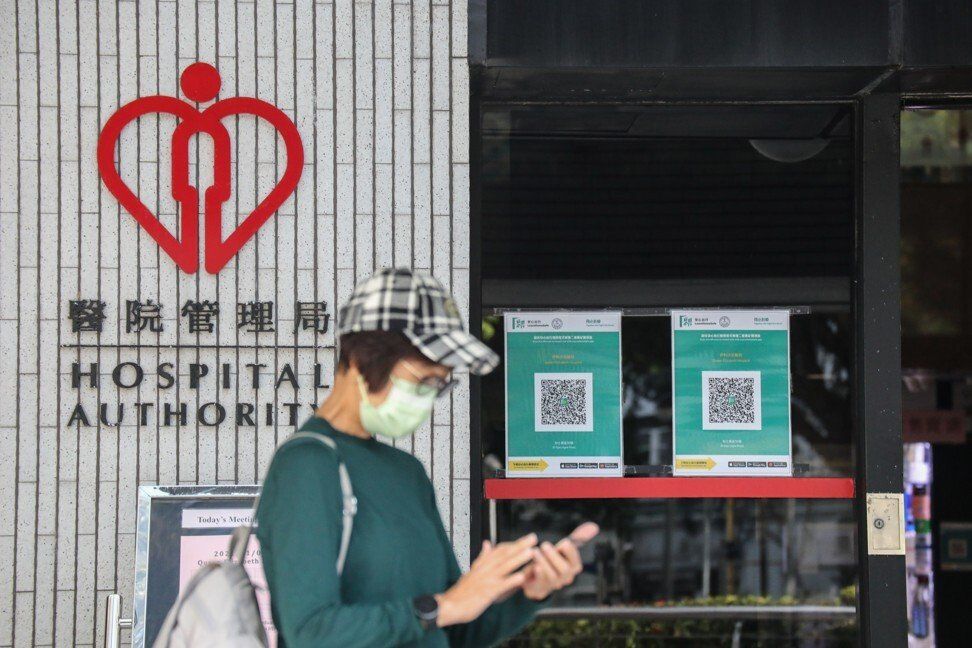 A visitor to Queen Elizabeth Hospital in Yau Ma Tei records her arrival there via the app.

One hospital worker said he was considering buying a spare phone specifically for using the app.

"I value my privacy and don't want to have to choose between my job and my freedoms," the employee said.

Separately, Secretary for the Civil Service Patrick Nip Tak-kuen said the government was considering advice issued by the scientific committee under the Centre for Health Protection and would announce details for administering third shots of Covid-19 vaccines within the week.