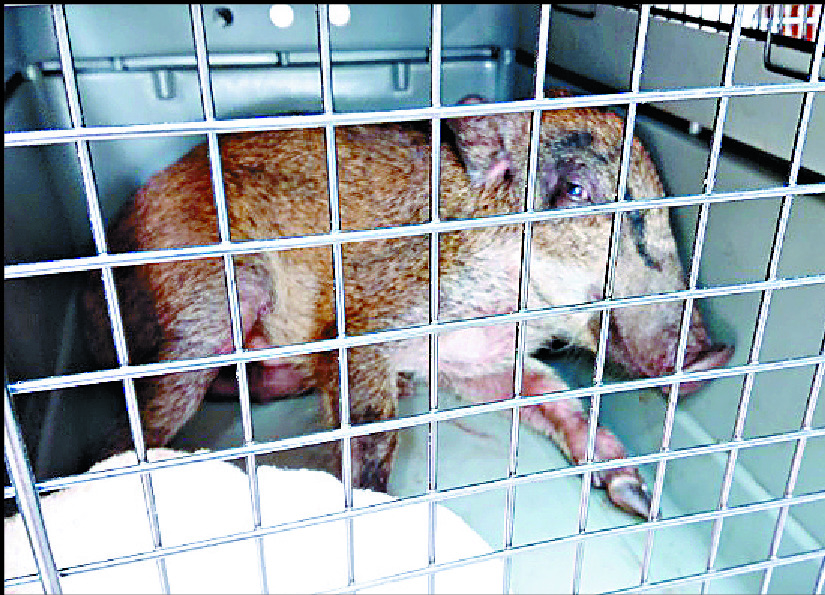 Good Samaritan saves injured boar
A kind-hearted elderly man carried an injured wild boar home yesterday while doing his routine morning exercise.
The man was exercising at 7am yesterday in a park near Yiu Tung Estate in Shau Kei Wan when he saw the injured wild boar. The one-meter long wild boar had injuries on its feet and was also bleeding in the mouth.

The man then carried the boar in a plastic bag to his home in Yiu Lok House at Yiu Tung

Estate before calling the police to pick up the injured animal for treatment.

Police later arrived at the man's home and the boar was taken away by officers from the Society for the Prevention of Cruelty to Animals.

The boar was later handed over to vets at the Kadoorie Farm and Botanic Garden in Tai Po for further inspection and treatments.

Earlier in June, a young wild boar also broke into the urban area and boarded two MTR trains.

The young animal managed to enter Quarry Bay Station in the afternoon of June 18 and board a passing train. After MTR employees' failed attempts to catch the piglet, it got off the train at North Point interchange station and boarded another train heading to Po Lam.

MTR Corp then arranged all passengers to get off the train and diverted the train to the depot in Tseung Kwan O where officers from the Agriculture, Fisheries and Conservation Department caught the boar.

The young animal was not injured during the incident and was later set free in a country park.