More than 16,600 people visited Che Kung Temple from 8am to 5.30pm on Thursday, many of them praying for an end to the pandemic.
Thousands of worshippers descended on Che Kung Temple in Sha Tin on the third day of Lunar New Year, despite strict social-distancing measures being in place as Hong Kong battles its fifth wave of coronavirus cases.

The Chinese Temples Committee, which manages the site, on Thursday said 16,642 people visited from 8am to 5.30pm, many of them praying for an end to the pandemic in the Year of the Tiger and preferring the blessings of Che Kung – a Song dynasty general turned deity – to social distancing and avoiding big crowds.

"I hope to be healthy, which is the most important thing, and for the pandemic to pass soon. This is what the public wishes for," said a visitor named Lee, holding a pinwheel to bring good luck.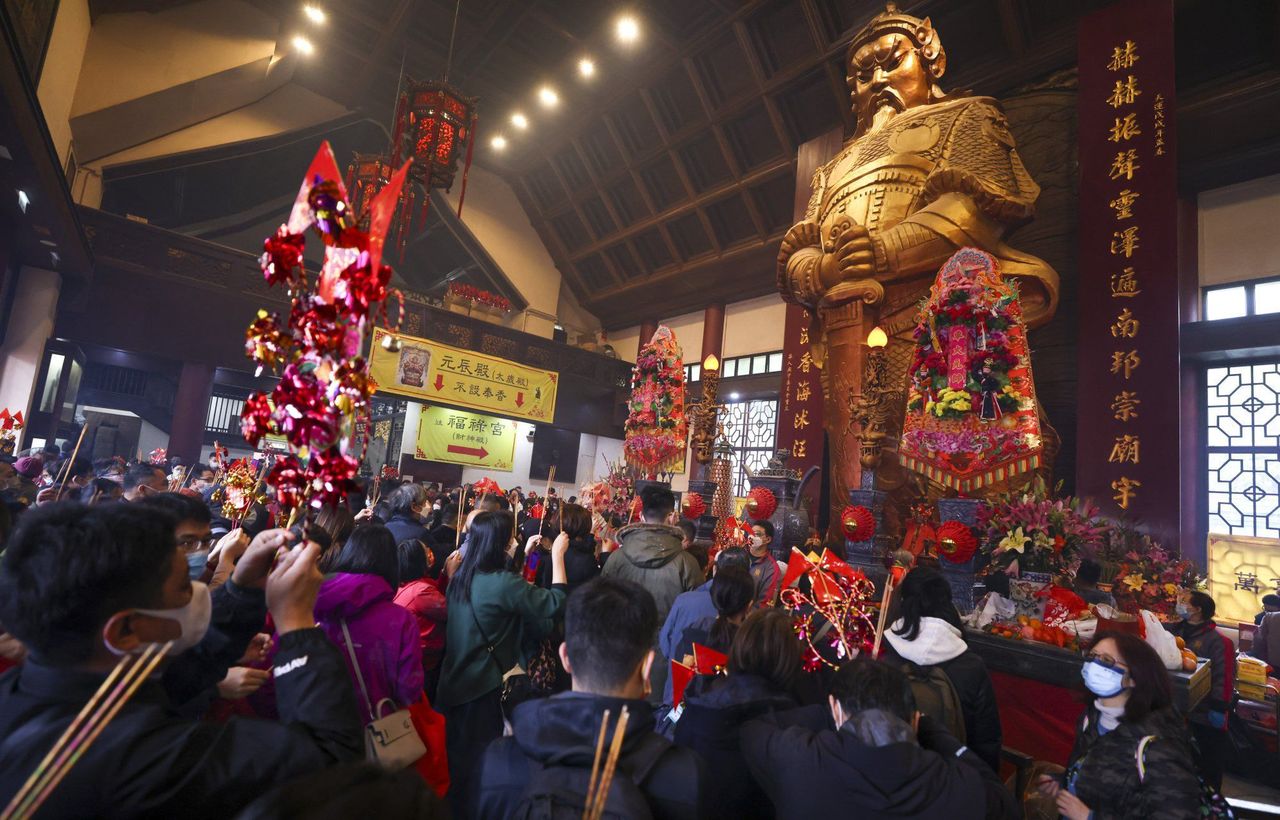 The temple is dedicated to Che Kung, a Song dynasty general known for battling uprisings and plagues.

Another woman surnamed Ho, who had not been to the temple for years, had the same hopes.

"There is no place to go because of the pandemic. I cannot go on trips or to other places. The best thing to do is to worship God," she said. "I hope the epidemic will pass soon, and most importantly, everything will go well at work for everyone."

An elderly man surnamed Chan prayed for his family to be safe and well.

"I wish for my grandson to grow up fast and strong, and listen to our teachings. And that the pandemic in Hong Kong will end as soon as possible," he said.

"It is very sad that I have not been able to go on overseas trips for two years. We cannot stop the virus from coming. It is invisible to the naked eye. I can only hope that my body is healthy enough to prevent infection."

Long lines of worshippers formed outside the temple, as people waited to offer incense sticks, turn a fan-shaped brass "wheel of fortune" or buy pinwheels.

Spinning wheels symbolise turning one's luck around in Chinese culture.

They were undeterred by the worsening Covid-19 situation in Hong Kong, where another 121 new local infections were confirmed on Thursday, among which 31 were untraceable. Health authorities also identified 160 preliminary-positive cases.

Health officials have urged people to avoid family gatherings and outdoor activities, and warned the city could face hundreds more Covid-19 cases following Lunar New Year.

At 10am on Thursday, the committee announced the temple had almost reached its capacity and urged people to come back another day.

According to Chinese tradition, the third day of Lunar New Year is said to be inauspicious, as it is believed that people are more prone to quarrelling with each other. Visits to relatives or friends' homes should be avoided.

Instead, people might choose to visit Che Kung Temple and pray for good fortune by worshipping the Song dynasty general, who was celebrated for suppressing plagues and uprisings.

In response to the pandemic, the temple has implemented crowd-control measures and asked visitors to use the government's "Leave Home Safe" Covid-19 risk-exposure app before entering.