Free testing service at the control point will start half an hour earlier, lasting from 7.30am to 6.30pm, from Friday.
Hong Kong authorities have created a Covid-19 test booking platform online for travellers bound for mainland China to ease overcrowding at the Shenzhen border, but have done little so far to plug a loophole that allows those being turned away after testing positive to simply return home without any immediate restrictions on their movements or follow-up isolation orders.

Only those with proof of a reservation will be allowed to undergo testing from Friday at the port, one of two land crossings in operation between the mainland and Hong Kong.

Users can log on to book time slots for tests over the next seven days, after reserving places at isolation facilities in Shenzhen.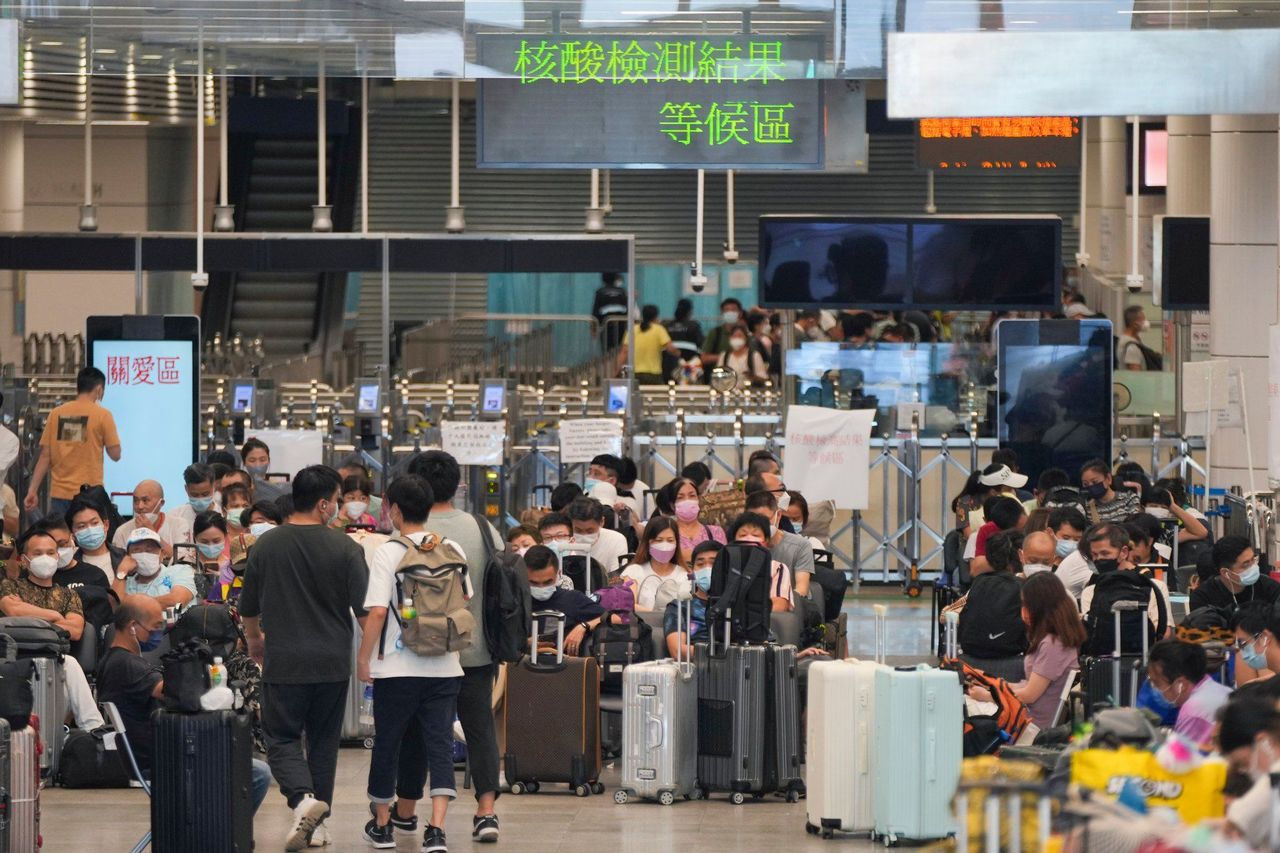 Travellers queue up at the departure hall of Shenzhen Bay Port.

"The arrangement will help ensure the orderly operation of the special nucleic acid testing service at the Shenzhen Bay Port, alleviate the long waiting time at the control point and improve crowd-control arrangements," a government spokesman said on Wednesday.

"Departing passengers will be able to avoid unnecessary waiting by scheduling their trips based on the reserved time slots."

The development came as Hong Kong reported 3,154 new Covid-19 infections, 211 of which were imported, and two virus-related deaths.

Shenzhen Bay Port has been packed with crowds on weekend mornings after the neighbouring city boosted the number of quarantine hotel rooms by 700 to 2,000 daily and added extra spots for those in need, anticipating more people will cross the border from Hong Kong, including students returning from overseas for the summer holiday.

Hundreds of travellers have been caught in long lines for tests. The government earlier said travellers would have to wait for about three hours to get their test results at the border control point.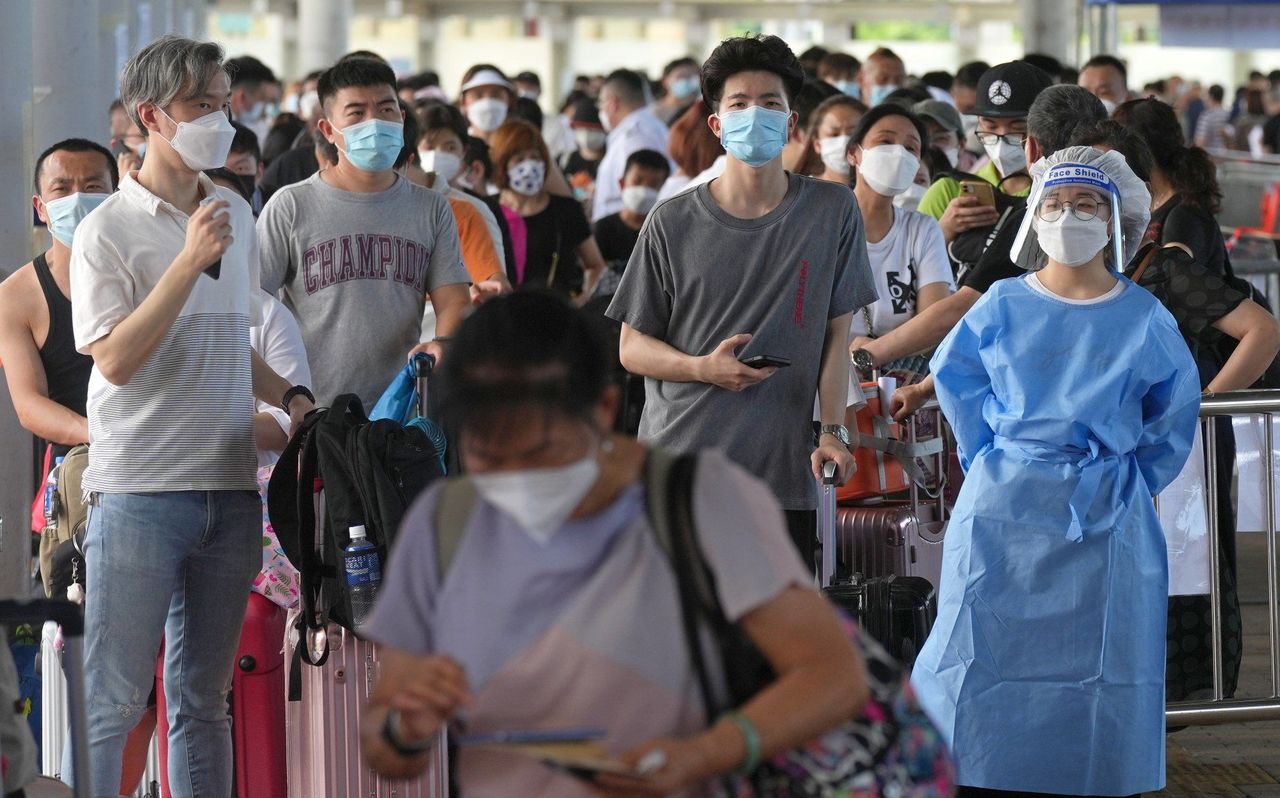 Travellers head to mainland China through Shenzhen Bay Port.

Despite the improved measures, a six-hour visit by the Post to Shenzhen Bay Port on Wednesday morning found travellers who had tested positive – and therefore barred from crossing the border – were allowed to return to the city unattended.

Travellers must currently line up in the checkpoint's departure hall to take the PCR test, and are notified of the results by a device. No retest is available for positive or undetermined cases.

Those with negative results receive a green wristband to cross the border, while travellers who test positive are given a red one.

During the Post visit, at least four people were issued with a red wristband and all were sent to a Department of Health booth where officers gave them guidelines before they were allowed to leave.

One of the men left the checkpoint in a taxi with a woman who had tested negative.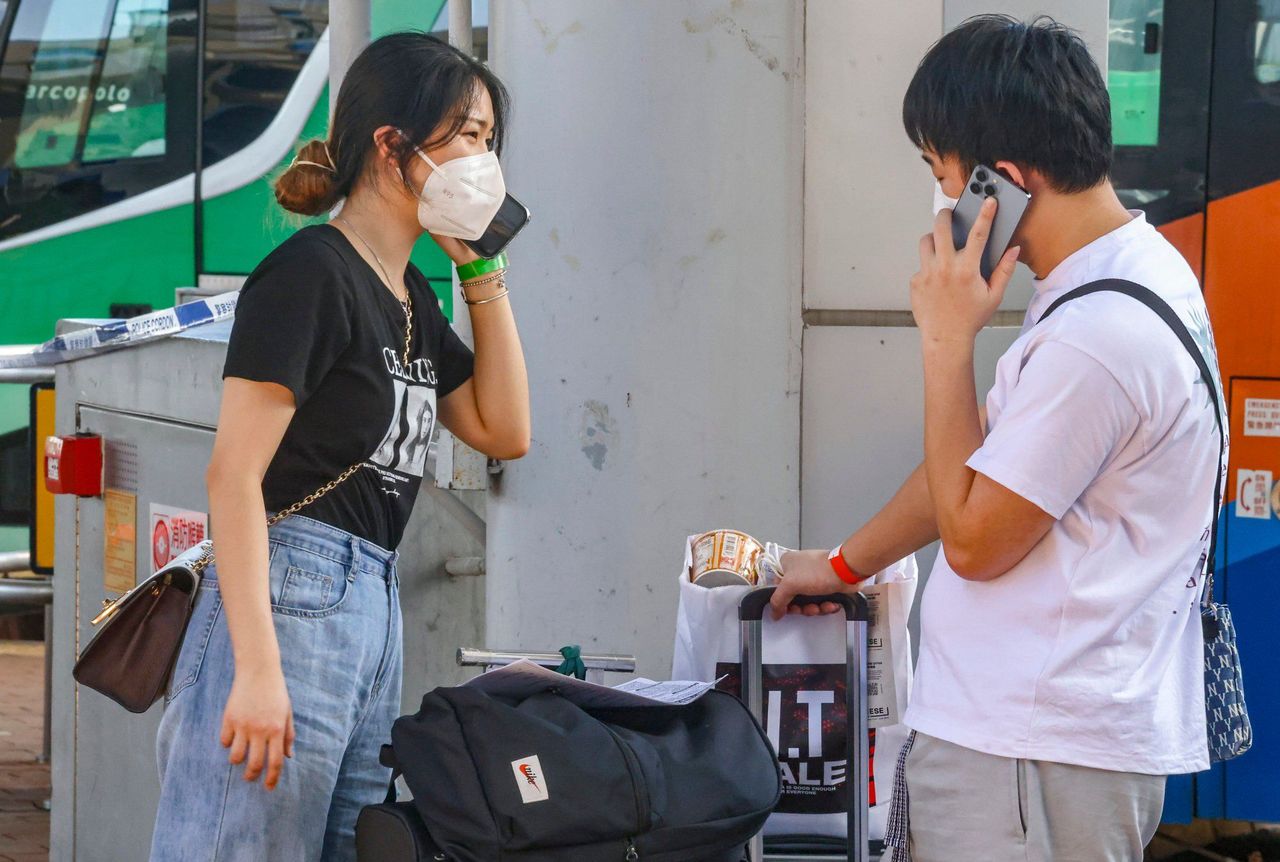 A man with a red wristband and a woman wearing a green one at the Shenzhen Bay Port. They move about the checkpoint and later get into a taxi (bottom).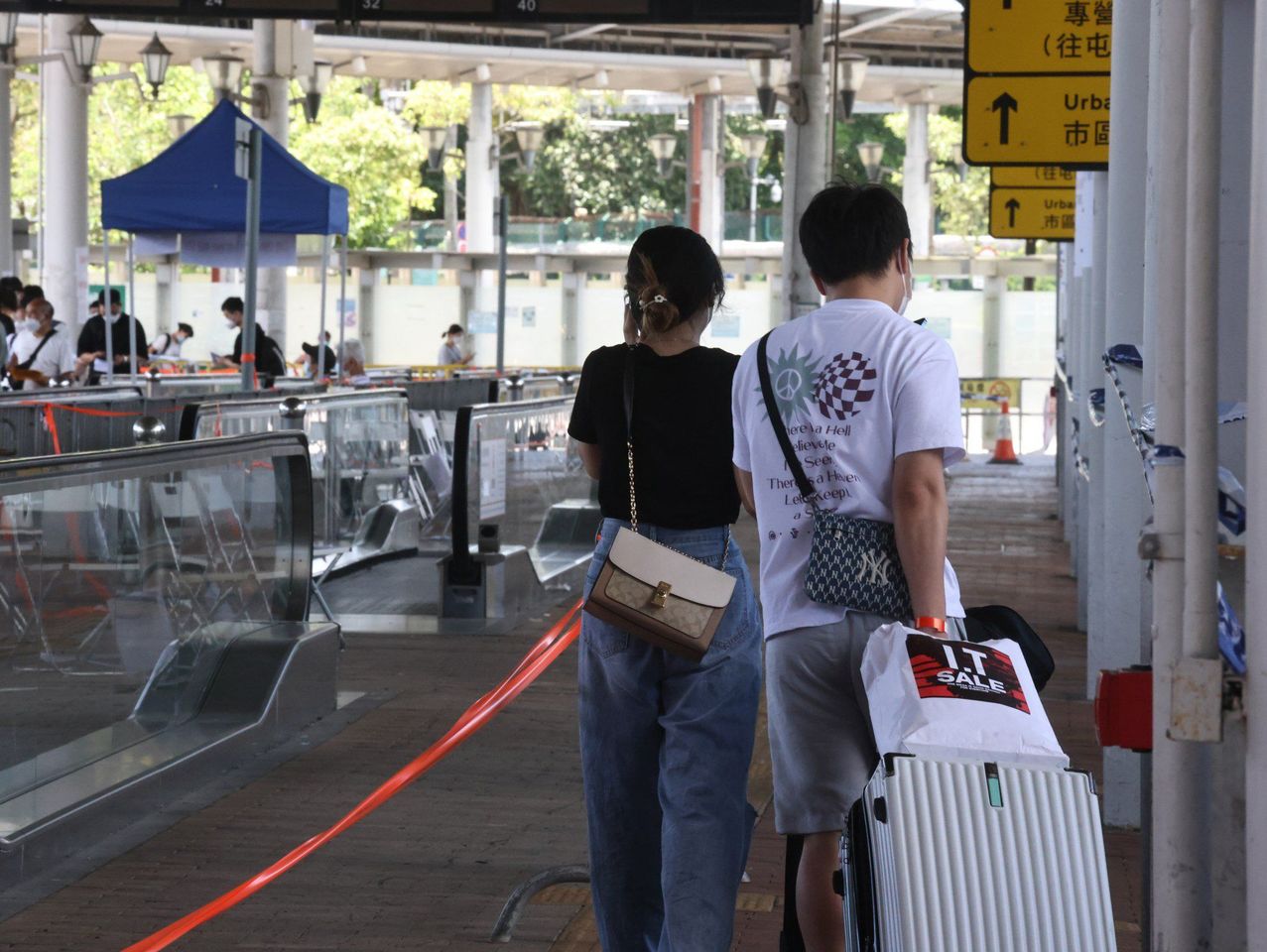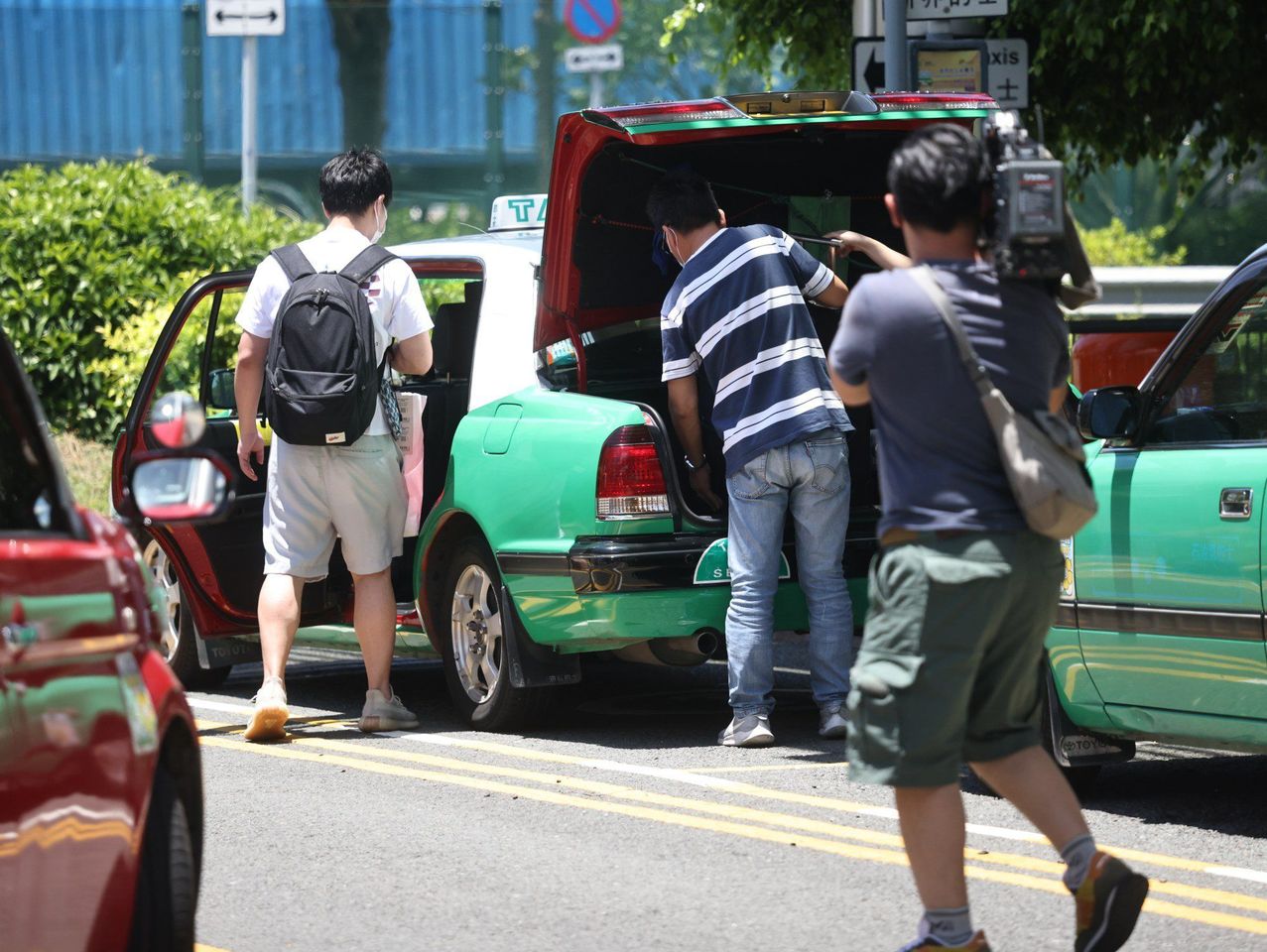 The practice is in stark contrast to Hong Kong International Airport, where all arrivals are sent to quarantine hotels in shuttle buses.

Lawmaker Edward Leung Hei, health affairs spokesman for pro-establishment party the Democratic Alliance for the Betterment and Progress of Hong Kong, said the situation in Shenzhen Bay suggested the authorities had not learned from the city's fifth wave of infections.

"Having people who tested positive walking around and hanging out [at the checkpoint] is definitely not ideal," he said.

Leung suggested the authorities keep those who tested positive separate from the rest of the crowds and arrange designated taxis to take them home or to quarantine camps.

From Friday, all Covid-19 patients quarantining at home in Hong Kong will be required to wear a tracking wristband. Leung said those who tested positive at checkpoints should also be issued with the device before they were sent to quarantine camps or home, if their living conditions allowed self-isolation.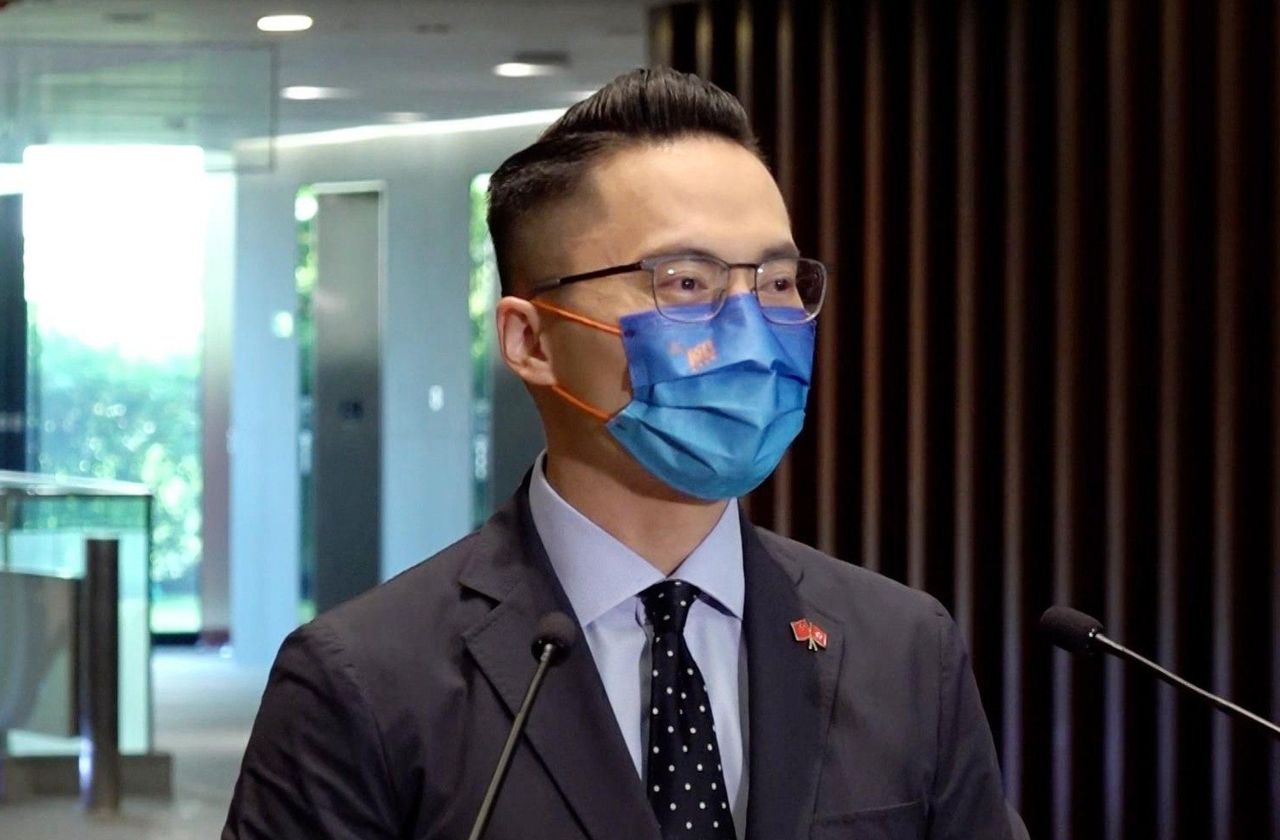 Lawmaker Edward Leung.

The government's Covid-19 website has no information for outbound travellers to the mainland on arrangements for those who test positive.

Asked about the apparent loopholes at Shenzhen Bay, Dr Chuang Shuk-kwan, head of the communicable disease branch of the Centre for Health Protection, said those who wished to cross the border had to obtain a negative result at a community testing centre within 48 hours before arriving at the control point.

"But sometimes as 24 or 48 hours have passed, their negative result may turn into a positive one or a re-positive one," she said.

"We require them to take a point-to-point taxi and head home. If they are positive, they could report their results on our platform or we will also follow up on them. We will see if they are suitable for isolation at home or quarantine facilities based on our five-tier arrangement."

Leung also expressed reservations as to whether the booking system could reduce the crowds at the crossing, saying the up to three hours wait for the test result was too long.

"Only if they get their tests done and test results ready in two hours, can the long waiting time be eased," said Leung.

He suggested the authorities drop the border test in Hong Kong and allow travellers to show their negative PCR test results within 72 hours of departure and undergo a PCR test at the Shenzhen side instead.

To combat the scalping of hotel rooms, Shenzhen authorities on Sunday rolled out a new measure to replace the booking of such units on a first come, first served basis with the drawing of lots. More than 1,800 people depart from the city through the port to the mainland per day. The figure reached more than 2,000 on Tuesday.

The China Manufacturers' Association on Wednesday called for an extra 500 quotas of hotel rooms for businessmen to cross the border, saying the lot-drawing arrangement upset their work schedule, as they would only know about the result the night before.

"The current daily 2,000 quota is far from satisfying the needs of Hong Kong residents and cross-border businessmen. We hope the government can continue to fight for increasing the quota," said the association's president, Allen Shi Lop-tak.

The group also called on Hong Kong and mainland authorities to standardise their different definitions of positive cases.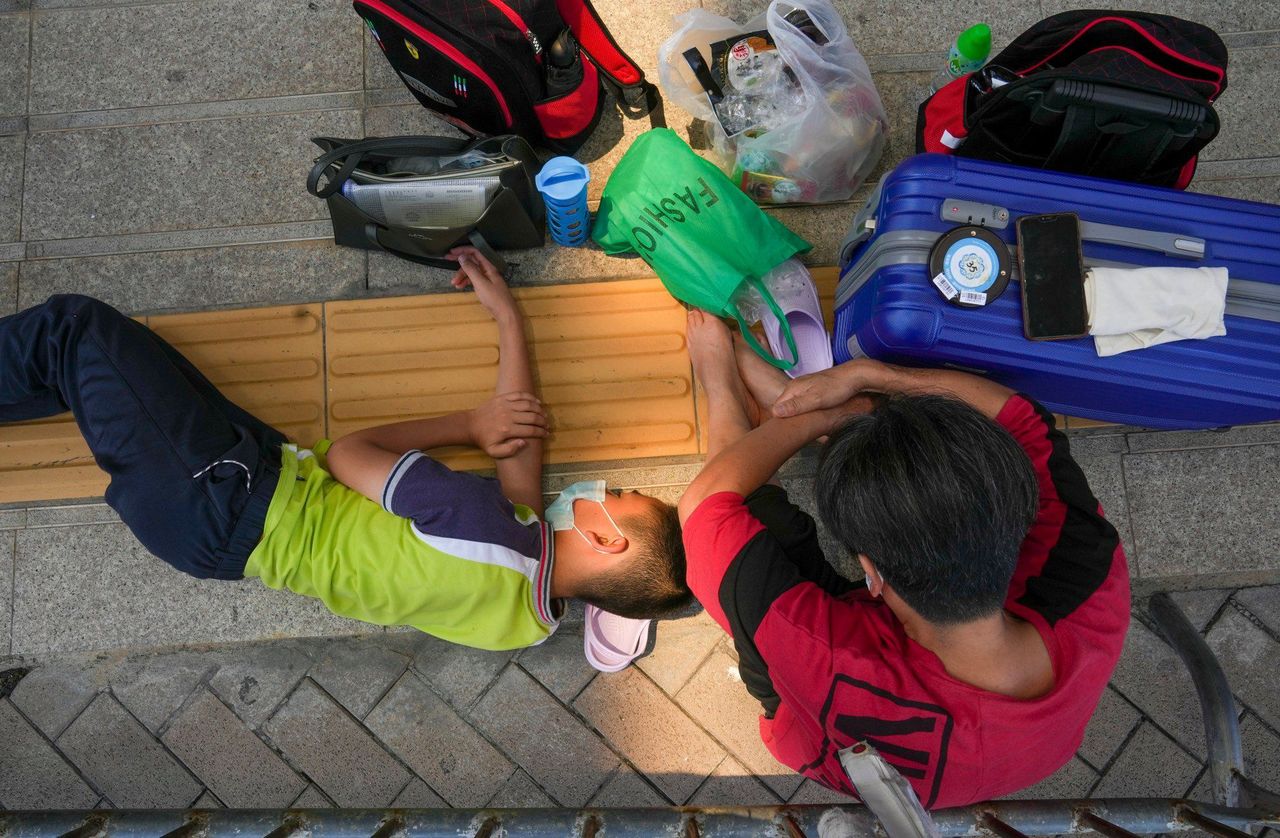 Travellers rest while waiting at the departure hall of Shenzhen Bay Port.

Separately, Chief Executive John Lee Ka-chiu appointed three more professors from the University of Hong Kong to the government's Covid-19 expert advisory panel. The trio, Ivan Hung Fan-ngai, Wallace Lau Chak-sing and Lau Yu-lung, are also members of the Covid-19 vaccine advisory panel.

The other three current government advisers are HKU professor Yuen Kwok-yung and Gabriel Leung, and CUHK professor David Hui Shu-cheong.

The city's overall coronavirus tally stands at 1,279,586 cases, with 9,422 related fatalities.