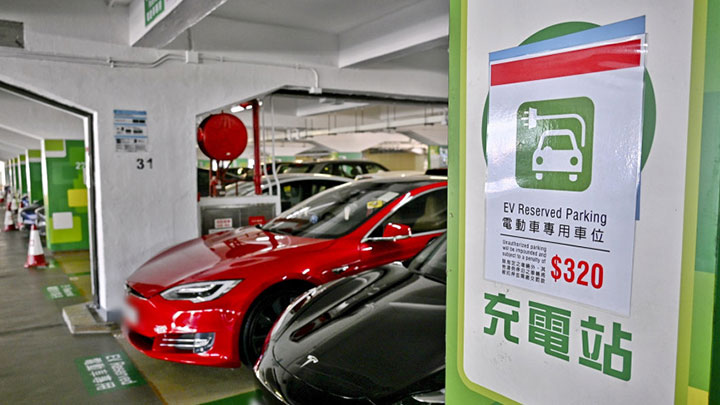 Goal of installing 5,000 EV chargers to be achieved in advance
Hong Kong can achieve the goal of installing no less than 5,000 electric vehicle chargers three years in advance, according to the Environment Bureau.
According to documents submitted to the Legislative Council, the bureau made the assumption saying that 1,000 chargers will be fully implemented at government parking lots in mid-2022.

The government initially plans to install 5,000 electric vehicle chargers at both public and private parking lots by 2025.

The bureau also said the government has updated its list of green procurement and all newly purchased small- and medium-sized vehicles will be electric vehicles, except for cars that can't be switched to electronic models due to operational needs.

Among 142 private cars the government plans to purchase for various departments this year, 55 will be electric vehicles, taking up almost 40 percent.

The other cars without appropriate electronic model alternatives are used for emergency or rescue needs.

The bureau also revealed in the documents that over 30,000 electronic vehicles were sold in the first quarter of the year, occupying close to half of all newly sold private cars in the period.

The number takes up to 4.6 percent of all private cars in the city as well.

The bureau continued that government will actively promote the use of electric cars in public transport and commercial vehicles, including trials of buses powered by hydrogen fuel cells.

The goal is to develop a clear roadmap and timetable for the future directions of new energy transport by 2025 and the zero carbon emission milestone by 2050.