The global pandemic has sent shockwaves across nearly every industry, exposing especially sizable vulnerabilities in supply chains and the travel sector.
But a future free of the pandemic's disruptive forces is coming into view, and with its ambitious 'Airport City' development, Hong Kong is positioned to catalyze new economic growth.


From 'city airport' to 'Airport City'

With the vision of the Airport City development, Hong Kong International Airport (HKIA) will be transformed into the world's most integrated transport and multi-function hub. This ambitious blueprint is built on sweeping infrastructure upgrades and investments in advanced technology that will buttress business and supercharge innovation in industries ranging from logistics to retail in the Guangdong-Hong Kong-Macao Greater Bay Area (GBA).

This all begins with the Three-Runway System (3RS) that will add capacity to HKIA and solidify its status as an international aviation hub. Built on 650 hectares of reclaimed land, the Third Runway is due to become operational later this year, while the 3RS is planned for completion in 2024. Together with other Airport City development projects, HKIA will have capacity to handle projected annual demand for passenger and cargo throughput from 2035 onwards: around 120 million passengers, up from 74 million in 2018, and about 10 million tonnes of cargo, up from 5.1 million tonnes in 2018.

At the heart of this vision is the SKYCITY project, which highlights the enhancement of functionality of the airport beyond being an international aviation hub. Underpinned by the sizable 11 Skies complex, SKYCITY will add retail, dining, entertainment, hotels and offices across 25 hectares of land adjacent to the airport. That accompanies upgrades to AsiaWorld-Expo, which will become Hong Kong's largest indoor performance and event venue.

All told, these projects amount to a new landmark for Hong Kong residents, as well as visitors from Mainland China and further afield.


Travel Reimagined

While the new runway marks an important milestone for HKIA, other upgrades are driving its evolution into a tech-powered airport of the future.

Across the airport, new technology such as 5G, biometrics-driven check-in procedures and autonomous airside vehicles promise enhanced services for passengers as well as improved airport management.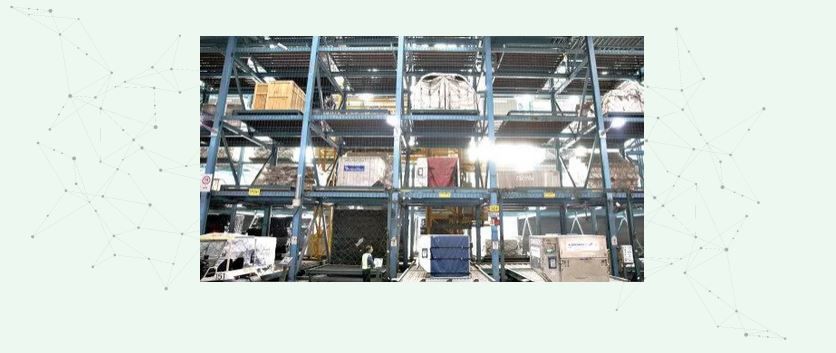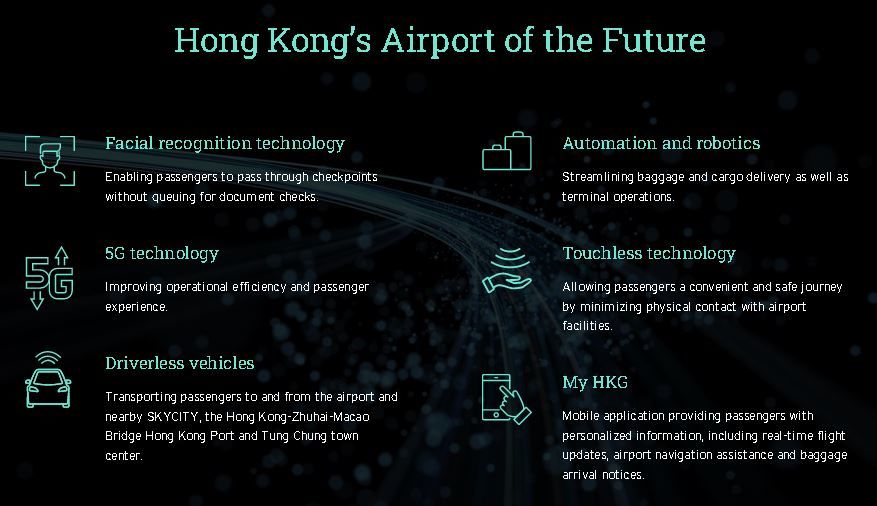 New Opportunities in the Greater Bay Area

Thanks to partnerships across the GBA, HKIA has set up an increasing number of check-in and bag-drop facilities in Mainland cities. These allow passengers to check-in for flights in Zhuhai, for example, and take a high-speed shuttle or ferry to HKIA for their flight connection. By 2025, HKIA is expected to have as many as 30 of these city terminals in Mainland China.

Arguably the biggest reason for optimism stems from the Airport City project's prospects of stimulating sustainable economic growth through trade, logistics and investment opportunities in emerging industries.

The pandemic led to a surge in e-commerce and predictions estimate worldwide e-commerce sales will exceed US$5 trillion for the first time in 2022, accounting for more than a fifth of overall retail sales. That shift seems almost certain to stick. And Hong Kong is in pole position to capture opportunities driven by booming e-commerce: major investments in future-focused logistics centers at HKIA will help Hong Kong optimize the movement of goods like never before.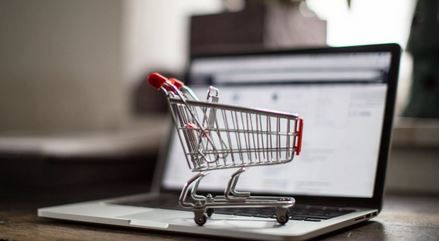 In 2018, Alibaba's logistics business Cainiao led a joint venture investment of US$ 1.54 billion in a new logistics center at HKIA. The 380,000 square meter center is set to open in 2023 and will bring an incremental 1.7 million tonnes of air cargo to HKIA annually when it operates at full capacity, with a focus on e-commerce cargo.

Meanwhile, DHL's HK$ 2.9 billion (US$ 372 million) investment in expanding its Central Asia Hub at HKIA will enable the express service provider to handle 125,000 pieces of shipments per hour upon completion this year.

The redevelopment of the Air Mail Center at HKIA, expected to commence operation by end-2027 at the earliest, would increase its annual handling capacity by 4.5 times, which is sufficient to cater for the projected mail traffic volume for the next 15 to 20 years.

These investments highlight the pivotal role many see Hong Kong playing in the high-growth, and rapidly evolving, logistics sector.


Blueprint for High-value Logistics of the Future

From developing sea-air transhipment modals to investing in advanced warehouse technology, Hong Kong is creating a blueprint for the logistics solutions the future demands.

The Airport Authority Hong Kong is currently developing a logistics park in Dongguan, which should help safeguard supply chains from the kinds of crunches the pandemic caused, such as airfreight shortages and price surges.

These join exciting developments such as fully automated warehouses deploying mobile robots, automatic guided vehicles and intelligent racking systems to cut labour costs and increase efficiency.

Smart and innovative technology at terminals, increased passenger and cargo capacity. The developments at HKIA could spell new and sustainable opportunities for business and innovation in the post-pandemic future.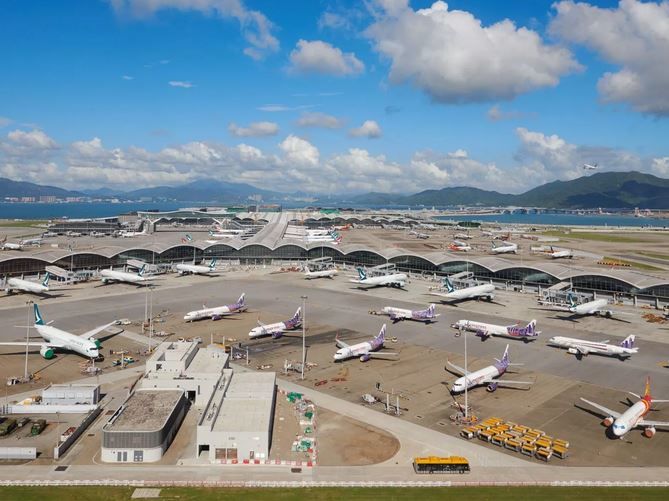 Hong Kong Looks Ahead
Smart and innovative technology at terminals, increased passenger and cargo capacity. The developments at HKIA could spell new and sustainable opportunities for business and innovation in the post-pandemic future.