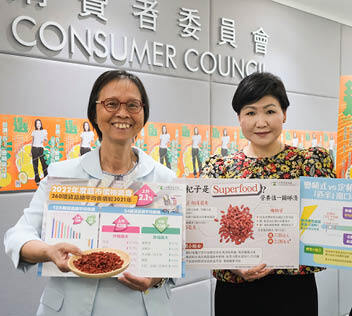 Give goji berries a good wash to rinse metal residue
Wash goji berries thoroughly before eating to rinse away heavy-metal residues, the Consumer Council says after tests on 27 samples found all of them contained the unhealthy substance.
The watchdog tested 27 dried goji berry samples priced from HK$5 to HK$146 a packet, and found that they are rich in carotene, vitamin C and various minerals, which can help nourishing people's liver, kidneys, virility and eyes as traditional Chinese medicine theories claim.

But more than 70 percent of samples were detected with pesticides, and medlar seed from Hart even has seven types of pesticides, while samples from Tung Fong Hung, CRCare and FRESH have been detected with five types of pesticides, which could pose health risks.

The council also found different types of heavy metals in all samples such as cadmium, lead, chromium and arsenic, and the lead concentration in two samples was close to the maximum level permitted in Hong Kong.

The watchdog said plants can absorb heavy metals from the soil and accumulate to higher concentrations due to industrialization and modernization of agriculture, which have increased the risk of farmland contamination.

Twenty-one samples were detected with lead at levels between 0.018 to 0.29 micrograms per kilogram.

Two samples - Premier Food's instant Ningxia wolfberry and Yu Pin King's wolfberry fruit, were found to contain 0.284 microgram and 0.29 microgram per kilogram of lead, a level close to the upper limit under the Hong Kong Food Adulteration (Metallic Contamination) Regulations, and the watchdog has passed the results to the Centre for Food Safety for follow-up.

"Chronic intake of lead through the diet can adversely affect the neuro-development and mental development of children, as well as the systolic blood pressure of adults," said the chairwoman of the council's research and testing committee, Nora Tam Fung-yee.

Tam said it is difficult to avoid heavy metal contamination as gogi berries are seeds of plants, but she said such problems are not that serious as the level of heavy metal concentration in many samples did not exceed the limit.

"Actually, you need to consume a lot of the goji berries in order to be harmed by the heavy metals," she said.

"If you soak the goji berries in cold water for 15 to 20 minutes, it's possible to wash away those heavy metals on the surface of the goji berries," Tam said.