Organisers planning 22 sporting events, down from 36, and are expecting about 7,000 participants, instead of 12,000.
The organisers of the Gay Games have scaled back the size of the event in Hong Kong due to Covid-19 travel curbs and prepared for only locals to take part should pandemic restrictions be especially severe when the competition begins in November next year.

Hong Kong was originally to be the sole host of the Games, but the organisers decided in February the Mexican city of Guadalajara would share the duties, and they confirmed on Sunday the Asian version of the event would have 22 sporting events, down from 36, and 7,000 participants, instead of 12,000 as originally planned.

Co-chairman of the Hong Kong event, Alan Lang, explained the Games were more likely to go ahead if they were smaller, although the organisers did not rule out adding more events at a later date.

"We've made sure that the event is feasible, even with the number of people we expect to receive – whether or not it's half of the [original] number … or the full number of people we plan for, we will run it anyway," Lang said.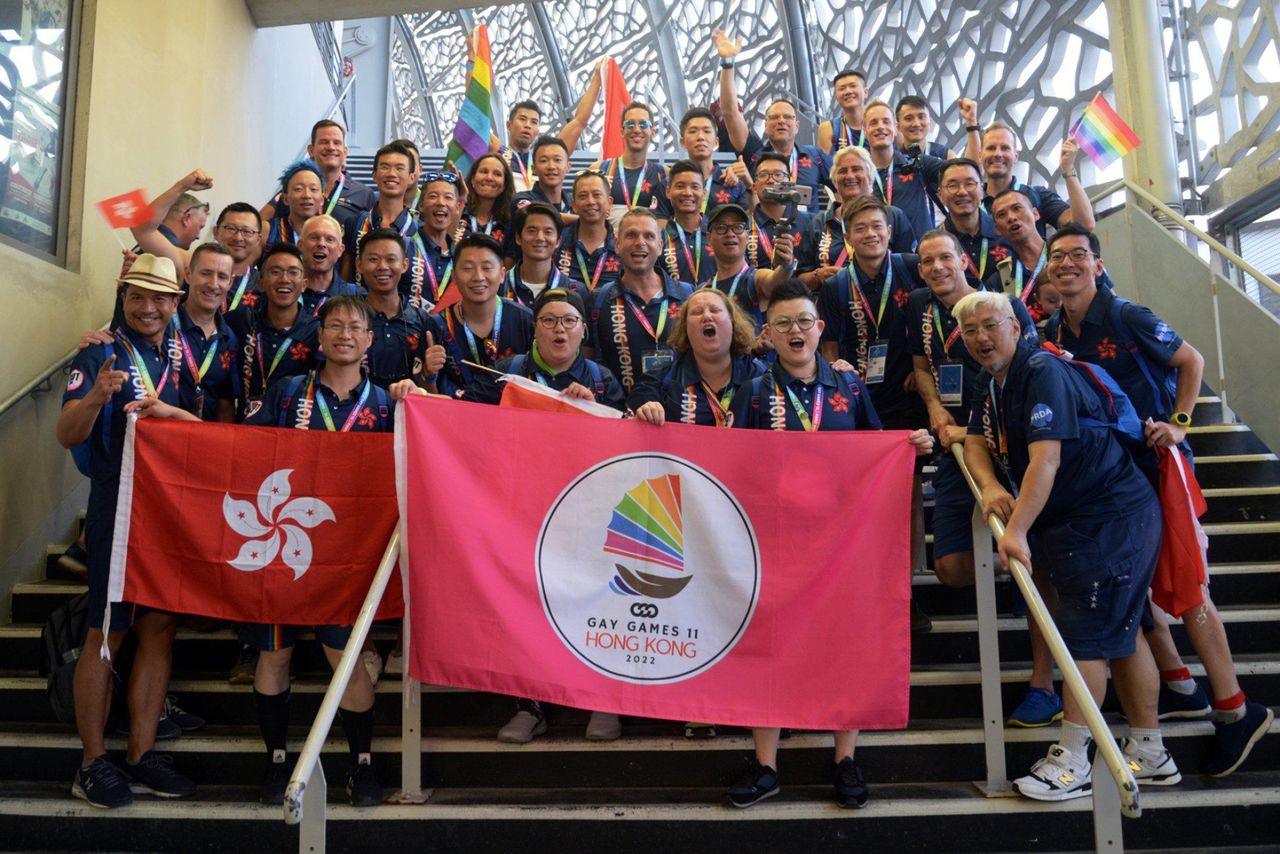 Hong Kong residents celebrate the city's win as host of the Gay Games.

The Games are scheduled to open in Hong Kong and Guadalajara on November 3 and run for nine days, with both cities holding parallel competitions for major sports such as aquatics and track and field. But a handful of events will be unique to each city due to their regional popularity, such as dragon boat racing, trail running and mahjong in Hong Kong, and cheerleading, which is popular in the West, in Guadalajara.

Registration for participants is expected to open next month, and anyone can take part, regardless of sexual orientation. Arts and cultural activities are also planned to run alongside the sporting events.

The organisers expect about 25,000 visitors for the Hong Kong version, but are also prepared for only locals to make up the pool of spectators should strict Covid-19 travel curbs be in place in November, according to co-chair Lisa Lam Mun-wai.

Lam said the organisers were committed to holding the Games in Hong Kong, but in the "worst case scenario" where the borders were not fully open, having Guadalajara as co-host meant international athletes were guaranteed an opportunity to compete.

"Of course, that is not something that we want to see," she said. "Of course, we want to have people to come in."

Last month, Hong Kong relaxed its quarantine rules for arrivals under a "3+4" scheme, which requires they spend three days at a designated hotel and four at home.

The Games were originally scheduled to open this November, but the organisers last September decided to postpone them, citing the city's travel restrictions.

They have also been forced to contend with criticism from conservative quarters of society, including politicians. Lawmaker Junius Ho Kwan-yiu called the Games "disgraceful" during a Legislative Council session last June, and he later warned they were "a wolf in sheep's clothing" that could pose a threat to the traditional culture of Chinese people. The city leader at the time, Carrie Lam Cheng Yuet-ngor, publicly condemned "unnecessarily divisive" comments over the event.

The Post reported last year that the organisers were also encountering difficulty booking public venues for the competitions, as existing rules required the procedure be handled through national sports associations. With the Games being classified as a charity event, bookings can only be made three to six months in advance

In response, the organisers shifted their strategy to working with the private sector rather than relying on government facilities and they reached out to universities, international schools and private clubs.

Lam said all venues currently earmarked were private ones, and they were still in the process of booking them. She also confirmed the opening ceremony would not be held at Hong Kong Stadium as previously planned, after the Games were scaled back.

While the city has outlawed discrimination based on sexual orientation, the government only recognises marriage between a man and a woman.