Registration of 612 Humanitarian Relief Fund did not impose an excessive burden on its core members, prosecutors tell West Kowloon Court.
Hong Kong authorities never barred the creation of a legal fund to back those involved in the 2019 anti-government protests or placed "stringent" restrictions on its operations, prosecutors have argued in the trial involving retired Catholic leader Cardinal Joseph Zen Ze-kiun and five other activists behind the group.

But the now-defunct 612 Humanitarian Relief Fund required registration with police given its "massive" size and "systematic" mode of operation, the prosecutors said, adding the legal requirement did not impose an excessive burden on its core members.

West Kowloon Court began hearing parties' closing submissions on Wednesday after ruling last month that there was a case to answer for the six defendants over their alleged failure to register the fund within a specified period.

Zen, 90, was prosecuted for his role as a fund trustee alongside singer Denise Ho Wan-see, former Lingnan University academic Hui Po-keung, and ex-opposition lawmakers Margaret Ng Ngoi-yee and Cyd Ho Sau-lan. A sixth defendant, Sze Ching-wee, was charged over his role as the fund's secretary.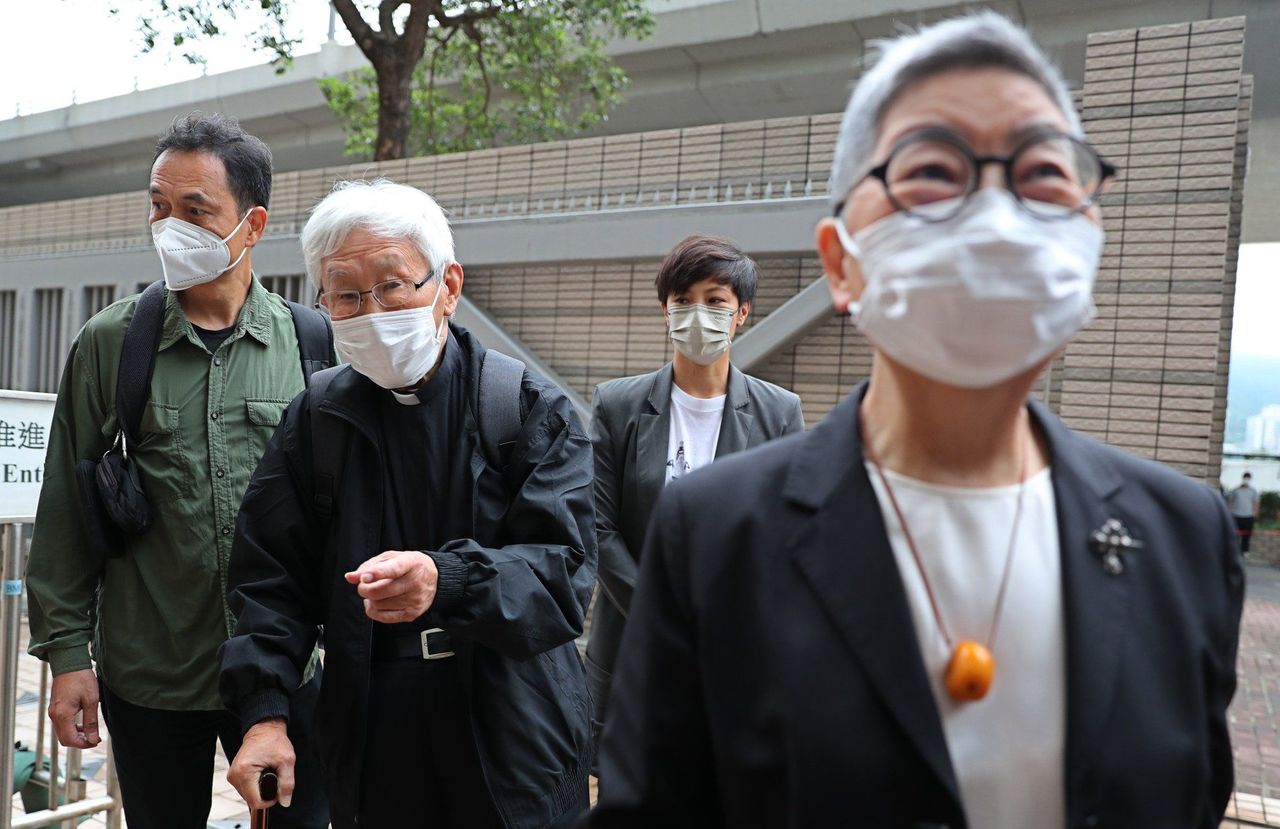 (From left) Hui Po-keung, Cardinal Joseph Zen, Denise Ho and Margaret Ng.

The Societies Ordinance stipulates that a society must register with the societies officer, who is the police commissioner, or ask for an exemption, within one month of its establishment. Offenders can be fined HK$10,000 (US$1,274) upon a first breach.

A society is defined as "any club, company, partnership or association of persons, whatever the nature or objects, to which the provisions of [the] ordinance apply".

But the law also says an organisation set up "solely for religious, charitable, social or recreational purposes" can be exempt from the requirement.

Prosecutor Anthony Chau Tin-hang on Wednesday said the fund, initially set up to support those injured or arrested during the extradition bill movement in 2019, was political in nature and did not qualify for an exemption.

The court heard the fund had handled in excess of HK$453 million in donations between June 2019 and October last year.

The group had also held press conferences and crowdfunding events, sponsored at least 29 political campaigns and hired more than 20 workers through a consultancy firm.

Chau said the fund's multilayered operations and interactions with members of the public made registration necessary to ensure it acted within the bounds of the law and allowed others to determine the lawfulness of its conduct.

He submitted there was no conclusive or decisive factor in telling whether an organisation fell under the scope of the ordinance, and the court had to take into account "a basket of considerations", including whether the group concerned displayed some degree of publicity, lasted for a continuous period of time, and whether members shared a common purpose.

The prosecutor sought to distinguish the registration regime under the ordinance from a licensing system, stressing that a society could function freely without prior approval and the law did not introduce any insurmountable thresholds.

"We have never coerced any organisation into categorising themselves as a political body. Nor were there any stringent conditions imposed on certain groups," Chau said, referring to the fund named after a major demonstration on June 12, 2019.

Defence lawyers argued in their written submissions the ordinance was unconstitutional

in that the definition of a society was ambiguous, and that the constraints of the legal requirement exceeded what was necessary to achieve the legitimate aims of protecting national security and public order.

Some defendants also sought to establish a defence that they had held a "mistaken but honest and reasonable belief" that the fund did not require registration.

Chau pushed back that contention on Wednesday, saying the present offence involved absolute liability, meaning an offender could be held responsible regardless of the degree of negligence or fault involved.

Principal Magistrate Ada Yim Shun-yee will hear submissions from the defence on Monday.