Education Bureau says secondary schools must ensure 90 per cent of students are triple vaccinated if they plan to hold full-day classes on campus from November.
Hong Kong secondary schools will only be allowed to hold full-day classes on campus if 90 per cent of their students have had three Covid-19 shots, with education authorities tightening the existing two-dose rule and demanding the unvaccinated are "actively" approached to get jabs.

The same three-jab rule would also apply to secondary and primary school students from October if they hoped to take part in mask-off extracurricular activities, the Education Bureau said in a circular on Tuesday.

The latest requirements were revealed as health officials reported 8,848 new Covid-19 infections on Tuesday, with more major events affected by the recent rise in cases. Broadcaster TVB's annual Miss Hong Kong beauty pageant was suspended until an undetermined date and a traditional fire dragon dance in Pok Fu Lam scheduled at the Mid-Autumn Festival was cancelled.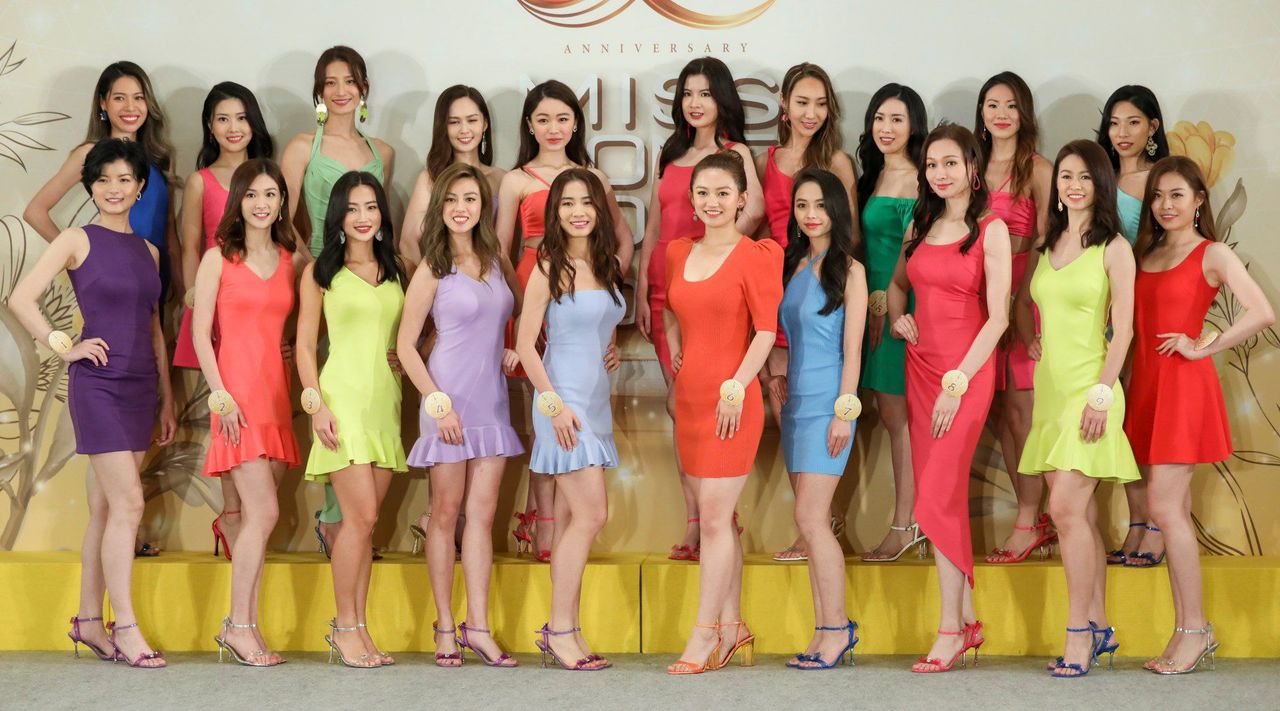 It is the first time the Miss Hong Kong contest has been affected by the pandemic.

As part of the bureau's latest multipronged approach aimed at "further strengthening the protective shield", schools will be required to report vaccination rates monthly from September with those attaining 70 per cent or higher recognised on its website.

"We encourage staff and students to get vaccinated as fast as possible," it said. "[We] also demand schools actively reach out to those who have yet to fulfil the government's vaccination requirement to understand their concerns, and urge them to get the jabs."

Health officials called the stepped-up measures "prudent", including a new requirement for teachers and students to take a Covid-19 rapid antigen test for two days before the school year starts on Thursday.

"Covid-19 cases in the community have continued to rise, if they have a rapid antigen test when resuming school then they could prevent the risk of transmission in schools," said Dr Chuang Shuk-kwan of the Centre for Health Protection.

International schools are among academic institutions not subject to the three-jab requirement, as the bureau's guidelines said those offering non-local curriculums would be granted "flexible arrangements" for organising classes, depending on their respective situations and the needs of their students.

Some 319 Covid-19 cases were from 140 schools, involving 238 students and 81 staff.

Thirteen more deaths were recorded on Tuesday while 237 of the latest cases were imported.

A total of 2,585 patients are currently hospitalised. Forty-seven patients are in a critical condition and 45 are listed as serious, with 13 in intensive care units.

The stepped-up measures for students came five months after the bureau required secondary schools to ensure 90 per cent of students were double-vaccinated to resume in-person, full-day sessions.

From November, secondary schools that do not meet the threshold are only allowed to resume half-day classes, the circular said. Full-day, in-person classes at kindergartens and primary schools will remain suspended as the vaccination rate among children aged three to 11 remains low.

As of Tuesday, only 11.39 per cent of children aged between three and 11 had received a third shot, while the rate for those aged 12 to 19 was 53.23 per cent.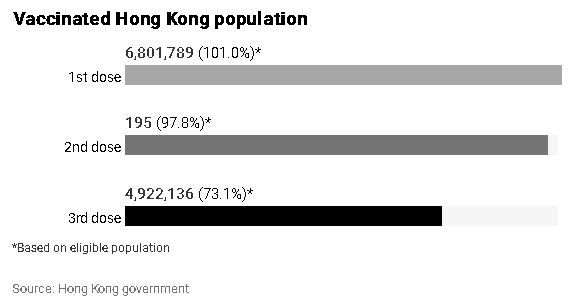 Lin Chun-pong, chairman of the Hong Kong Association of the Heads of Secondary Schools, said that as more than 90 per cent of his students had already had two doses, the new three-shot requirement should not be a burden.

"It's also normal for students to get the third shot as many have already received the second one, except the few who have other health concerns … I hope we can achieve the requirement in November," said the principal of HKFYG Lee Shau Kee College in Tin Shui Wai.

But Leo Chu Tsz-lok, education policy spokesman for the Democratic Party, expressed concern that unvaccinated students could be affected by worsening labelling.

"Parents and teachers must pay attention to the school atmosphere and condition of the affected students, and strengthen counselling services," said Chu, a district councillor.

Separately, in the latest Covid-related enforcement operation on Tuesday, 168 people were found to have violated a compulsory testing notice at a building in Cheung Sha Wan, with 24 each fined HK$10,000.

With a spate of infections in the government's ranks, a health expert has called for tighter measures for the sector. At least eight top officials have tested positive for Covid-19 within a month.

Microbiologist Ho Pak-leung urged authorities to tighten entry requirements for staff at the government headquarters in Admiralty, requiring all civil servants to be fully vaccinated, while top ministers should undergo daily PCR tests.

"This is not difficult at all, since it's concentrated at one location. Medical staff could set up a checkpoint at a suitable spot to collect samples daily," Ho told a radio show.

"It would be done in a matter of hours for the several thousand staff members at the headquarters. This way, everyone can be reassured and disturbance to government operations can be kept to a minimum."