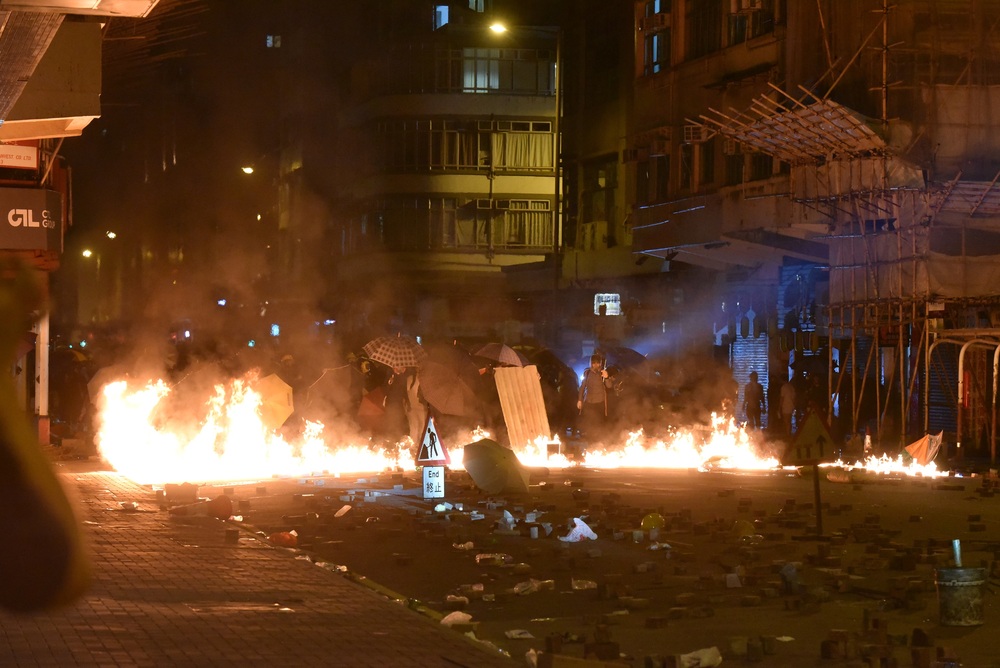 Fugitive among thirteen jailed between 29 and 63 months over PolyU 'rescue' protests
Thirteen protesters including Kok Tsz-lun, one of the 12 Hong Kong fugitives who were caught fleeing to Taiwan, were on Saturday jailed for up to five years and three months for rioting, with the judge criticizing them for ignoring the law and challenging police's authority. 
This is the first trial among a series of 'rescue' protests that took place outside the Polytechnic University at the peak of 2019 social unrest, with many of the protesters being trapped within the campus at that time. 

The 13 defendants were clerk Matthew Lee, 28, construction worker Chan Chun-wai, 28, student Lau Ka-lok, 26, photographer Cheng Ka-yue, 33, student Lam Man-nok, 22, veterinary nurse Liu Cheuk-yin, 25, student Ma Yu-leung, 27, hotel receptionist Tse Ho-ting, 25, warehouse worker Yung Ka-chun, 26, logistic worker Lo Sheung-man, 26, student Kingsley Leung Yu-san, 21, jobless Cheung Ho-ki, 23, and 21-year-old student Kok. 

Lam and Kok, who had earlier pleaded guilty to rioting on Nathan Road outside Polytechnic University on November 18 three years ago, were jailed for 47 months and 29 months respectively. 

The remaining co-defendants facing the same rioting charge were all found guilty earlier this month by the District Court. 

Ma, also convicted of possessing offensive weapons for keeping glass bottles, lighter and Molotov cocktails, was handed down the heaviest jail term of five years and three months, as District Court deputy judge Heung Shuk-han pointed to the active involvement of him, Lam and Kok. 

Lee, Chan, Lau, Cheng, Liu, Tse and Cheung were jailed for five years. Leung were put behind bars for 57 months, and Yung and Lo for 54 months. 

Lee was also convicted of possessing offensive weapon for keeping a laser pointer, and Chan and Tse a count of possessing instrument with intent to damage property for having a can of spray paint and a can of lighter fuel. 

Heung continued that rioting is a very serious offense and the 200 police officers at the scene were outnumbered by over 1,000 protesters that day, who lobbed Molotov cocktails and threw bricks at police. 

Although the defense said there was no proof that any of the defendants had taken a leading role at the time, Heung stressed that the seriousness of the case shouldn't be decided only by the defendants' behaviors, and noted that their presence also indicated that they recognized rioters' crimes. 

Heung also said the crimes involved in this case were plotted beforehand and protesters ignored the law, aiming to challenge police's authority. 

The court must not tolerate these violent actions especially targeting law enforcement officers, Heung pointed out as she passed down the sentences.