The broad list does not mean named institutions are necessarily creditors, lawyers say, and the connection to the crypto exchange is unclear.
A broad list of potential creditors to collapsed cryptocurrency exchange FTX includes more than 50 Hong Kong entities, with two government bodies that regulate virtual assets, in a display of the one-time crypto giant's extensive reach.

The Hong Kong Monetary Authority (HKMA) and the Securities and Futures Commission (SFC) are included in a 115-page list – spanning more than 7,500 rows of parties, including many redacted names – filed to the Delaware bankruptcy court on Wednesday. At least 50 other Hong Kong entities were also listed.

The precise relationship between the listed institutions on the "Verified Creditor Matrix" and FTX is unclear, as is whether any money is owed. In a separate statement filed with the court on Wednesday, lawyers said the list "is intended to be very broad for service purposes and includes parties who may appear in the Debtors books and records for any number of reasons".

A name on the list "does not necessarily indicate that the party is a creditor of any of the Debtors".

"We note that the list is compiled by a US financial advisory firm and it contains a few thousand names including many regulatory bodies and public authorities in various jurisdictions," an HKMA spokesman said.

"We are not in a position to comment on the rationale for including the HKMA on the list."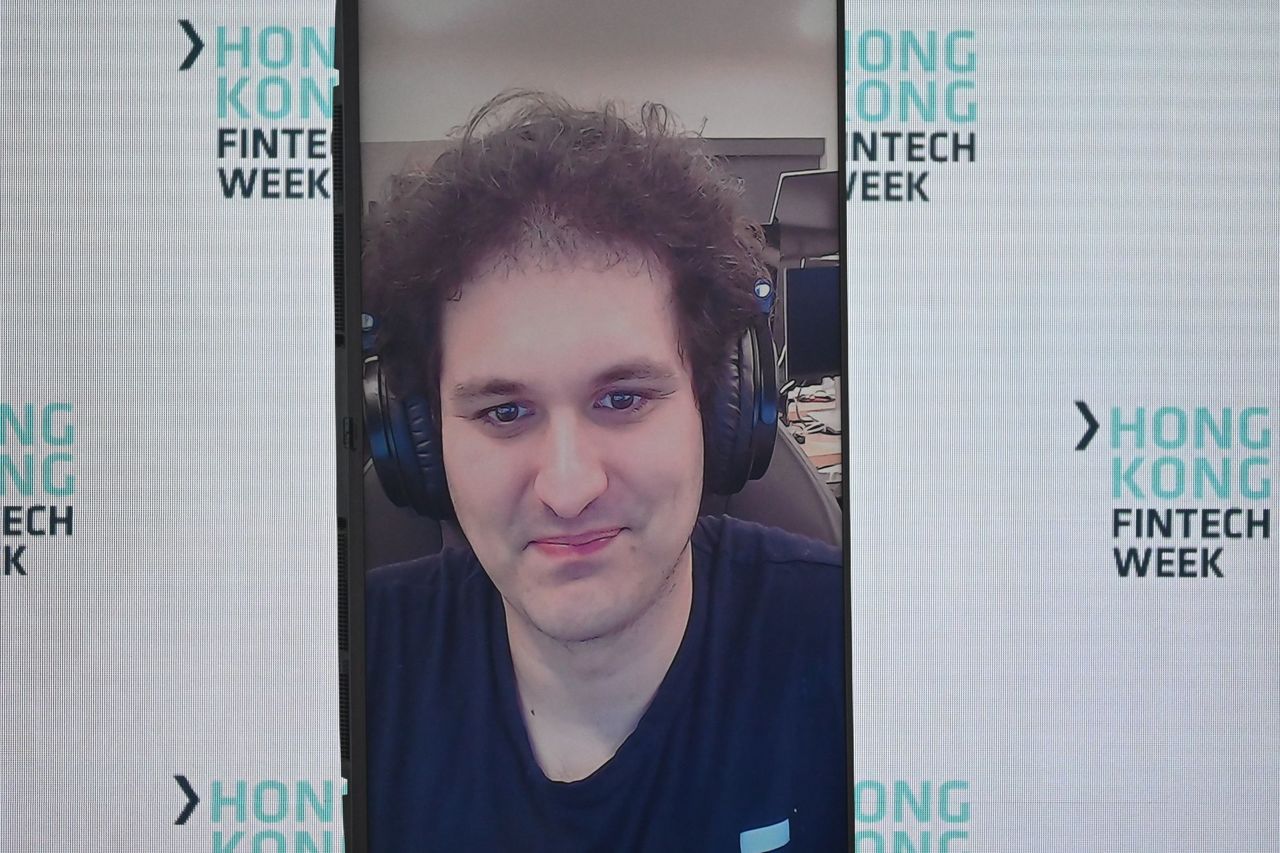 FTX founder Sam Bankman-Fried speaking remotely at Hong Kong FinTech Week on October 31, 2022. In December, a month after FTX declared bankruptcy, Bankman-Fried was arrested in the Bahamas and later extradited to the US.
In November, Eddie Yue Wai-man, the CEO of HKMA, said during a presentation of results for the government's Exchange Fund that the fund does not invest in cryptocurrencies.
Regulators that month also downplayed the potential impact in Hong Kong of FTX's bankruptcy, saying any fund managers' exposure appeared to be "immaterial".
The SFC did not respond to a request for comment.
The creditor list includes a wide swathe of institutions, from US and international securities regulators to media organisations like Bloomberg, The New York Times and The Wall Street Journal. Goldman Sachs, one of multiple international banks named, told Bloomberg News that it is not an FTX creditor.
FTX owes its 50 biggest creditors more than US$3.1 billion, including US$1.45 billion to its top 10 creditors, according to a court filing in November. Creditors' names were redacted.
Other Hong Kong entities named on the latest creditor list include workspace provider The Executive Centre, one of FTX's offices when it was based in the city before leaving for the Bahamas, and several venture capital investors including Ausvic Capital and Chuang's China Capital.
The two venture capital firms invested in the collapsed exchange, according to a court filing earlier this month that revealed FTX's previously unknown equity holders.
The exposure of crypto-related businesses in Hong Kong, where FTX was founded before moving to the Bahamas, also came to light last year as they ran into financial trouble.
Genesis Block, a bitcoin ATM company that halted trading last month, is on the creditor list, as is Cottonwood Grove, a subsidiary of Alameda Research, FTX's sister trading firm. Both companies shared the same address.
A Hong Kong subsidiary of Huobi Global, a crypto exchange founded in mainland China before leaving during an industry crackdown, is also on the list. Hbit Limited, a subsidiary of Huobi affiliate New Huo Technology, said in November it had US$18.1 million worth of cryptocurrencies deposited at FTX.
Atom Asset Exchange (AAX) is another now-defunct Hong Kong company on the list. The company's troubles started soon after the FTX bankruptcy, freezing withdrawals at the end of November. Last month, Hong Kong police arrested two men in connection with the company over an alleged US$30 million fraud.
BC Technology Group made the list, as well. The company is known for OSL, which became Hong Kong's first licensed virtual asset trading platform for professional investors in December 2020. OSL said this month that it was planning to reduce operating expenses by about 33 per cent "in response to current market conditions".
Some companies with business dealings with FTX are not on the list. This includes Blue Pool Capital, which participated in two of FTX's fundraising rounds, according to a court filing.
The company has been increasing its presence in the cryptocurrency and Web3 space. It is the family office of Joe Tsai, chairman of the South China Morning Post and co-founder of
Alibaba
Group Holding, owner of the Post.
FTX's collapse dealt a devastating blow to Hong Kong's crypto community just after the government at the end of October made a high-profile pledge to boost its virtual asset industry.
The government unveiled a range of policy measures including allowing retail participation with licensed exchanges under a new scheme and allowing exchange-traded funds with exposure to bitcoin futures.
Less than two weeks later, FTX declared bankruptcy.