Scheme covers December 19 services operated by the MTR Corporation, KMB, Citybus, New World First Bus and Hong Kong Tramways.
Hong Kong's entire population will be allowed to use public transport free of charge on the day of the Legislative Council election next weekend as authorities seek to maximise voter turnout for the first major poll since Beijing overhauled the city's electoral system to ensure only "patriots" can hold political office.

Confirming a Post report, the government on Friday said no one would be charged for train, bus and tram rides on December 19, but many who have no intention to vote are also expected to take advantage of the unprecedented offer.

The scheme will cost an estimated HK$35 million (US$4.5 million), and the government has not said whether it will reimburse the companies involved. A spokesman for one transport concern group warned that "many people will just make use of the free rides for touring around the city".

The MTR Corporation said passengers would not need to tap their Octopus or pay a fare when they entered or exited its stations, Light Rail stops or boarded MTR buses on election day. The offer will also cover KMB, Citybus, New World First Bus and Hong Kong Tramways.

But the free rides will not be available on airport and border routes, overnight services, KMB's luxury buses or most routes covering south Lantau. Neither will the concession be offered for green minibuses, Kaito ferry services or the MTR park and ride scheme.

"MTR will closely monitor train service on that day and implement appropriate operational measures to meet passenger demand. There will also be additional staff assisting passengers at stations," the company said.

The rail giant is a listed company majority owned by the Hong Kong government.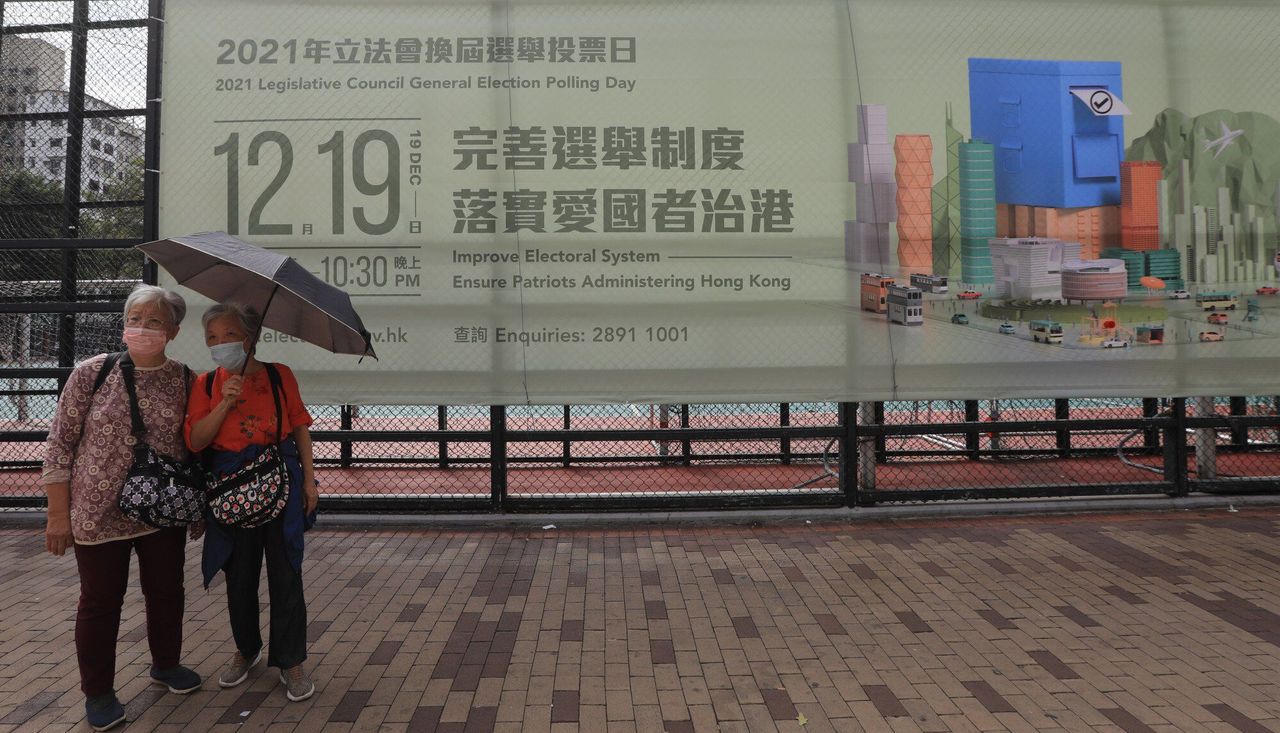 A massive publicity drive in Hong Kong is trying to encourage residents to vote.

But the complimentary tickets have upset some transport operators, with one saying that as commercial ventures they were effectively being forced to bear the cost of forgone revenue.

"It is very frustrating because the operators are forced to waive the fares," one of the operators told the Post. "And riders could take advantage of the free rides for leisure and entertainment purposes."

Lawmaker Michael Tien Puk-sun estimated that the free tickets would amount to HK$35 million based on the HK$13 billion in fare revenue brought in across those modes of public transport in the whole of last year.

The incentive was announced even with most of the 4.5 million people eligible to vote living within walking distance of their local polling station.

Over the past week, Hong Kong and mainland Chinese officials have been urging people to cast their ballots. The government has for the first time set up polling booths at three checkpoints on the mainland border, reflecting concerns that the turnout will be among the lowest in years in the wake of the Beijing-decreed overhaul in March.

The traditional opposition camp has argued the revamp has made it all but impossible for them to field candidates and the bloc is not taking part in the election.

Finance chief Paul Chan Mo-po, labour and welfare minister Law Chi-kwong and innovation secretary Alfred Sit Wing-hang have each published video messages to promote the election.

At separate public functions on Friday, Chief Secretary John Lee Ka-chiu and Erick Tsang Kwok-wai, who is in charge of constitutional affairs, also called on the public to vote.

Under the electoral changes, Legco's membership has expanded from 70 to 90, while the number of directly elected geographical seats has been slashed from 35 to 20.

As a result, critics are predicting a much lower turnout than in previous years. In the 2016 poll, turnout in the geographical constituencies was 58 per cent, up from 53 per cent in the 2012 election. The figure for the mainly trade-based functional constituencies was 74 per cent, compared with 70 per cent in the earlier contest.

Some observers have estimated that turnout for the geographical constituencies this year could be as low as between 20 per cent and 30 per cent.

Xia Baolong, head of the State Council's Hong Kong and Macau Affairs Office, said on Monday the poll represented "a vote of confidence" in the city's implementation of the "one country, two systems" governing principle.

But in an interview with the Global Times on Wednesday, Chief Executive Carrie Lam Cheng Yuet-ngor said that low voter participation could indicate public satisfaction with the government.

Pro-establishment lawmaker Vincent Cheng Wing-shun, who is seeking re-election in Kowloon West, described the measure as "a bit strange".

"I'd rather see the government do more to promote the poll itself. The polling stations are just located near the voters' residence, and most voters do not need to take any public transport to cast their ballots," he said.

Cheng's rival, former opposition legislator Frederick Fung Kin-kee, also agreed with Cheng that the measure would do little to boost turnout.

"This might be their latest attempt to promote the election, but I don't think it works," he said.

Lau Siu-kai, vice-chairman of semi-official think tank the Chinese Association of Hong Kong and Macau Studies, warned that the concession could backfire and encourage people to go to the countryside or travel for other leisure activities.

Lau said compared with fare concessions, the appeal of candidates and the electoral system were more important factors for voters. But he also added that the measure would help the public understand the importance of the election to the government.

Ip Kwok-him, an adviser on the city leader's de facto cabinet, the Executive Council, said the free travel scheme would make people more aware of the election.

"The concession will have a positive effect. It will also benefit some voters who live relatively far away from their polling stations and might prefer a short ride," Ip said.

Quentin Cheng Hin-kei, a spokesman for concern group Public Transport Research Team, said it was obvious the government had resorted to every possible means to boost voter turnout.

"Is it fair to force these public transport operators to offer free rides to achieve the government's political purpose? They are just commercial companies which need to make money too," he said.

"The polling stations are within a walking distance of voters' residence so there's no need for the free rides. I believe many people will just make use of the free rides for touring around the city."