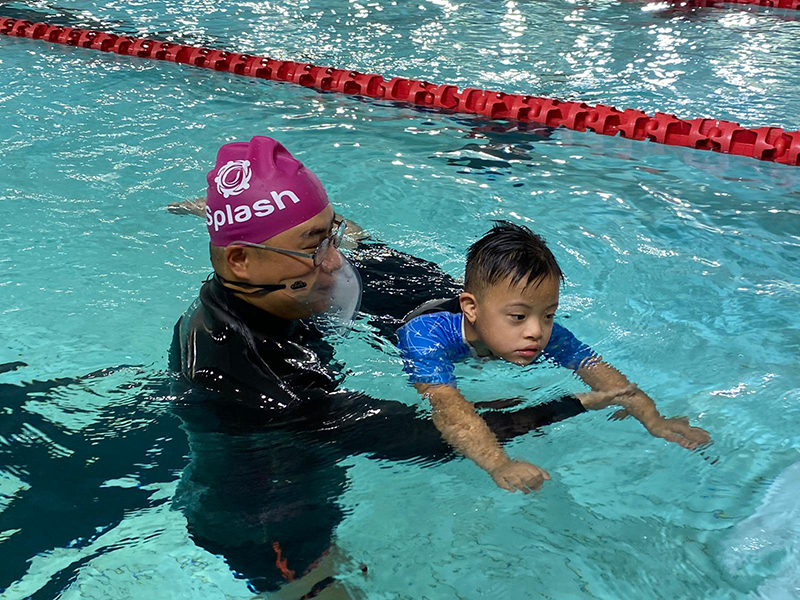 Free swimming courses for 550 special needs youngsters
A three-year project, SwimABLE, has been launched to provide swimming classes and water safety coaching to 550 special needs children and young adults in Hong Kong.
The program was launched by Splash Foundation and funded by Hong Kong Jockey Club Charities Trust.

The first round of classes is currently underway in Kowloon. Each student will receive 20 hours of group coaching with a certified instructor with special needs support experience.

The aquatic environment increases postural support, provides greater protection for joint integrity, and improves muscle strength, cardiorespiratory fitness, and gross motor function, the foundation said.

"Swimming is unique for people with disabilities, as it provides support to perform an array of movements and uses a range of muscle groups," Splash Chief Executive Officer and Co-founder Libby Alexander said. "Being in the water is also a multisensory experience. There is a sense of freedom…it's like a new world."

The foundation will recruit local, bilingual, and certified coaches, book space, and lifeguards at public and international school pools to develop a curriculum and conduct lessons. They will oversee safety, quality control, and assessment reporting for 550 students over the three-year term.

The courses focus on water safety skills, familiarizing students with the water, as well as teaching buoyancy, balance, and how to float.

Beginner forms of forwarding motion and coaching basic freestyle and survival backstroke are also part of the curriculum.

At the end of their coaching journey, students will be assessed by an independent evaluator to judge their progress and suitability for graduation.

Splash will document program results and relay them to the Trust for corporate social responsibility tracking.

Splash is Hong Kong's only non-profit charity dedicated to providing learn-to-swim lessons and water safety to adults and youth from low-income communities at no charge.

Its mix of volunteer and certified coaches have taught thousands of migrant domestic workers and underprivileged children the fundamentals of water safety and feeling comfortable in the water.