Danny Summer, Elisa Chan and Judas Law were among the artists performing songs from different generations.
A free outdoor marathon pop concert organised as part of Hong Kong's tourism campaign attracted over 20,000 audience and onlookers on Sunday, with veteran and young singers showcasing the music of different generations.

The singers who performed at the "Outdoor Music x Film Marathon", part of the Hong Kong Pop Culture Festival, included Danny Summer, Elisa Chan Kit-ling and Judas Law Hoi-ling.

A group of 30 Law fans lined up and held banners at the Cultural Centre Piazza in Tsim Sha Tsui at 9am, hoping to see their idol, with personnel deployed to manage the crowd.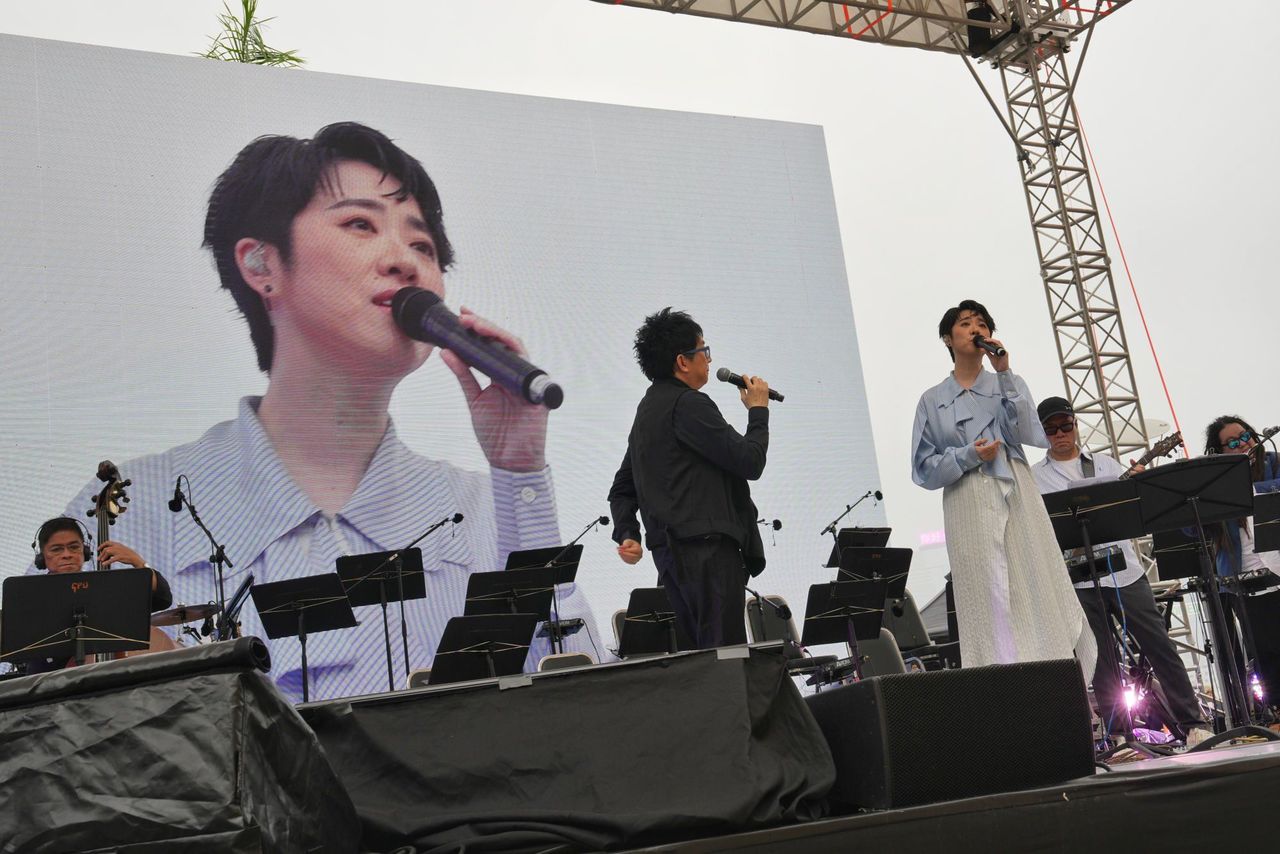 Anthony Lun and Yoyo Sham sing at the Hong Kong Pop Culture Festival.

About 300 people, many having preregistered for tickets, gathered at the piazza when the 5½-hour concert started at 2.30pm.

A spokesman for the Leisure and Cultural Services Department said over 20,000 attendees were recorded as of 8pm, including the audience in the venue and onlookers.

Ada Ho Cheuk-wan, 32, who works in the education field, found the collaboration between the old and young stars interesting.

"Judas has a haunting singing voice. It's definitely something new for her as a busker to sing with more seasoned singers like Elisa and Danny Summer," Ho said.

Danny Summer and Legacy Band opened the concert with eight classic songs from the 1960s and 1990s.

The outdoor concert was one of the events of the Pop Culture Festival, a part of the "Hello Hong Kong" tourism campaign.

The festival, the first of its kind in Hong Kong, aims to offer different programmes, from pop concerts and performances to thematic exhibitions, film screenings, and outdoor and outreach activities, showcasing the city's unique cultural creativity and vibrancy.

Officials earlier estimated the festival would attract 140,000 people but admitted most events were likely to target local audiences.

Ho agreed that the event was more for residents as tourists might not know the celebrities taking part or how to preregister for tickets.

"I don't think it can draw tourists at all. Participants are more likely to be fans of the celebrities involved. More people are likely to show up in Tsim Sha Tsui, but I don't think it can boost people spending more just for the event alone," Ho said.

Wong Yuen-man, 66, a retired clinic worker, and three friends tried to get on-site tickets.

"I'm not into celebrities, but I enjoy listening to old songs. So we'll try our luck to see if we can get in," she said.

"I don't see any connection to tourism, to be honest, but it's good that people can enjoy an outdoor concert and fresh air without wearing a mask."

Jacky Kam Hoi-ming, 36, an IT engineer, walked in to the concert at the last minute with his wife and six-year-old son to enjoy a family Sunday with free entertainment.

"The weather is not as bad as yesterday, so we just want to come and chill. Free music and a cool breeze by the sea. The best part is you can walk away any time because it's free," he said.

Musicians who performed at the concert on Sunday included Anthony Lun Wing-leung, Phil Lam Yik-hong, Yoyo Sham Ning-yi, Cath Wong In, and internationally sought-after conductor Wilson Ng.

Later in the evening, edited clips of film songs featuring late celebrities Leslie Cheung Kwok-wing and Anita Mui Yim-fong were screened. Local young singers, including Judas Law, RUMBU, Monkey Sit and Yanny Leung, of ViuTV's talent show fame, led a singalong, with the crowd waving cellphone flashlights.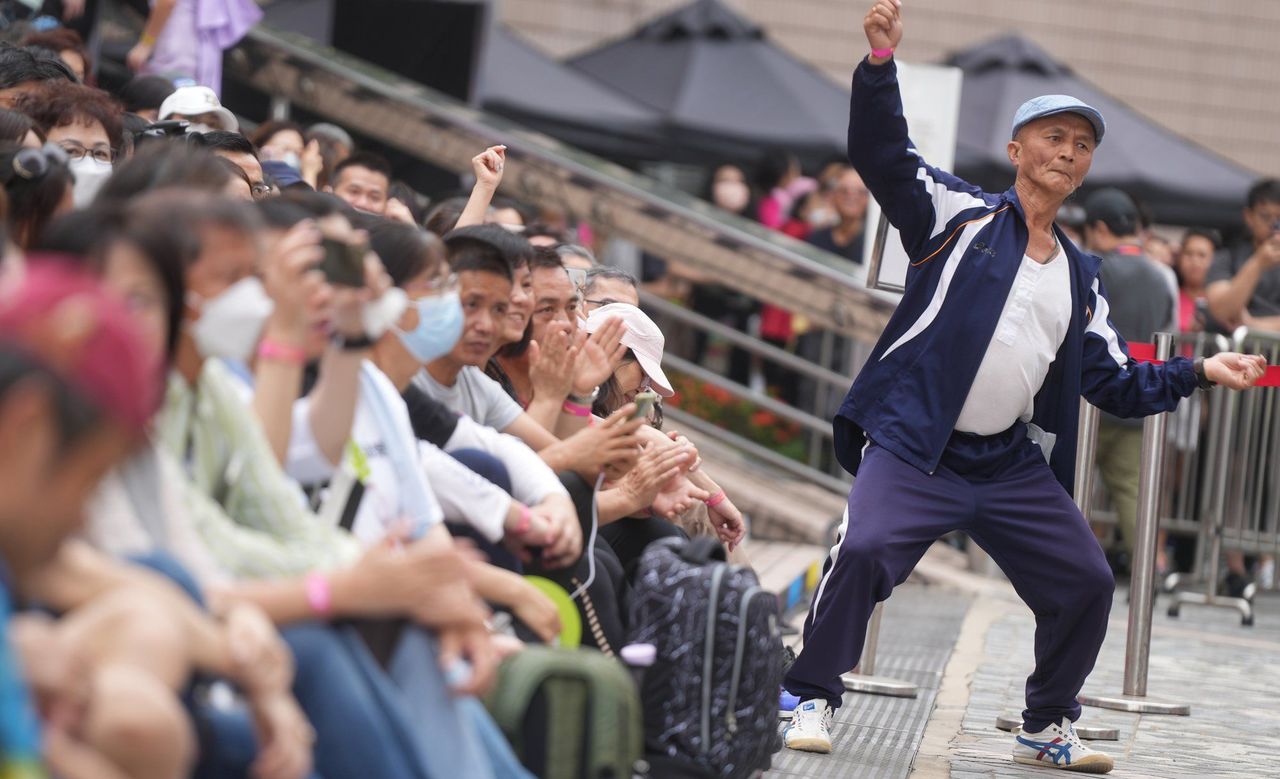 A fan shows his appreciation for the music at the Hong Kong Pop Culture Festival.

The Pop Culture Festival was estimated to cost about HK$20 million (US$2.5 million), with 20 programmes confirmed to cater to people of all ages from April to November.

Producer Johnny Yim Lai-hang, the creative force behind hits of many local pop singers, arranged "Pop Unplugged" concerts earlier this month featuring young stars such as Mag Lam Yan-tung and James Ng Yip-kwan in "pre-event" activities.

The initial phase of the "Hello Hong Kong" initiative includes vouchers, special events, and the distribution of 700,000 airline tickets.

Chief Executive John Lee Ka-chiu announced the plan for the pop festival in his maiden policy address last year, which aimed to establish the city as an international hub for cultural exchanges.