'Kids shouldn't feel limited because they were born into certain backgrounds,' says Alliance Primary School teacher-fencer Henry Leung Wai-hang as a citywide fencing programme is rolled out.
Students from Hong Kong primary schools could be following in the footsteps of star athletes like Vivian Kong Man-wai and Edgar Cheung Ka-long thanks to a free, citywide fencing scheme.

The BOCHK Youth Development Programme – in tandem with the Hong Kong Fencing Association – provides classes with professional coaching and various training, fencing and scoring equipment in what is promoted as a sustainable return to physical and mental development.

The objective is to expose fencing – often considered a sport for the elites – to primary 4 to 6 students from comparatively humbler districts and social backgrounds.

First rolled out in online form last November during the Covid-19 pandemic's resurgence, the first batch of children from Alliance Primary School in Tai Hang Tung were finally able to put their home air-fencing and -shuffling to use last month.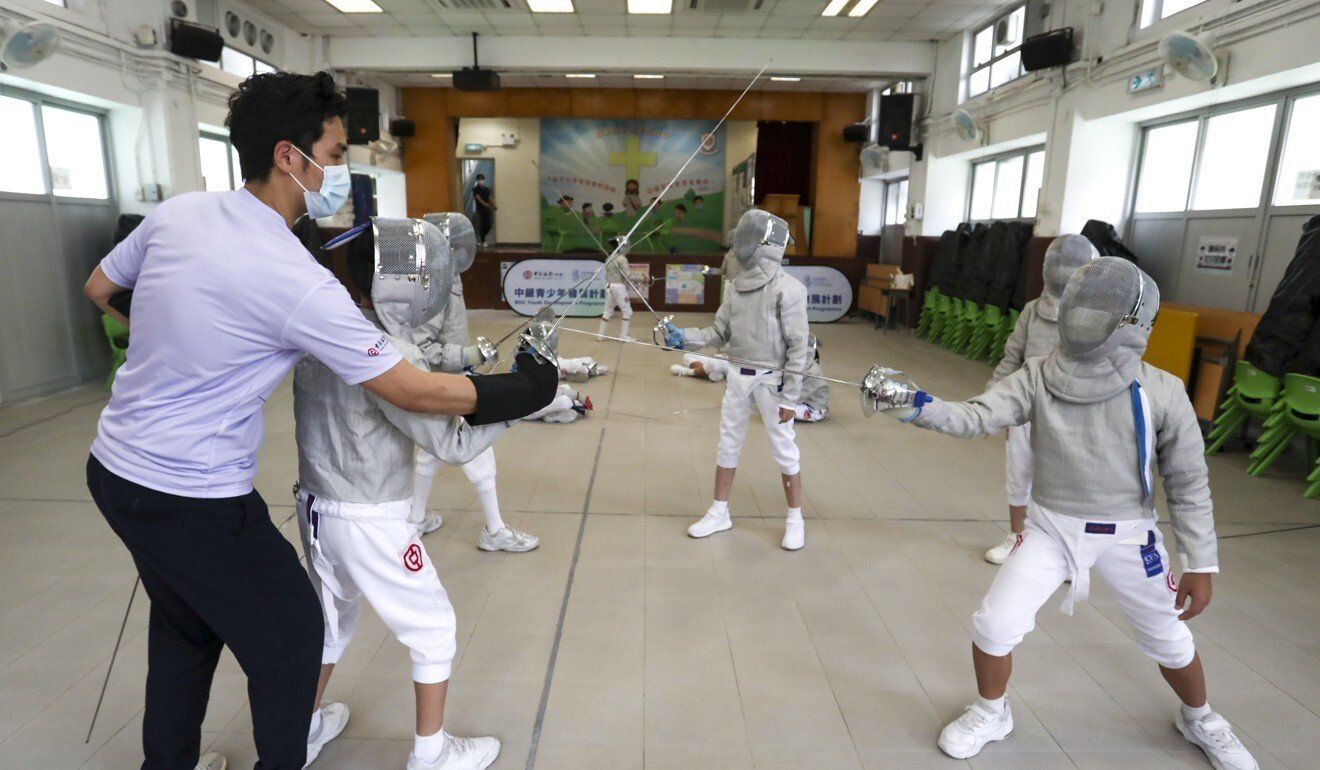 Hong Kong Fencing Association coach Tsoi Chung-ngan teaches a class of students at the Alliance Primary School in Shek Kip Mei in June.

"There weren't many things to participate in during the pandemic – it was really boring. This programme has allowed me to experience something new. I like the competition part the most because it's both fun and challenging," said student Janelle Lee Po-ying.

"When you win, you feel accomplishment; when you lose, there's of course some disappointment but you want to work on it and go again. Before, I didn't really know what people did to score points or defend well. Now I understand a lot more and hope to win against future opponents."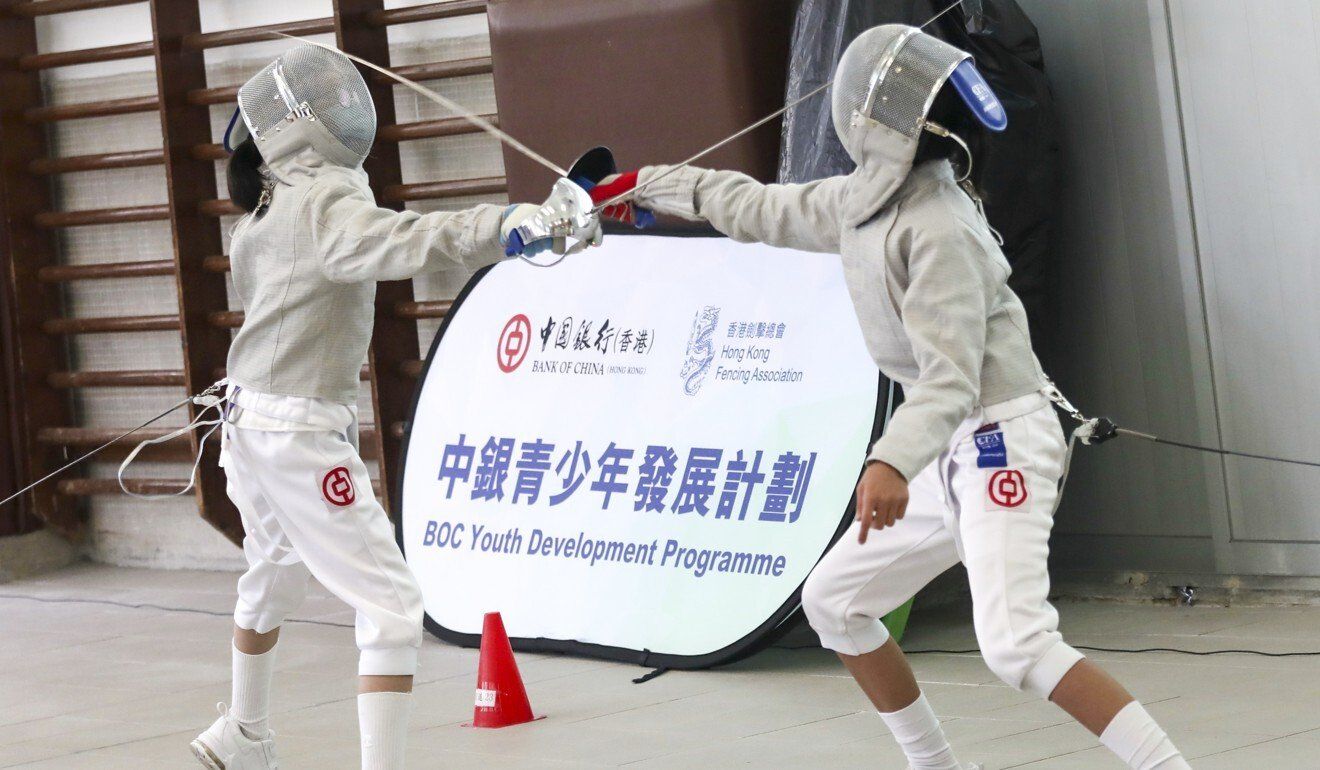 Students compete in a sabre duel at the Alliance Primary School in Shek Kip Mei.

For classmate George Huon Ka-yu, the highlight is putting on the elegant white uniforms similar to those he watched his favourite fencers wear at the last Olympic Games in Rio.

"Although it's a little stuffy, seeing people competing in it was really cool. I thought I should be just as cool," he said. "I watched a lot of the Olympics with my brother and dad. Fencing was something I had not seen before and it was a bit difficult to follow on TV at times. I watched more of the épée and foil – we're learning sabre so the moves are a bit different. Now I want to see who the best is at the [Tokyo] Olympics."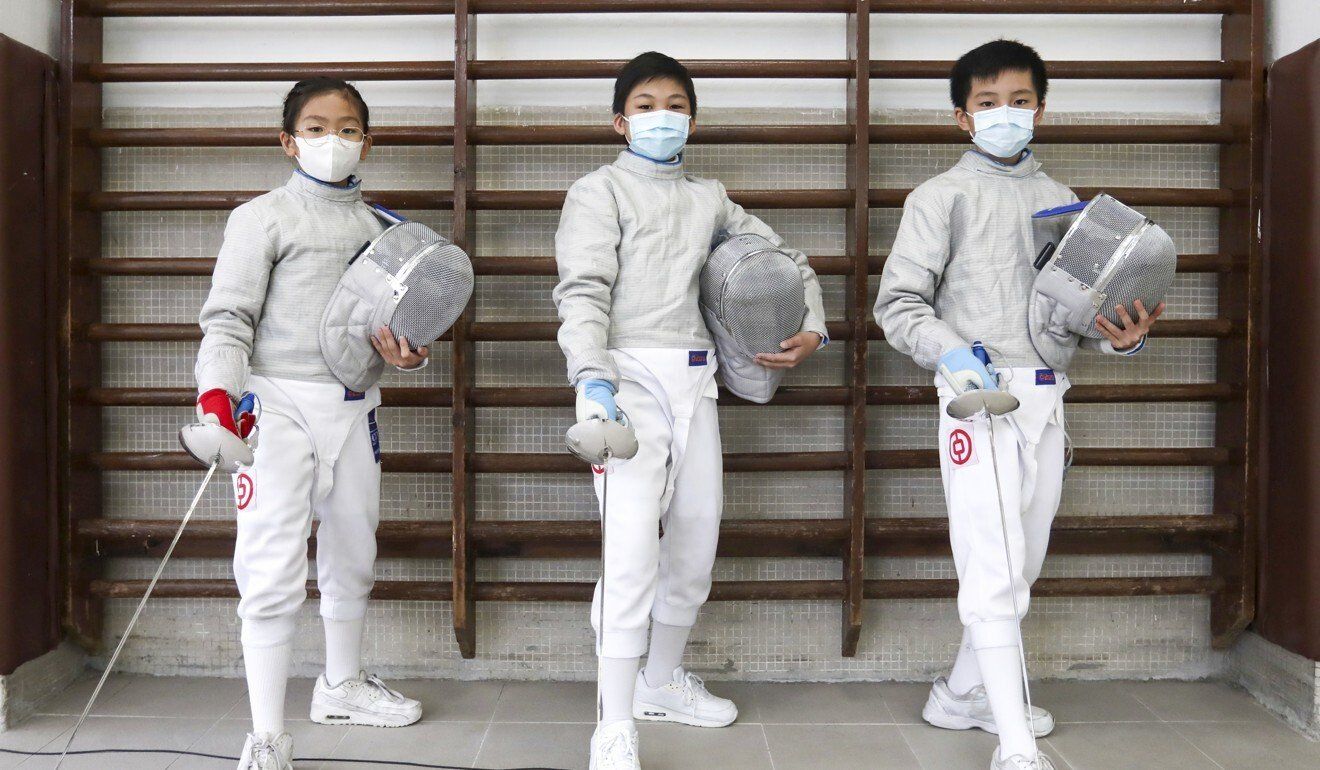 Alliance Primary School students Janelle Lee Po-ying, Brian Chan Ching-hang and George Huon Ka-yu after a fencing programme class in Tai Hang Tung.

Brian Chan Chin-hang was likewise delighted that his school is newly equipped with swords, helmets and cords.

"I saw that there are a lot of Hong Kong fencers going to the Olympics and the school coincidentally started this programme. It's a once-in-a-lifetime opportunity so I had to try it," said Chan.adding that the pandemic had lessened swimming and basketball days with his dad.

"I like the duels because you have to use put your mind and what you've learned in the lessons into different actions. [Friends from other schools] always ask, 'wow, what is fencing?' because they don't know anything about it. I hope to improve my techniques this year because I've been struggling to win points off opponents."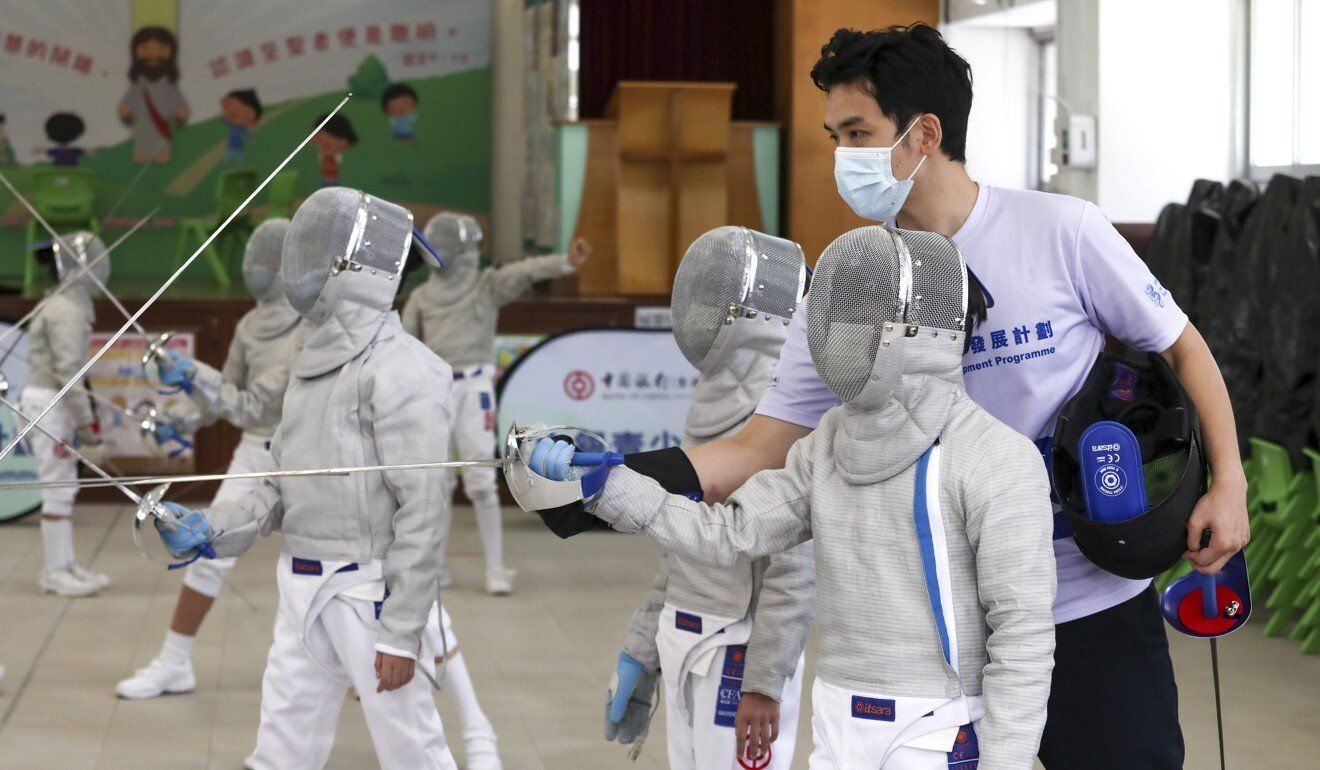 Fencing coach Tsoi Chung-ngan with students at the Alliance Primary School in Tai Hang Tung.

With Hong Kong's men's foil and women's épée teams qualified for the Tokyo Olympics (July 23- August 8), there are plenty of role models for these junior fencers.

Alliance teacher Henry Leung Wai-hang, a former university-level sabreur, explained why he persuaded his students to take the sabre path over the more intricate épée and foil.

"At the start, it's about the feeling of satisfaction when they see [the machine] light up after touching their opponents. I would say épée and foil disciplines require more things to remember and the surface area to hit is much smaller – I even wondered if kids would actually hit them and if would they feel unhappy or unmotivated if they couldn't. So why not build their confidence up?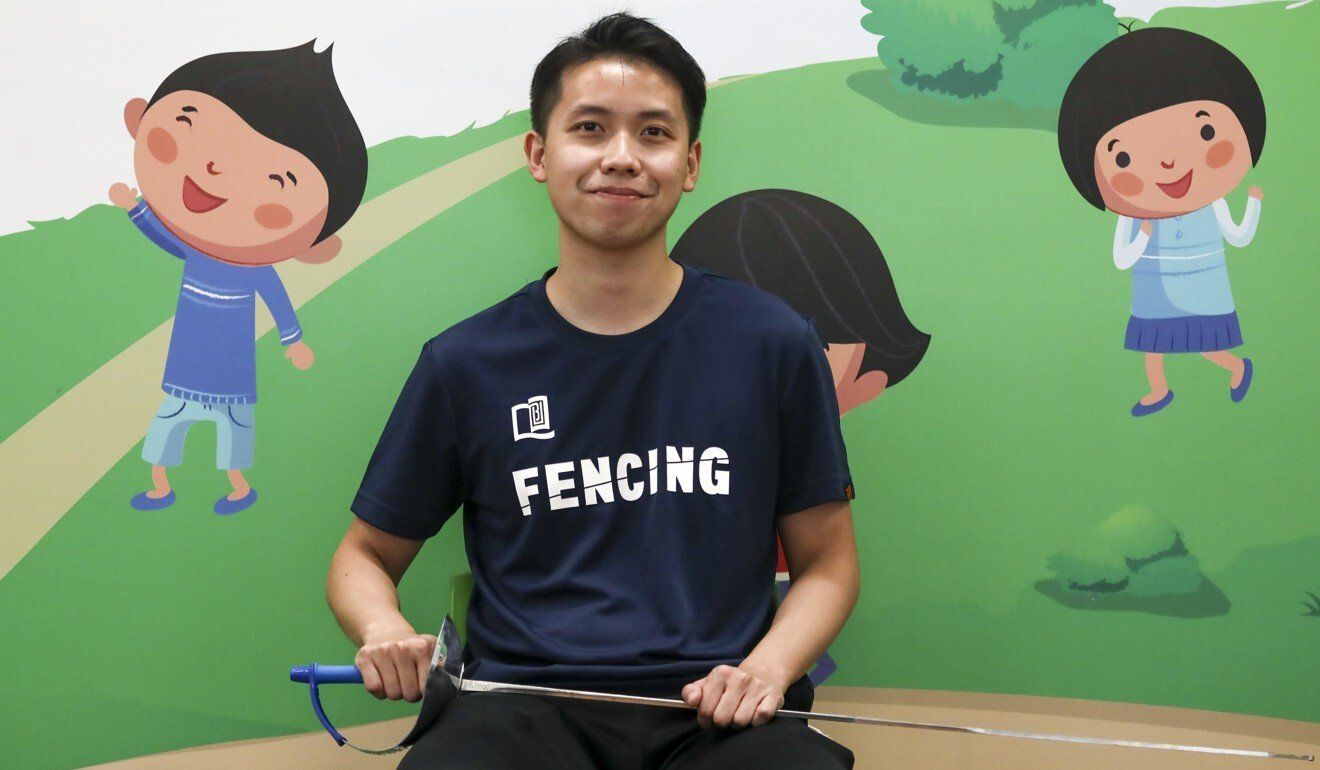 Alliance Primary School teacher Henry Leung Wai-hang in the school hall after a fencing Youth Development Programme class.

"Our school isn't considered one with lots of money and the students come from humbler backgrounds, so this sport wouldn't have been the easiest to pursue as even the basic equipment isn't cheap. We grasped at the opportunity," Leung said, adding that the school was already considering introducing a fencing course.

"Fencing teaches a lot, not just physical skill but mentality and sportsmanship. It's a complicated sport, almost like chess because you have a lot of continuous mental strategising against opponents. I wanted them to learn the process, improve their thinking, and get moving after having few things to do during the Covid-19 pandemic."

The programmes – in school playgrounds, halls or the like – run until the summer with students encouraged to share their progress via logbooks. While the aim is not as unrealistic as unearthing Hong Kong's next Olympian, there will be end-of-programme interschool competitions across the city's districts.

The recruits span across the New Territories, Kowloon and Hong Kong Island. There is also reportedly an eight-day exchange programme in mainland China this winter.

Selected schools nominate up to 15 students to join the programme, gaining access to allocated sets of training and scoring equipment.

"We picked students who had the PE teacher's blessing in terms of physical condition. We picked a few from each class and did coordination and speed try-outs. The second criteria was that they had to be disciplined, because if you give a less-disciplined student a sword, it could intimidate others. So we picked the level-headed, well-behaved students for the programme," Leung said, adding that while online-offline hybrid teaching "cannot be ignored during these times … you can never beat in-person teaching, especially for physical education".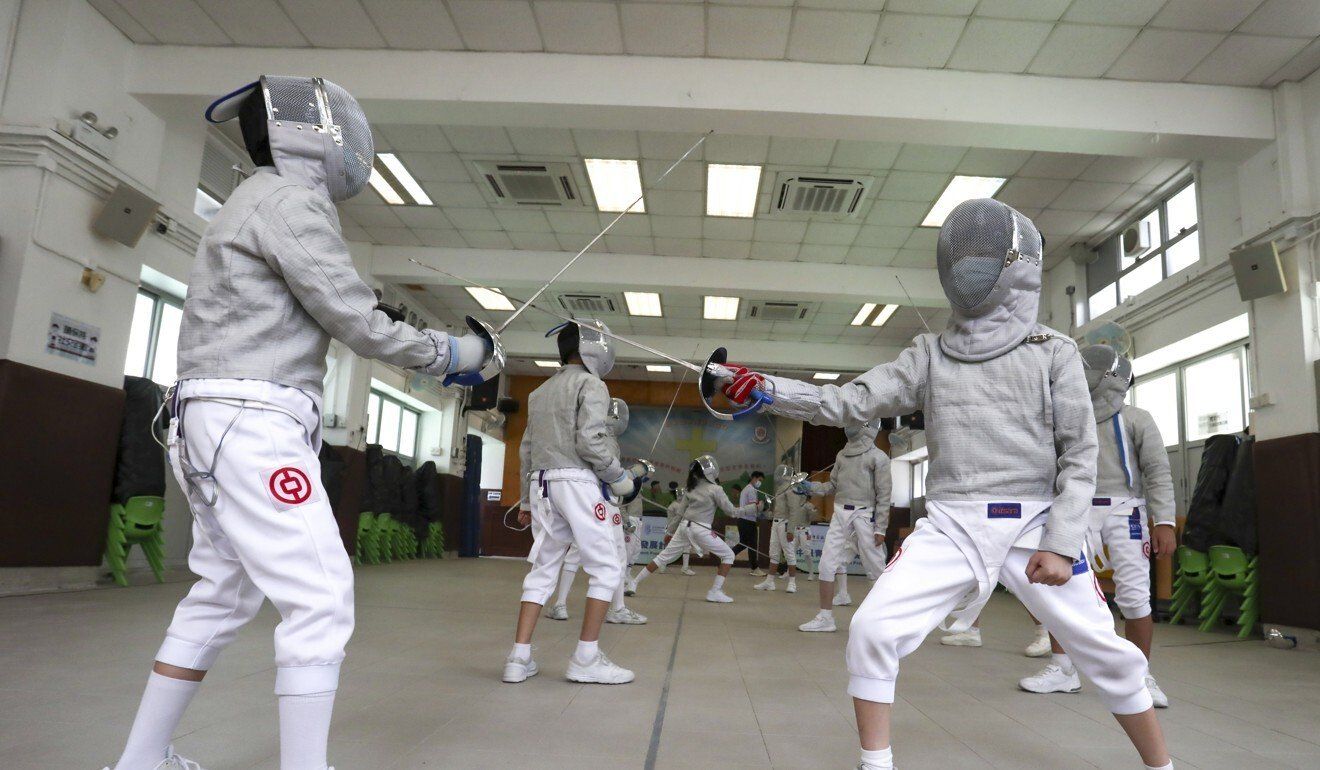 A fencing class at Alliance Primary School in Shek Kip Mei.

"The sport is considered rather high-class because the competitions often involve well-known schools and only a couple from the district schools. I want kids to know that they shouldn't feel limited or are unable to experience something for whatever reason. Whether they choose to continue fencing or not, I wanted them to at least try. Not 'I was born into a certain background and therefore cannot do it'."