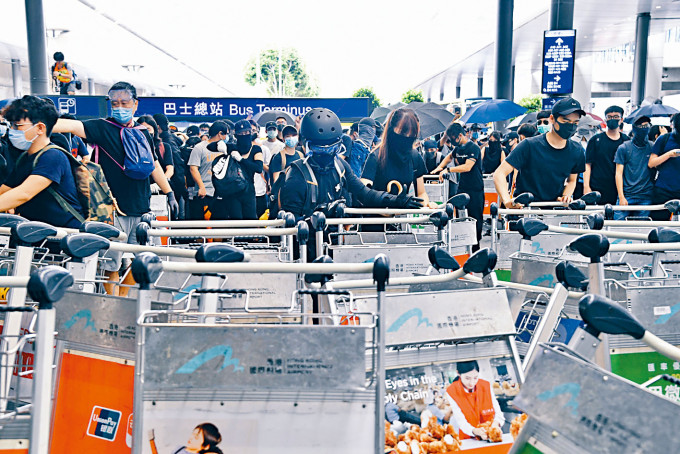 Four jailed up to 45 months over 2019 airport protest
Two men have been jailed for 45 months for rioting during a protest at Hong Kong airport in 2019, with two others given shorter jail terms for unlawful assembly, RTHK reports.
Yau Man-king and Yip Man-leong earlier pleaded guilty to taking part in a riot, when thousands occupied the airport during an anti-government protest on August 13, bringing flights to a halt.

In sentencing, District Court judge Anthony Kwok said video footage showed Yau and Yip had attacked a police officer, with Yau trying to shove a luggage trolley into the officer, and Yip hitting the policeman's back and pushing him.

The judge said it was just by luck that the officer was not seriously injured.

Yip's lawyer said during mitigation that his client was diagnosed in 2017 with depression, attention deficit and hyperactivity disorder (ADHD), as well as Asperger's syndrome.

But the judge said Yip had voluntarily taken part in the riot, and his conditions were not a valid reason to reduce his sentence.

Two other defendants in the same case, Ko Wing-hong and Mak Hang-hung, were each given 13 months after being convicted of participating in an unlawful assembly.

The judge said the pair had been disrespectful to law enforcement officers, by trying to block a police car from leaving the airport and throwing objects towards a bus filled with police.