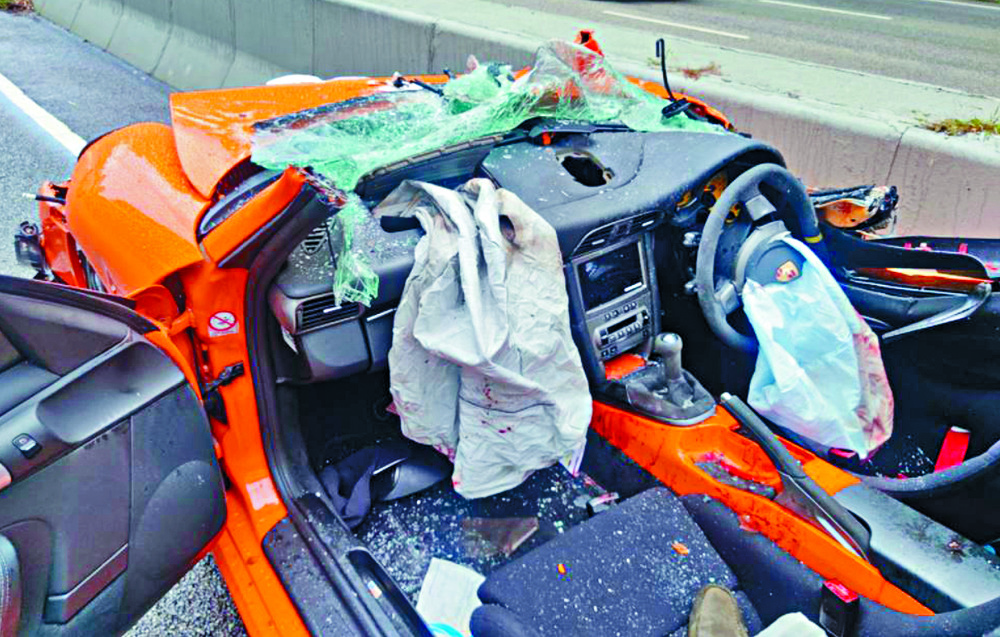 Four hurt in car-truck rain collision
Four people were injured yesterday when a sports car collided with a nine-tonne truck on a Lok Ma Chau highway.in an accident that left the latter on its side.
The collision occurred when the amber rainstorm signal and thunderstorm warnings were up and amid heavy rain exceeding 30 millimeters an hour recorded across the city.

Mak, 28, the driver of the orange Porsche 911 GT3, was unconscious as he was sent to Tuen Mun Hospital. Fortunately, he later regained consciousness.

The truck driver, Lai, 38, and two passengers - 61-year-old Lo in the truck and 30-year-old Liu in the car - were sent to North District Hospital in Sheung Shui.

The two drivers and Liu had head injuries, while Lo suffered chest pains.

Mak remained in a critical condition last night, while Lai and Lo were in stable condition.

The two vehicles were traveling on San Tin Highway in Lok Ma Chau, headed for Sheung Shui.

At around 10.30am, near residential complex Palm Springs in San Tin, the sports car rammed into the truck's rear, apparently due to slippery conditions.

It then hit the railings and the highway's central divider. The truck landed on its side on the sports car.

The roof and windscreen of the car was destroyed in the collision while the front section was heavily damaged. The truck's windscreen was torn away.

Additionally, the collision left the highway's central divider wrecked.

Cars were backed up from San Wai Tsuen to Mai Po Lo Wai along the 2.5-kilometer highway.

The Transport Department said the Sheung Shui-bound section of San Tin Highway's fast and slow lanes were closed due to the accident.

At 2.04pm, it announced that both lanes were reopened to all traffic.

The amber rainstorm signal, issued at 10.05am, was lifted at 12.15pm, whereas the thunderstorm warning, which was hoisted at 7.05am, was canceled at 1.30pm.