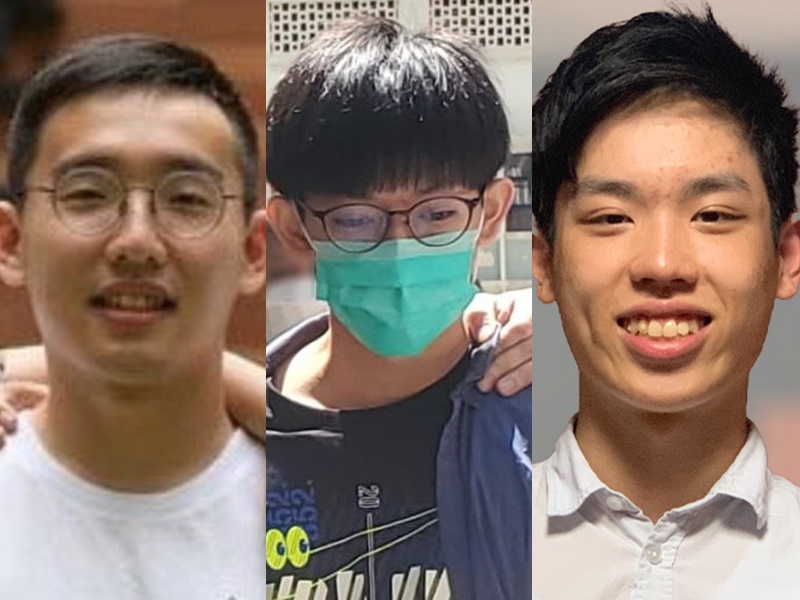 Four HKU student leaders charged with advocating terrorism remanded
Four University of Hong Kong student leaders were remanded after they appeared in West Kowloon Magistrates' Courts for advocating terrorism -- the first time this national security offense has been heard in the court.
Appearing before Principal Magistrate Peter Law Tak-chuen were Kinson Cheung King-sang, 19, chairman of HKU Students' Union council; Charles Kwok Wing-ho, 20, a former president of the HKU Students' Union; Chris Todorovski Shing-hang, 18, a former student representative of Simon Lee Hall; and Anthony Yung Chung-hei, 19, a former vice-chairman of the Arts Association.

No plea was taken and they were each charged with one count of advocating terrorism. Incitement with intent to wound was laid as an alternative charge.
All four were refused bail and were remanded in custody.

The four were accused of advocating terrorism in Hong Kong on July 7, which is against Article 27 of the National Security Law.

For the alternative charge, they were accused of inciting other persons to unlawfully and maliciously wound police officers with intent to cause grievous bodily harm on July 7.

The prosecution, represented by the deputy director of public prosecutions, Anthony Chau Tin-hang, and senior public prosecutor Ivan Cheung Cheuk-kan, asked to adjourn the hearing to October 15 pending police investigation as officers need to inspect nine mobile phones and computers, as well as video recordings.

But defense counsels Carter Chim Ting-cheong and Anson Wong Yu-yat said the adjournment was too long as it was more difficult for defendants to get bail in national security cases.

Other defense counsels included barrister Edward Chan Man-hon, who is also a principal lecturer at HKU's Department of Law, and barrister Joshua Ngai Jun.

The hearing has been adjourned to October 15 but the court will hear the investigation process by the prosecution on September 14.

The four were arrested on Wednesday by the police national security department. The arrests were made after the student union council passed a motion on July 7 to pay tribute to Leung Kin-fai, 50, who stabbed a police constable from behind before stabbing himself to death on July 1 outside the Sogo department store in Causeway Bay.