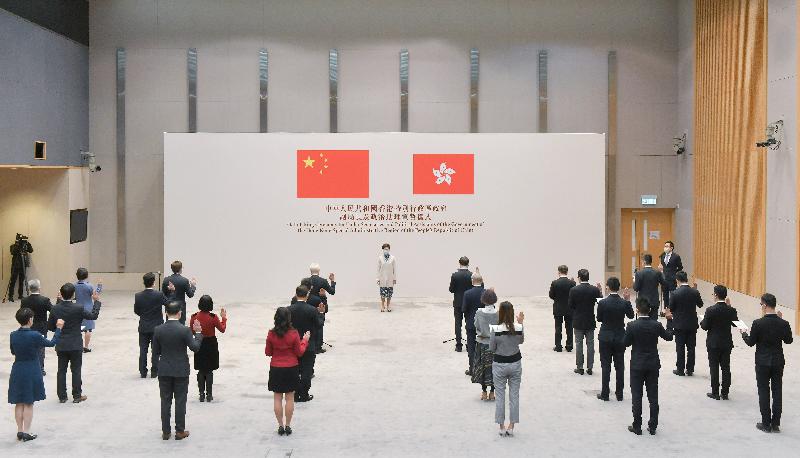 Former tax officer files first judicial review after forced into retirement over loyalty pledge
A former tax officer who worked in the government for 25 years filed a judicial review after the government allegedly forced him into retirement when he challenged the necessity for civil servants to take a loyalty pledge.
It is the first judicial review filed by a civil servant concerning the pledge since the government announced the mandatory requirement this year.

Former assistant taxation officer Wong Chau-ming filed a writ to the court on Monday, stating that he, who had been working in the Inland Revenue Department since 1996, was forced to retire on October 25.

The Secretary for the Civil Service on January 15 announced that all civil servants employed before July 1, 2020, must declare they will uphold the Basic Law and pledge allegiance to the SAR.

The department asked Chau to submit a signed declaration on January 28. In a letter dated February 25, Chau asked about the necessity of signing the declaration and how to define contravening the declaration.

After a series of correspondences, Chau's case was transferred to the Secretary for the Civil Service on August 6, who directed Chau to retire in the public interest on August 30 after consulting the Public Service Commission.

Although having submitted a signed declaration on August 12, Chau was informed by the Commissioner of Inland Revenue that his pre-retirement leave would begin from August 31 until October 24, and his retirement would take effect on October 25.

Chau wanted the court to overthrow the Secretary of the Civil Service's retirement order and stage an oral hearing for his judicial review application.

Chau believed the retirement order was irrational as he had signed the declaration, and there is no good reason for the authority not to accept the signed declaration.

Chau added the order was "tainted with procedural impropriety" because the Secretary for the Civil Service failed to give any reason for directing him to retire in the public interest.

Secretary for the Civil Service Patrick Nip Tak-kuen in July said a total of 129 civil servants had refused to sign the declaration pledge and about 60 to 70 of them had left the government after completing relevant procedures.