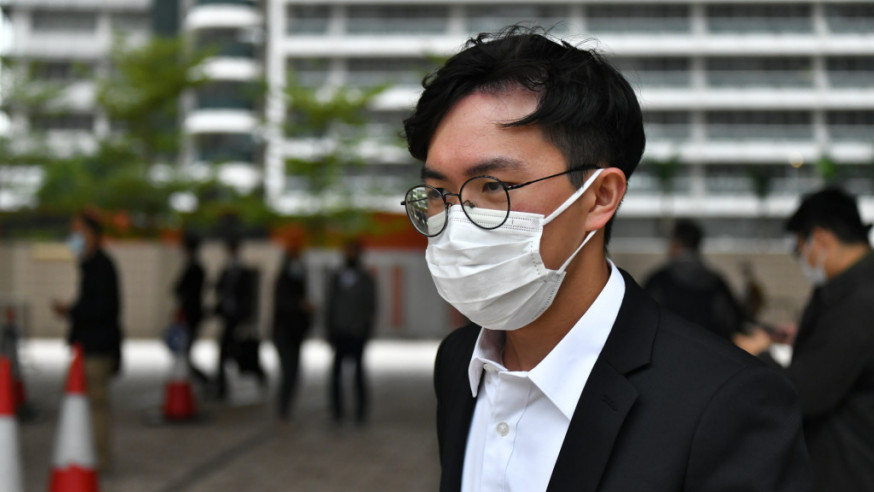 Former student leader gets suspended jail term for inciting others to cast blank vote
Former student leader Jacky So Tsun-fung was sentenced to two-month imprisonment, suspended for 18 months, for inciting others to cast a blank vote during the Legislative Council election last year by sharing a social medial post by exiled lawmaker Ted Hui Chi-fung. 
The 23-year-old former president of Chinese University's students union pleaded guilty to engaging in illegal conduct to incite others to cast invalid vote during election period as he appeared before deputy magistrate Kennis Tai Chiu-ki on Thursday. 

The guilty plea came as Tai ruled that the charge is constitutional after the defense challenged that it targeted people with certain political stance and violated the equality principle of the law. 

Announcing her judgment today, Tai said inciting others to cast blank or invalid vote cannot further promote a democratic election. She added such behavior can affect citizens' right to vote and bring pressure onto the election system, with resources wrongly allocated. 

Tai continued that the charge targets a specific election period as stated in the article, and agreed with the prosecution that the article does not serve to ban citizens from calling on blank vote without any limit. 

The judge also stressed that the voter is exercising civil right even when casting a blank or an invalid vote, regardless of what is on his or her mind. Yet, the charge aims to combat the incitement act, Tai pointed out, as she ruled the charge constitutional. 

In mitigation, the defense said So was a role model among students with excellent academic results, and committed the crime because of foolishness and a lack of legal knowledge. 

The lawyer added that So is now working in a green group and it is very unlikely that he will commit the crime again. 

So far, nine people were charged by the Independent Commission Against Corruption (ICAC) for inciting others to cast blank vote. Seven pleaded guilty already and were jailed for two months, suspended for 18 to 24 months. The remaining two have yet to enter a plea.