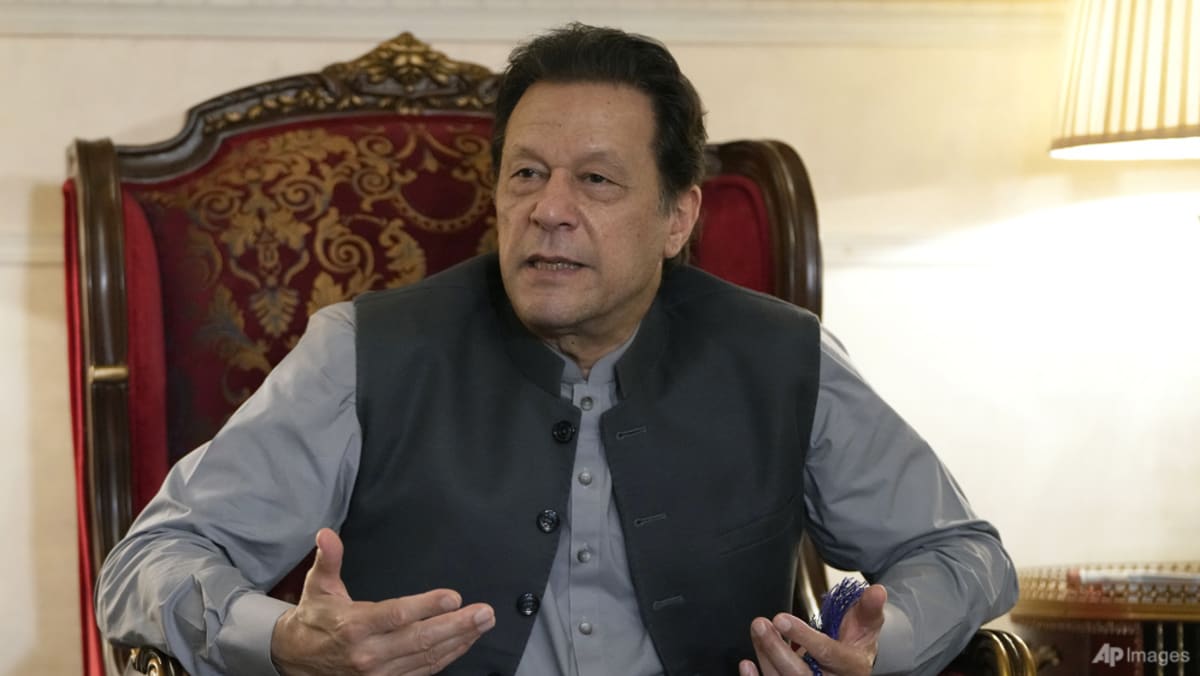 Former Pakistan PM Imran Khan Arrested After Receiving Three-Year Prison Sentence for Illegal Sale of State Gifts
Imran Khan, the former Prime Minister of Pakistan, was arrested by police in Lahore on Saturday following a court ruling that sentenced him to three years in prison for unlawfully selling state gifts. The verdict could potentially prevent Khan, a prominent opposition leader, from participating in the upcoming national election expected in November. Legal experts suggest that this guilty verdict could eliminate Prime Minister Shehbaz Sharif's main rival in the election.
Khan's lawyer, Intezar Panjotha, confirmed the arrest and stated that they would be filing a petition against the decision in the high court. Lahore Police Chief Bilal Siddique Kamiana also confirmed the arrest and revealed that Khan would be transferred to the capital, Islamabad, before being held at Central Adiala Jail in nearby Rawalpindi, as stated in the arrest warrant.

Khan's political party, Pakistan Tehreek-e-Insaf (PTI), has filed an appeal to the Supreme Court. In a pre-recorded video address released by PTI, Khan denied any wrongdoing and urged his supporters to protest peacefully. He emphasized that he was fighting for the people and the future of the country.

The conviction comes just a day after Pakistan's high court temporarily halted the district court trial. The reason for the trial proceeding despite the high court decision remains unclear.

Shah Mahmood Qureshi, Khan's deputy and former foreign minister, who will lead the party in Khan's absence, claimed that their leader had been denied a fair trial. Qureshi stated that the party's top decision-making body would meet to discuss future strategies and emphasized the need to fight legally and politically in a peaceful manner, following Khan's directives.

Information Minister Marriyum Aurangzeb defended Khan's arrest, stating that it followed a thorough investigation and proper legal proceedings in a trial court. She asserted that the arrest was unrelated to the upcoming elections.

According to the court verdict shared by Khan's legal team, he was found guilty of making false statements about acquiring official state gifts. The verdict stated that Khan had intentionally and willfully hidden the benefits he received from the national exchequer. He was accused of providing inaccurate information about gifts obtained from Toshakhana, the state gift repository.

Following the release of the verdict, police surrounded Khan's residence in Lahore, but there were no signs of unrest in the hours after his arrest, unlike a similar incident in May last year. Khan's previous arrest and detention sparked political turmoil and violent clashes between his supporters and the police.

Since Khan's ouster from the premiership in April 2022, he has faced multiple charges. He has accused the army, led by General Asim Munir, of targeting him and his party to prevent his return to power and influence the upcoming elections. However, the army denies these allegations.

Prime Minister Sharif has proposed dissolving parliament on August 9, three days before its term ends, which would pave the way for a general election in November.