The former radio and TV host is one 47 former opposition lawmakers and activists charged with subversion under the Beijing-imposed national security law.
Former opposition lawmaker Raymond Chan Chi-chuen, who is currently in jail awaiting trial on national security charges, has announced he is quitting his party and leaving politics altogether.

In a brief statement issued through his sister on Sunday, Chan – also known by his nickname, "Slow Beat" – said he had officially tendered his resignation as chairman of localist party People Power and was leaving the organisation.

"From now on, I will no longer stand as candidate for any public office or get involved in any election in any form, sector or at any level. From now on, I will no longer participate in any marches, rallies, protests or any gatherings that are political in nature," the statement said.

Chan did not give a reason for the move in his statement.

People Power said in a post on its Facebook page that it respected and understood Chan's decision and had accepted his resignation.

"People Power would like to express our sincere gratitude to Chan for his selfless devotion to the party's work and the sacrifice and contributions he has made to the development of Hong Kong's democracy," the post said.

Chan was a popular radio and television host in the 1990s before deciding to try his hand at politics in 2010. Joining a group called Power Voters, he made an unsuccessful bid for district council in 2011, basing his campaign on opposition to pan-democrats who had supported the government's controversial political reform proposal a year earlier.

Power Voters later merged with other groups to form People Power.

Chan went on to win a Legislative Council seat in 2012, and revealed days after his victory that he was gay, becoming the city's first openly homosexual lawmaker. He has since emerged as a leading voice for LGBT rights in the city. He was re-elected to his seat in 2016.

During his eight-year career in Legco, Chan was well-known for his active role in opposition filibustering campaigns aiming to block government proposals that were unpopular with the bloc.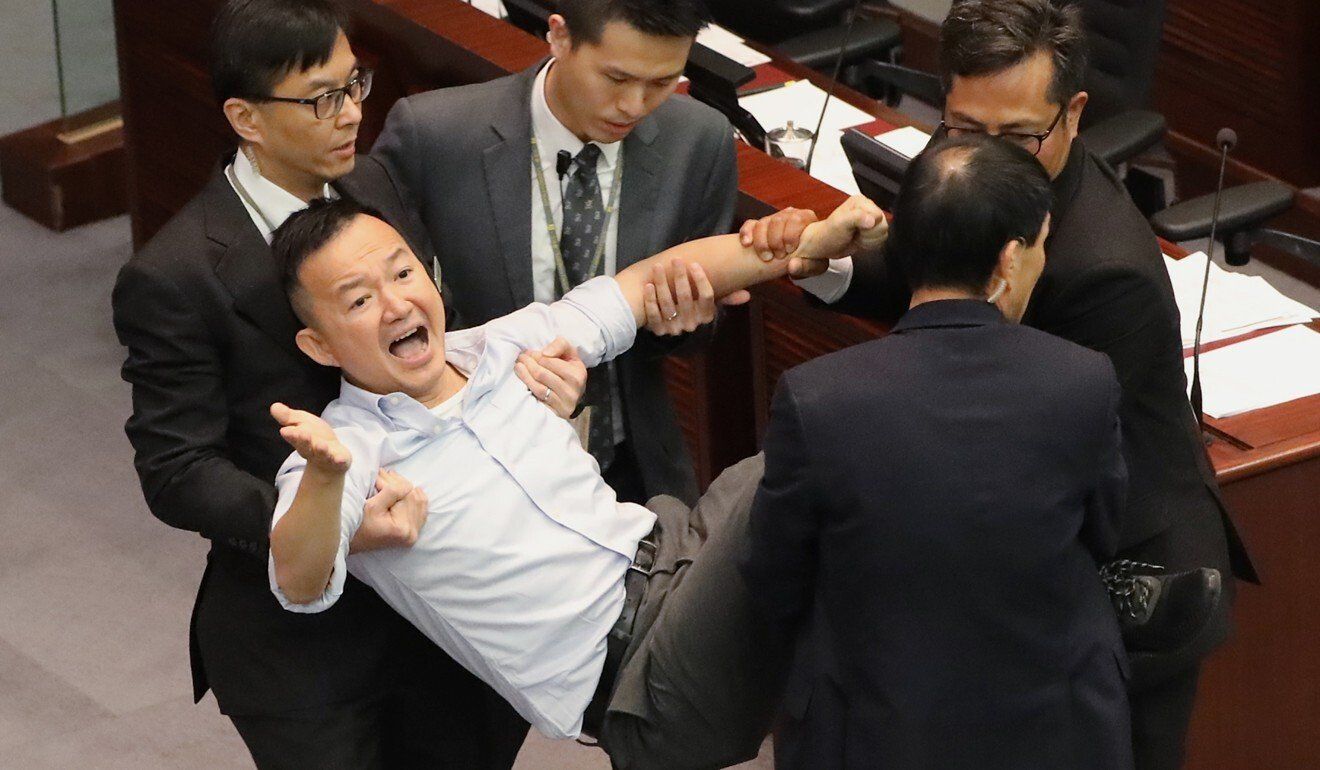 Raymond Chan is taken away by security guards during a fracas in a Bills Committee meeting in 2018.

Last September, Chan and his fellow localist Eddie Chu Hoi-dick resigned from the legislature in protest against Beijing's decision to extend lawmakers' term by at least a year following the postponement of Legco elections, originally scheduled for last year.

Critics had decried the extension as unconstitutional, and Chan and Chu said at the time that the move had no public mandate.

Chan is just the latest member of the opposition camp to quit his party in recent months.

In April, former lawmaker Dennis Kwok announced he was leaving the Civic Party after he moved to Canada.

Before that, Kwok's former party colleagues Alvin Yeung Ngok-kiu, Jeremy Tam Man-ho and Kwok Ka-ki had also announced they were quitting the organisation.

Those three, along with Chan and Chu, were among 55 former opposition lawmakers and activists arrested in January on suspicion of subversion under the Beijing-imposed national security law over an unofficial primary election held last July to select candidates for Legco.

Forty-seven were subsequently charged under the law in February, with most of them remanded in custody after being denied bail in mid-March.