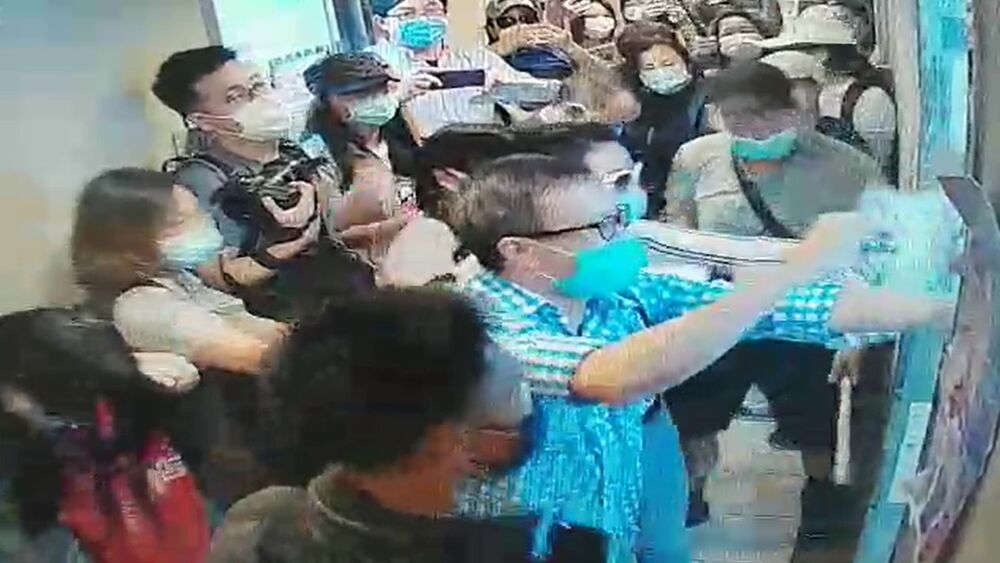 Former councilor assistant denies "blue ribbon" bleach attack
An assistant of former district councilor Andy Lao Ka-hang pleaded not guilty to attacking protesters who were upset about a notice saying "blue ribbon and dogs cannot enter."
Lee Yik-kiu, 32, pleaded not guilty to three counts of assault occasioning bodily harm for splashing bleach at three pro-establishment protesters on March 9 last year. The three were protesting a notice put outside Lao's office in Cheung Sha Wan, as they found it offensive.

"Blue ribbon" refers to pro-government supporters, and the slogan bears similarities with a controversial slogan which says "Chinese and dogs cannot enter."

Lee saw his case adjourned to November 2 and was granted HK$5,000 bail. He cannot leave Hong Kong and has to report to police station three times a week.

Influencer "Miss Pun" Pun Shu-wan, who is Lao's wife, also faces two counts of assault occasioning bodily harm and two counts of criminal damage for her involvement in the breach case. However, she did not appear in court, as the couple has moved overseas. A warrant was issued for her arrest.

Lao resigned his councilor position on July 11. He and Pun were supposed to appear in court on July 13 but did not, resulting in the court issuing a warrant for their arrest.

The pair confirmed on social media that they had left Hong Kong two days later, but denied accusations they had fled Hong Kong.