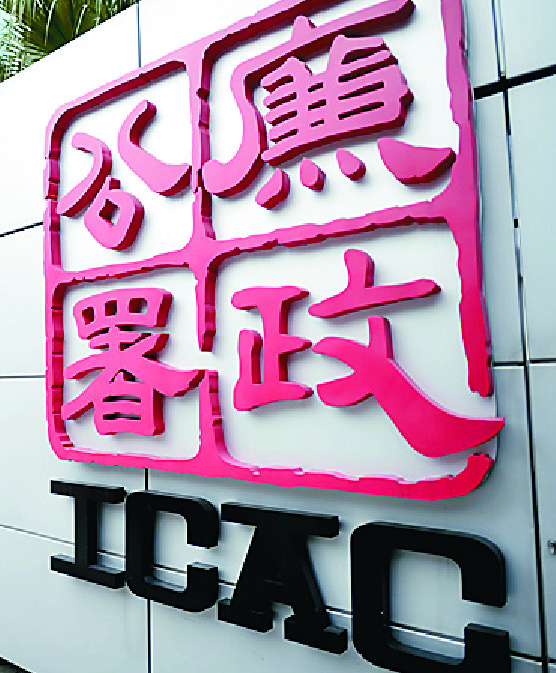 Former Commercial Daily exec on $120k ICAC bribery rap
A former advertising assistant general manager of state-owned Hong Kong Commercial Daily was charged by the Independent Commission Against Corruption yesterday for allegedly soliciting and accepting bribes of more than HK$120,000 from four subordinates.
The accusation allegedly involved commissions payable to the subordinates for securing event sponsorships.

Also charged were two of the subordinates alleged to have offered bribes to the assistant general manager, Daniel Wu Hang-chi.

Wu, 42, also known as Wu Che-hang, was the assistant general manager of the advertising department at the newspaper.

Wu was in charge of monitoring departmental operations and supervising sales representatives, including the other two defendants - Lee Kwok-wai, 49, and Ngo Kam-fai, 43.

Lee and Ngo were responsible for sourcing sponsors for various events organized by the newspaper and could receive 10 percent of the sponsorship fee as commission.

From November 2019 to November 2021, Lee and Ngo and another two sales representatives received various sponsorships totaling over HK$3.5 million for four events.

Wu and Lee allegedly solicited three bribes totaling approximately HK$35,000 from the two sales representatives, as a reward for Wu in assisting the two in obtaining the sponsorship.

The bribes were equivalent to 30 percent of the commissions payable to the two in relation to the events.

But both of the two sales representatives refused their demands.

Additionally, Lee and Ngo were alleged to offer Wu four bribes totaling HK$83,000 and one bribe of HK$5,000 respectively, because Wu assisted them in obtaining the sponsorships for holding the four events.

The three defendants were charged with eight counts - three of conspiracy for an agent to solicit an advantage, and five of offering an advantage to an agent - in violation of the Prevention of Bribery Ordinance and the Crimes Ordinance.

They were granted bail by the ICAC and will appear at the Eastern Magistrates' Courts on Monday, pending the prosecution's application to transfer the case to the District Court.

ICAC thanked the newspaper for its full assistance during the investigation into the case.