Spokesman for China's foreign ministry office in the city defends overhaul, says US consul general cheered on 'anti-China troublemakers'.
Beijing's foreign ministry has accused the United States' envoy to Hong Kong of "blatantly supporting anti-China troublemakers" and making threats a day after he said its drastic overhaul of the city's electoral system would neither produce "meaningful democratic results" nor credibly represent the will of the people.

Without naming US Consul General Hanscom Smith, a spokesman for the Chinese foreign ministry's Hong Kong office issued a statement on Friday slamming Washington's envoy for publicly "smearing" Beijing's imposition of the national security law last June and its sweeping revamp of the city's political system this week.

"He made much effort to support and cheer for anti-China troublemakers who mess up Hong Kong, and threatened us with so-called sanctions. This has blatantly trampled upon the basic principles of international law and relations, and we strongly reprimand and firmly oppose that," the spokesman said.

In a separate statement, the spokesman also criticised an op-ed by Smith published by the Post on Friday that said Beijing had "squelched democratic representation" and "dismantled" Hong Kong's high degree of autonomy with its security law and electoral overhaul.

The spokesman said the US was not qualified to meddle in Hong Kong affairs under the guise of human rights, freedom and democracy, and accused it of being "hypocritical".

"The article twisted right and wrong," the spokesman said. "It again exposed the United States' deep-rooted ideological prejudice, notorious 'double standard', as well as its self-centred arrogance and bullying attitude."

The National People's Congress (NPC) Standing Committee on Wednesday approved changes to Hong Kong's political system that, among other things, granted the establishment-dominated Election Committee – originally tasked with picking the chief executive – the power to nominate all candidates for lawmaker positions and to elect 40 representatives of its own to the Legislative Council.

Beijing has said the changes were necessary to ensure political power in Hong Kong would only be held by "patriots", and to avoid a repeat of the anti-government protests that rocked the city in 2019.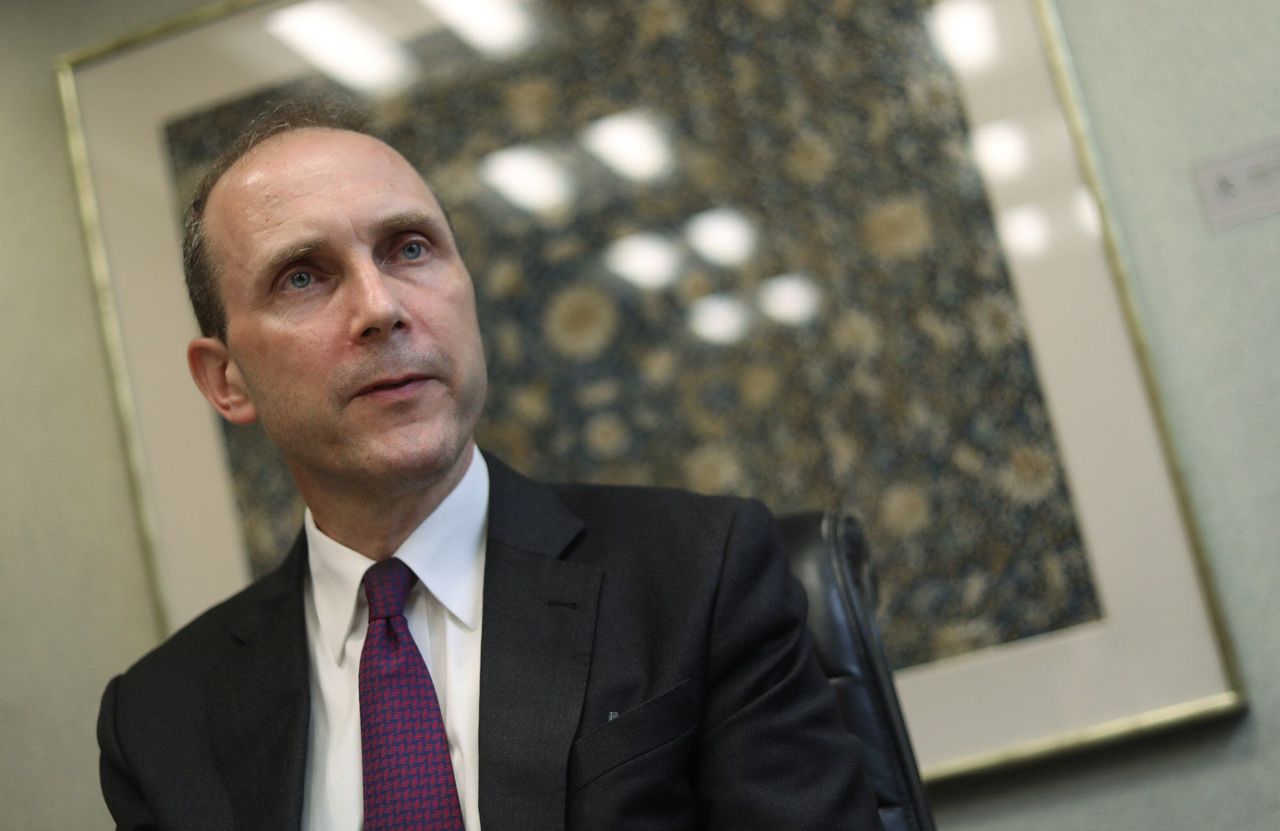 US Consul General Hanscom Smith.

Smith had called the shake-up an "enormous step backwards" and said the US' ­concern was that the system "has been essentially rigged".

But he stopped short of indicating whether Washington would consider slapping more drastic sanctions on Chinese officials in retaliation for the changes, only saying it would evaluate all of its available options.

In Friday's first statement, the foreign ministry spokesman said it was constitutional and lawful for Beijing to reform Hong Kong's electoral system, and that no foreign government could interfere in China and Hong Kong's internal affairs.

"The improvements to the electoral system will help increase the efficiency of Hong Kong's governance, and safeguard national security and Hong Kong's long-term prosperity and stability," he said.

Smith had also alluded to the case of media tycoon Jimmy Lai Chee-ying and six former lawmakers, including veteran opposition campaigner Martin Lee Chu-ming, who were convicted on Thursday of organising and taking part in an unauthorised protest in 2019.

The consul said it was "enormously troubling to have this case of people who were convicted for a peaceful assembly".

"We've seen most recently with the NPC decisions of earlier this week, the fact that all of the outlets that Hong Kong has traditionally enjoyed … for expressing political views and expressing dissent peacefully are now under attack and duress," he said.

But the foreign ministry spokesman on Friday said criminals like Lai threatened national security.

"No external forces are allowed to comment on the Hong Kong court's lawful judgment on people such as Lai. The US envoy has damaged the rule of law by glorifying and justifying their acts," he added.

In a statement, a spokesman for the Department of Justice said the matter was still sub judice, and no one should comment on cases in which legal proceedings were ongoing.

"It is regrettable to note that the convictions have drawn unfair criticisms with political overtones. Any assertion to suggest that 'Beijing [is] eroding Hong Kong's freedoms' is totally baseless," the statement said.

The foreign ministry spokesman, meanwhile, also accused the US of only pretending to care about Hong Kong issues so as to use them to obstruct China's progress.

"During the social unrest of 2019, the US never spoke up for anyone who suffered from the rioters' destructive acts … We all know the Americans' malicious intent; the Chinese people, including Hong Kong compatriots, just don't buy it," the spokesman added, using a turn of phrase popularised by China's foreign policy chief, Yang Jiechi, at last month's summit with US diplomats in Alaska.

The spokesman also said that no one was more concerned about Hong Kong's future than the central government.

"Those external forces, who don't want Hong Kong and China to prosper, are doomed to fail. We call on these people to recognise the reality, change their stance and do things that are conducive to Hong Kong's prosperity."

In his piece in the Post, Smith said Hong Kong was "now a city where people are arrested and languish in detention for months before trial for taking part in peaceful demonstrations". But in response, the spokesman maintained that the imposition of the national security law had not only reinforced the foundations of the "one country, two systems" framework, but also allowed for Hongkongers' rights and freedoms to be better protected, and for social and economic problems to be resolved more effectively.

"It is certain that the days when foreign forces took Hong Kong as an 'unfortified' city, acted with deliberate recklessness and even regarded Hong Kong as an independent and semi-independent political entity have ended," the spokesman added.

Pointing to the 2019 protests, the spokesman also accused the US of holding a "hypocritical double standard".

"Some US politicians were selectively blind and deaf because of their own interests, beautifying the [protests] as 'peaceful demonstrations', and still defending them," he said. "While in January this year, when some familiar scenes appeared in the United States, the US condemned that as a 'rebellion' and characterised the demonstrators as thugs and extremists."

"These are such hypocritical double standards," he added.