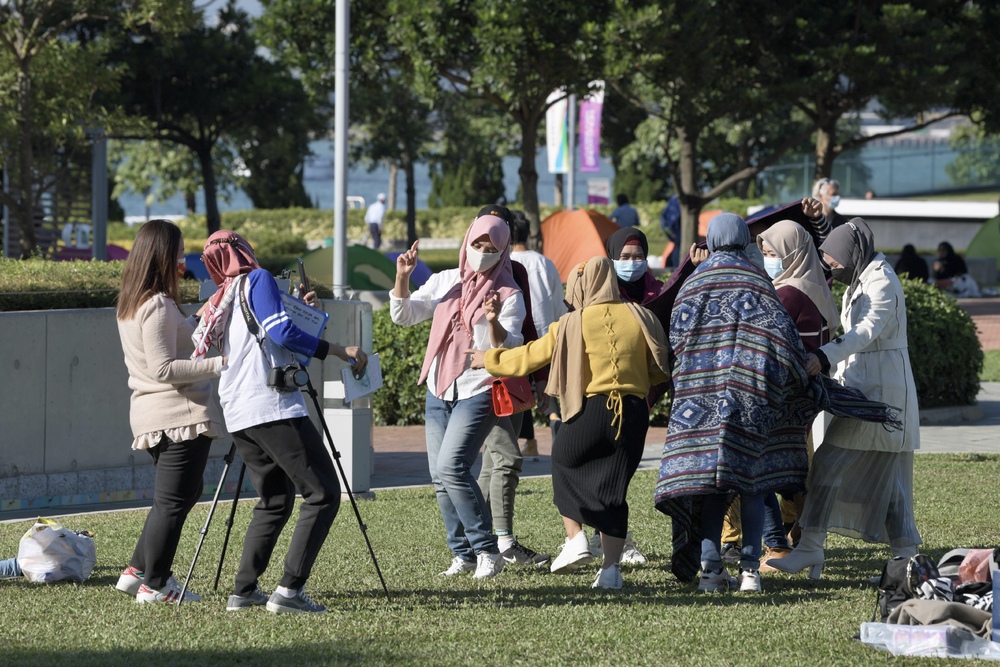 Foreign domestic helpers see 9.6 pc pay rise
A shortage of overseas household helpers has this year boosted the average monthly pay for foreign domestic workers by nearly 10 percent to HK$5,288.
HelperPlace, an online platform for helpers and employers to connect, surveyed over 12,500 domestic workers in Hong Kong from January to this month.

The platform, which states it is a licensed employment agency in Hong Kong, found that loosened travel restrictions for household workers has not been enough to meet the demand of local families.

Authorities have this year lifted an entry ban for vaccinated foreign domestic helpers, and has also frozen their minimum allowable monthly wage at HK$4,630.

But despite the action, responses to the survey show the average pay is at HK$5,288, the highest in three years.

HelperPlace describes an increase of 9.6 percent from 2020 to 2021 as "significant" when compared to the 1.3 percent from 2019 to 2020 as the pandemic took hold.

It noted that it was not rare to see workers asking for more than HK$7,000 per month in the last three months.

The survey shows that domestic helpers working at Hong Kong Island have the highest average salary of HK$5,612, followed by Kowloon at HK$5,148, and the least in New Territories at HK$5,093.

"In the context of the travel restrictions, the shortage of overseas helpers has brought up the market salary," a spokesman of HelperPlace said.

"The population of overseas workers has decreased by over 20,000 in less than a year," he added.

The platform observed that employers have a preference for hiring workers who are already in Hong Kong due to problems brought by travel restrictions, such as the struggle to book quarantine rooms and having to spend an extra HK$15,000 for workers' mandatory 21-day quarantine.

The platform forecasted that there will be a more severe shortage of local workers in the coming few months if the limits on domestic helpers entering Hong Kong remains the same.

As of Thursday, the government has provided 2,000 rooms from three quarantine facilities for domestic helpers' mandatory quarantine -- including Courtyard by Marriott Hong Kong Sha Tin, Penny's Bay Quarantine Centre, and Rambler Garden Hotel.

HelperPlace found that domestic helpers that were introduced to their employers through past employer referrals record the highest average salary of HK$5,418.

Domestic helpers introduced to employers through agencies record the lowest average monthly salary of HK$4,683.

After interviewing domestic helpers, the platform found that their salaries do not reflect their workload.

A spokesman of the platform said: "The [longer] the working [hours] and the [higher] number of kids in the employer's family, the lower the salary."

Nearly 61 percent work over 12 hours a day.

"Despite the higher bargaining power for a better salary, the local helpers who have finished their two-year contracts are also looking for better working conditions, such as separate rooms, lower workload," a spokesman of the platform said.

"It is undeniable that employers who have better offers can attract domestic helpers to start or continue working for them. It will create more difficulties for the middle class and lower-income families," the spokesman added.