Victim's relatives, colleagues and members of interest group hand over petition to delivery service provider.
Food delivery service provider Foodpanda promised to give the family of a rider who was killed in a road accident in Hong Kong HK$75,000 (US$9,500) the night before they joined some of his colleagues at the company's Causeway Bay offices on Thursday to hand over a petition about their working conditions.

The biker, 59-year old Chan Tak-ming, crashed into a double-decker bus in Sau Mau Ping on Tuesday and later died in a hospital.

He was the only breadwinner in the family and left behind a 39-year-old wife, who is a stay-at-home mother, and a 10-year-old daughter, according to the deceased's sister, Mandy Chan Luen-ching, 60.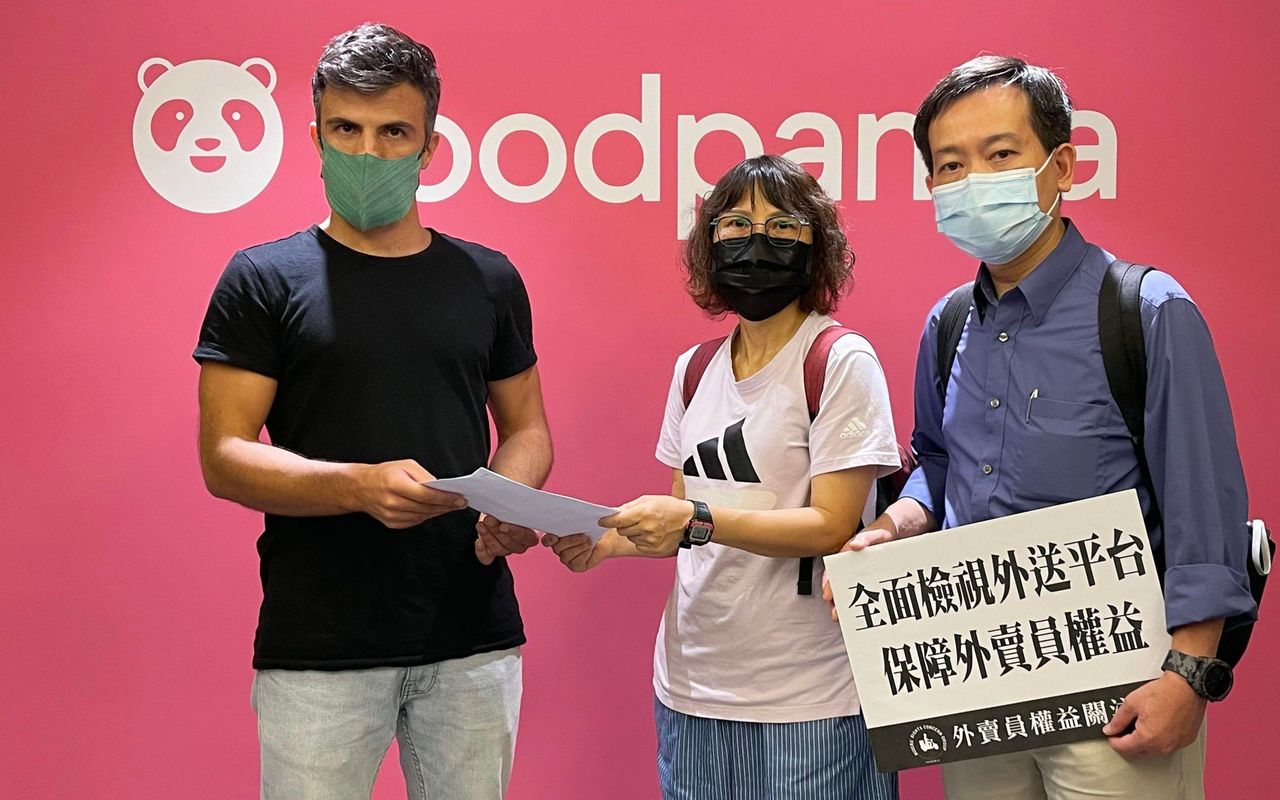 Pedro Dias, left, operations director at Foodpanda, receives a petition from Mandy Chan, elder sister of a rider who died in an accident, and her husband.

"His wife is still very heartbroken, while his daughter has a hard time expressing her emotions," Chan said.

Chan and her family members were among nearly 20 people, including Foodpanda riders and representatives of the Association for the Rights of Industrial Accident Victims, who went to the company's offices to hand over a petition. The company's operations director Pedro Dias accepted the petition from the family.

"I acknowledge and understand the severity of the problem. I also acknowledge we need to put as much effort as we can to preventing and handling these issues. And we will review the letter shared by the family with utmost attention and respond accordingly," said Dias.

Dias also admitted that the incident impacted everyone, especially the family as well as the team.

"We are sensitive to that and well aware of it. No one wants anything like this to happen," he said.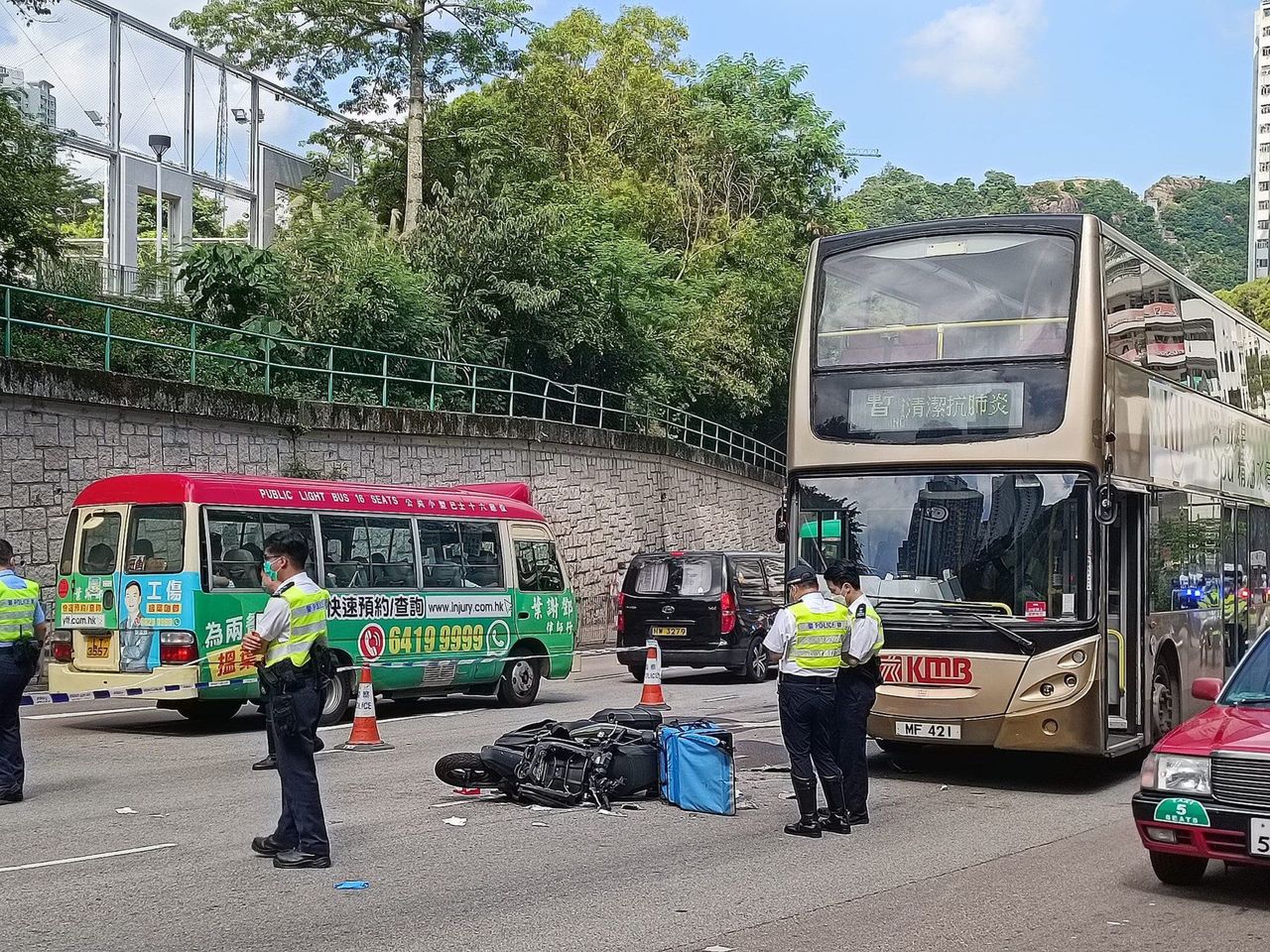 The scene of the accident.

Chan revealed the food delivery giant agreed to give an additional HK$65,000 as a support fund, on top of the previous HK$10,000 the family was offered. She said the company reiterated that the chance of getting compensation from insurance was low as the rider was not working at the time of the accident.

She did not comment on whether the family was satisfied with the offer.

But she said that the low level of insurance coverage provided by Foodpanda would not cover riders beyond their working hours therefore it would not be able to support their families. She also criticised Foodpanda for not telling the family what had happened until half a day later.

A Foodpanda spokesman said the company considered the protection of couriers outside of their shift hours, with mechanisms in place to provide emergency funds and support according to different situations.

Fellow rider Kami Ahmad, 35, who was also part of the group who handed over the petition, said the deceased was on his way to work at Kowloon Bay. Ahmad added he was too traumatised to work.

"We worked in the same area in Kowloon Bay. He was driving to work that morning. That's really bad. I used to see him every day and now I feel upset and depressed," Ahmad said.

"It's not good for the morale of the riders. I talked to a few people who know [Chan]. Our community, both the Chinese and Southeast Asian riders, felt the pain. Some of them just stayed home to regroup."

Labor sector lawmaker Dennis Leung Tsz-wing urged the government to take action through legislation to provide greater protection to riders of online delivery platforms.

"The situation now is that employees who take arranged transportation by their employers are protected when they encounter an accident on the way to work. But there is no such thing for delivery riders because of their self-employed status," Leung said.

He stated that bicycles and motorcycles of riders from online delivery platforms should be treated as transportation provided by the employers, adding that there were still no clear guidelines to determine whether picking up food or waiting at restaurants was considered working hours.