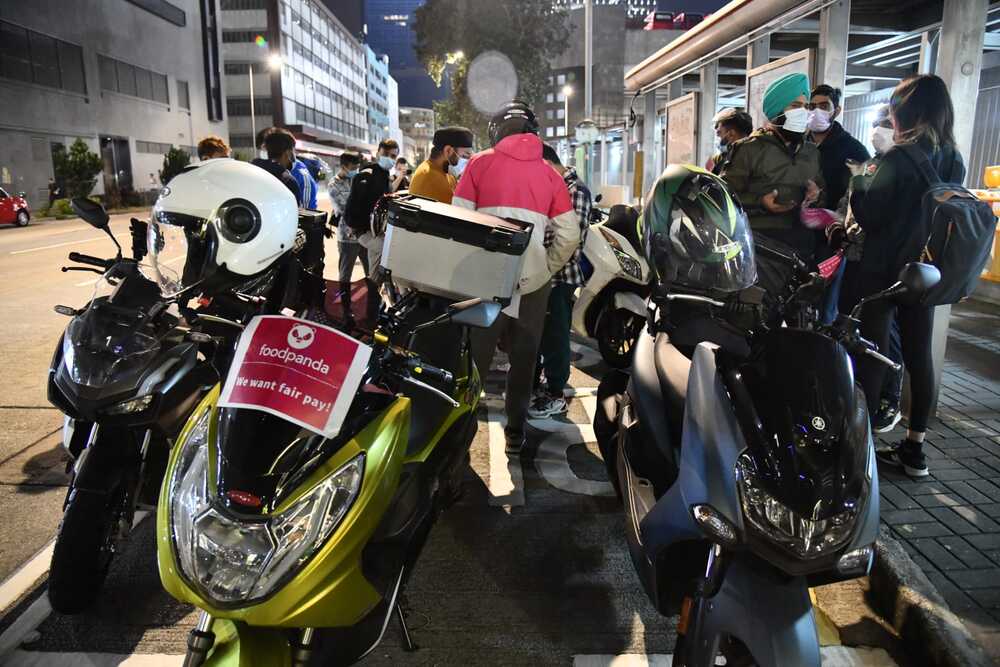 Foodpanda delivery man assaulted on Saturday night
A Foodpanda delivery man was assaulted on Saturday night in a suspected retaliation for not taking part in a two-day strike to protest against the delivery service providers' salary cut.
As the strike entered the second day on Sunday, 1,000 delivery men demanded talks with the management and threatened to upgrade their industrial action should the company ignore them.

On the first day of the strike, a 50-year-old non-local delivery man from Foodpanda was assaulted by six to seven non-local people while he was on his way to a Pandamart, a grocery store under Foodpanda, on Tong Mi Road in Mong Kok to pick up a delivery order.

The assailants punched and kicked him, and also used bicycle chains to attack him. He was taken to Kwong Wah Hospital in Yau Ma Tei with a bleeding nose. The case was listed as an assault causing bodily harm, but so far no one has been arrested.

Foodpanda said on Sunday it was aware some of its delivery men were trying to obstruct others from working in several districts.

"We have to emphasize that the biggest concern of Foodpanda is the safety of all stakeholders. We will not tolerate any behavior causing injuries to others," it said.

This was after Foodpanda lowered the minimum delivery fee for each order by seven to 11 percent, causing the income of full-time delivery men to plummet by 30 percent, before netting out costs spent on fuel and maintenance for their vehicles.

A delivery man from Foodpanda said the delivery services were suspended while most of the Pandamarts also had their operations halted, which showed the impact of the strike.

"We will continue with our strike, and demand our company not to reduce our salary unreasonably without our consent," he added.

In response, Foodpanda once again called on its employees to express their views through the mobile application, adding that the company will arrange a meeting this week.

It added that lowering the minimum service charge in some districts does not necessarily mean the total income of delivery men will decrease.