Popularity of dedicated sites reflects obsession with food, pride in localism, observers say.
When Alex* and Louis* started their Facebook page about siu mai, the popular Cantonese dim sum item, it was for the love of the steamed dumplings sold as humble street food as well as in luxe restaurants across Hong Kong.

"We saw a page about potato crisps and it was fun, and we like the fish version of siu mai a lot, so we formed a page too," Louis tells local media.

Their page, called Hong Kong Siu Mai Concern Group and started in November 2019, is listed under the category of "trade unions" – only for fun, the pair explain in a food channel, as there were several workers' rights groups with such names at the time.

"We also wanted to express concern over the price and taste of siu mai," says Alex with a laugh.

The steamed dumpling is usually made with minced pork, shrimp and mushrooms and is a staple item in yum cha restaurants.

But the two siu mai fans prefer a more humble dumpling popular with Hongkongers, made with fish and cassava starch, served on a skewer and usually eaten with soy sauce and chilli oil.

They did not expect their page to become a big hit, attracting more than 107,000 followers not only from the city, but also Hongkongers around the world sharing the same passion.

Over the past year, more than two dozen "concern groups" devoted to other street foods have mushroomed on the social media platform celebrating Hong Kong, the gourmet paradise.

Pig intestines at Gui Mui Snack in Mong Kok.

From satay beef noodles served in streetside cha chaan teng cafes to Hong Kong-style milk tea, rice noodles of all sorts, pineapple buns, egg fried rice and egg waffles, these dedicated groups have been drawing diehard fans.

The siu mai group is the largest, followed by the rice noodle concern group with more than 101,000 followers. The milk tea group has 52,000 followers, the satay noodle group, 46,000 and the wonton noodle soup group, 28,000.

The online platforms have become virtual gathering places where followers post food pictures and reviews, and share the locations of their favourite eateries with prices.

They also exchange quirky remarks, selfies and memes with strangers, all bound by their devotion to the same food item.

Social scientists and scholars who have observed the trend say the rise of these concern groups highlights a well-known aspect of Hongkongers as extremely picky and fastidious foodies who are willing to go to great lengths for a good treat.

They say it also reflects a deepening sense of localism in the community, but in a harmless way, crossing political boundaries.

"Many people are overwhelmed by the political disputes and sense of powerlessness over the past two years, so this may be why more are focusing their attention on food for direct pleasure," says Gary Tang Kin-yat, associate professor in social science at the Hang Seng University of Hong Kong (HSU), who specialises in social media.

"They channel their emotions somewhere else and stick together in groups that are centred on things they feel connect them. In this case, local street food can easily unite people."

Tang adds, however, that these groups are not about just any food. "They are united in small groups about traditional foods which often represent local culture and are attached to their Hong Kong identity," he says.


Talking about food, not politics

The profile of the satay beef noodles concern group states: "Only talk about satay beef noodles. No politics."

The administrators of many of these pages make it clear that their groups are not meant to be political and are just to celebrate their favourite food.

But that does not mean these groups are entirely lacking a political flavour, says HSU social sciences lecturer Chan Ka-ming, a cultural studies researcher.

"Local food is a harmless, non-political symbol, but it automatically reflects Hong Kong identity too," he says.

He has noticed that although political content is rare and followers of these pages heed the administrators' caution, active members do leave subtle hints of their pro-democracy or "yellow-ribbon" inclinations.

When sharing reviews of small food outlets, some include a line to say if the establishment is "yellow", although that seldom becomes the focus of discussion.

After anti-government protests erupted in June 2019, businesses in Hong Kong were branded "yellow" if they supported the protests, or "blue" if they backed the establishment and police.

Those colours aside, Sampson Wong Yu-hin, lecturer in general education at Chinese University, believes that food may be the easiest topic to unite the city's residents.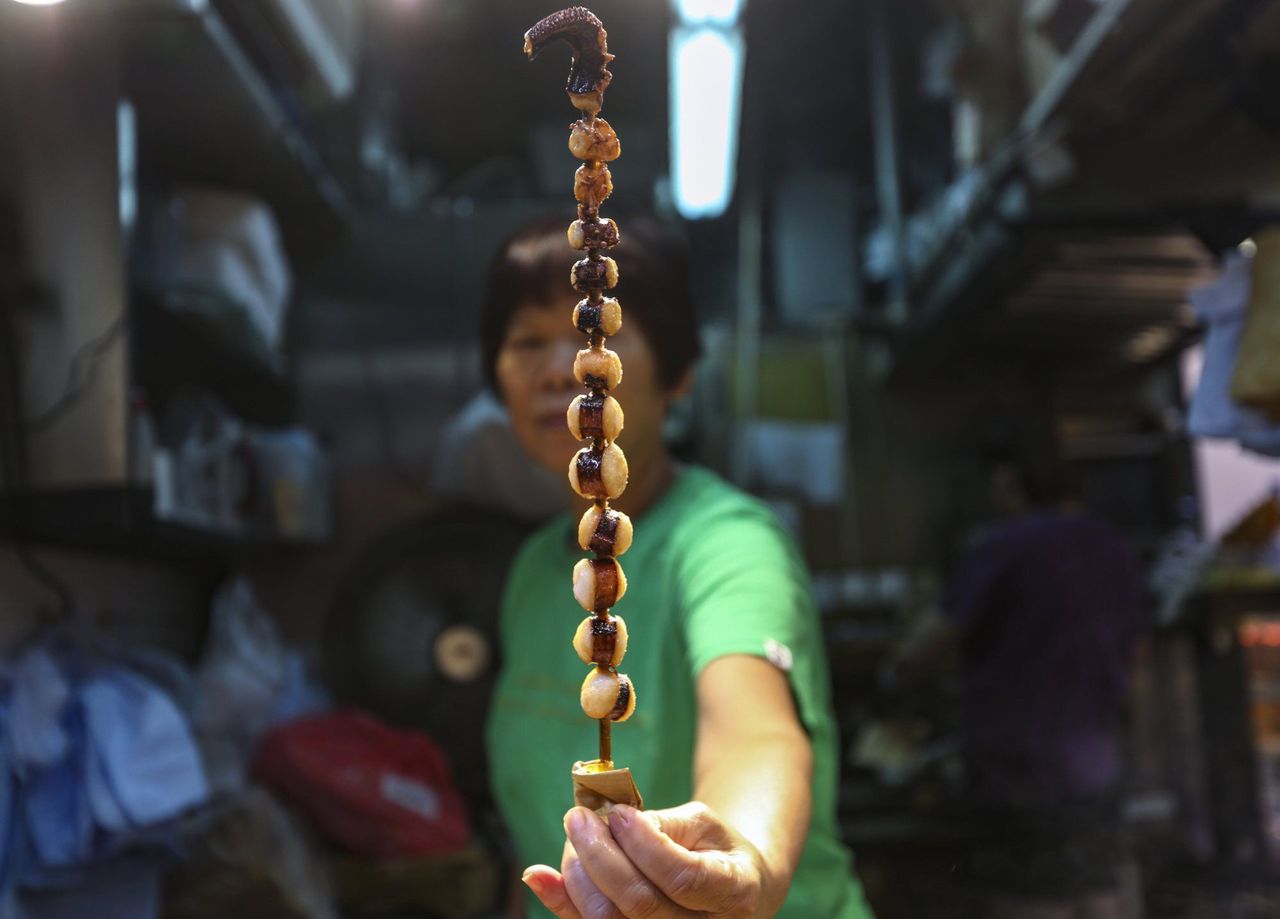 Deep-fried squid tentacles in Mong Kok.

"Hongkongers are extremely picky about food, they can talk about it to everyone and all the time," says Wong, who follows some of the food pages.

"No one needs a qualification to talk about food, so the threshold for joining the discussion is low. Everyone in Hong Kong can be a real-life 'God of Cookery'," he adds, referring to a popular comedy movie starring Stephen Chow as a renowned and feared chef.

The Covid-19 pandemic might also have contributed to the growing popularity of these pages, he says, as people had to stay home and had more time to spend on these platforms.

The lively discussions extend to describing how to appreciate a certain item, and where to source fresh ingredients and prepare the dish at home if you want to do it yourself.


Food jaunts off the beaten track

Alex and Louis run their popular page themselves, though they decline to reveal their identities and say they like being able to visit small shops for dim sum without being recognised.

"Even our friends do not know who we really are. We are not important. Let's focus on siu mai," says Alex in the channel. "I love fish siu mai with a more chewy texture, and I put on a lot of crispy chilli."

Their page has become so successful that they started issuing membership cards for a one-off fee of HK$88. Shops that recognise the card give members HK$1 off a skewer of siu mai. Skewers of five or 10 dumplings sell at HK$10 to HK$25.

The group is said to have about 2,000 paid members.

Many family-run eateries prepare their own versions of the dumpling, which makes sampling them all an adventure of exploring small streets in humble neighbourhoods.

University student Gordon Choi, 23, says: "Since I joined the page, I have checked out some places just for the siu mai. I suddenly found myself discovering areas new to me in Hong Kong, and this has been quite refreshing."

He sometimes runs into other enthusiasts while on his food jaunts.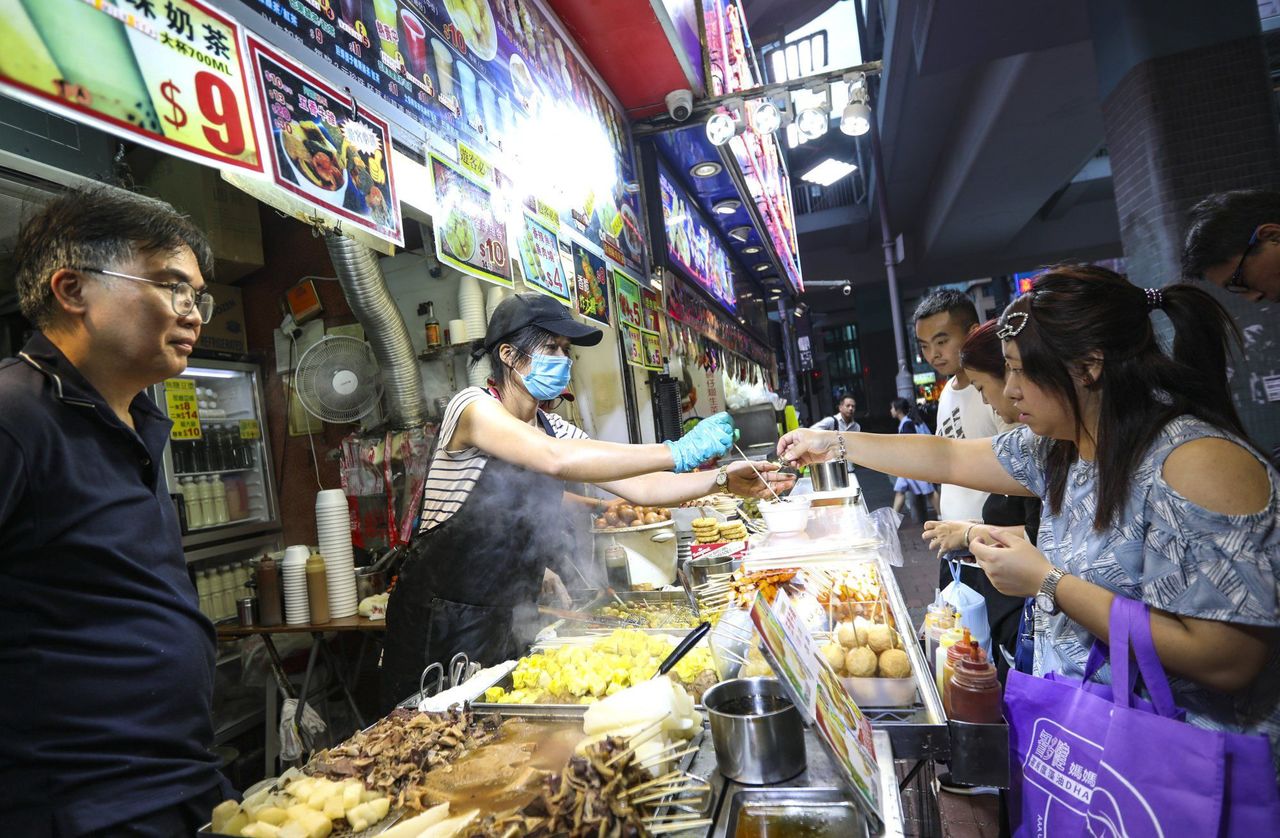 Over the past year, more than two dozen "concern groups" devoted to other street foods have mushroomed on the social media platform celebrating Hong Kong.

"There have been times when I met other people also looking for the same shops. We soon found out we are all followers! These encounters are really quite fun," he says.

For Hongkongers overseas, the Facebook concern group pages are a reminder of home.

Candy Lo, 30, who works in human resources in Toronto, Canada, says she visits the siu mai page frequently and it reminds her of her childhood.

"I really like fish siu mai, not the pork one sold in proper yum cha places here in Toronto," says Lo, who emigrated to Canada as a child with her family. "The street vendors and small shops in Hong Kong are so great, you cannot find them here."

She is active on the page and finds it entertaining too, as people often upload funny selfies, memes and "weird recipes".

"I recognise some of the places mentioned," she adds.

The founders have said the group's followers come from as far as Peru, Germany and the Netherlands, and they post photos of their home-made fish dumplings.

But they remain most impressed by the passion of one active Hong Kong member.

One founder says: "He went fishing to get the fish first, then made the siu mai himself!"