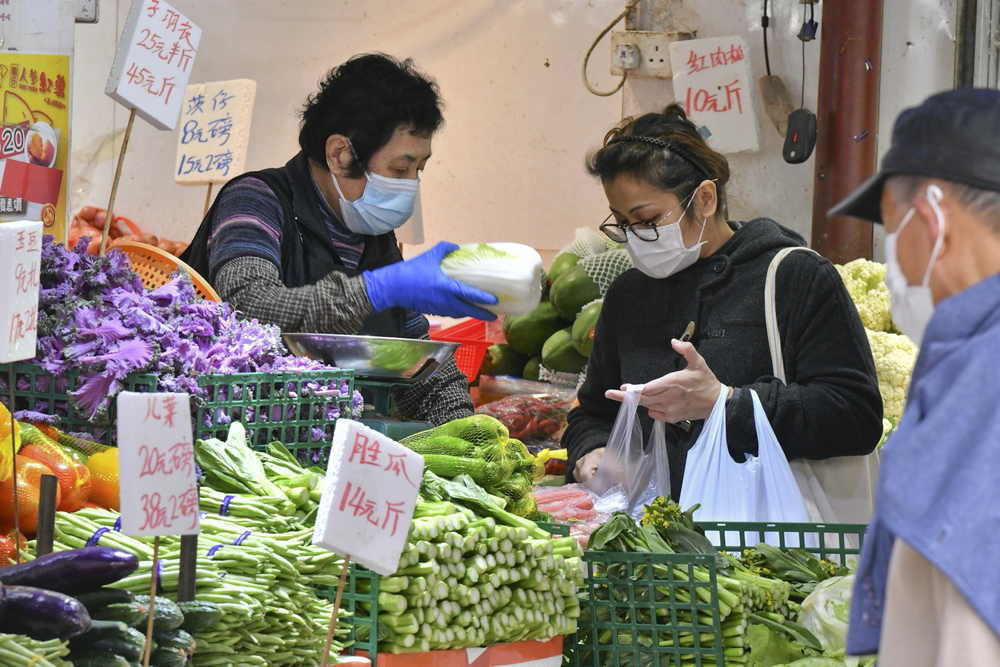 Food prices will continue going up in coming months: Consumer Council
Prices for food and daily necessities rose up to 20 percent last year but it will likely continue to go up in the coming months, the Consumer Council warned.
This came as vegetable prices like pea shoots soared to HK$100 per catty over the weekend, even though supplies by cross-border trucks have resumed, after drivers were released at Man Kam To border point upon testing negative.

However, vegetable prices in wet markets remained at high level Monday as shoppers still needed to spend HK$48 on a catty of spinach or a catty of lettuce, doubled from usual. A vegetable stall owner Mr Chan said prices for choy sum and pea shoots still increased 30 to 40 percent Monday compared to usual prices.

Speaking on a radio program, chairman of the Hong Kong Imported Vegetable Wholesale Merchants Association Yuen Cheong said due to a driver's infection, only few trucks were able to pass Man Kam To border point on Saturday night, compared to over 100 trucks in usual, therefore affected the supplies of vegetable to Hong Kong on Sunday and prices for vegetable soared.

But the industry worried supply will remain unstable for some time, as two more cross-border truck drivers were have been infected Monday when they were entering mainland.

Stanley Chiang Chi-wai, chairman of the Hong Kong Land Transport Council, told The Standard that Man Kam To border point was closed again at 11am Monday.

Trucks were allowed to leave in the afternoon but moved very slowly, he said, adding prices for vegetable could go up again today.

"Prices will remain unstable recently…as we don't know if more drivers will be affected [by the infections]," he said.

Consumer Council's chief executive Gilly Wong Fung-han said it's "very likely" that necessities and other goods imported to Hong Kong will be on the rise in the next months as global pandemic has not been under control.

"We have checked with the suppliers and they are having a lot of challenges in shipping different kinds of goods into Hong Kong, so unfortunately, consumers probably have to suffer in the next few months about further inflation on different kinds of daily goods," Wong said.

The watchdog last year monitored 230 products sold at supermarkets and found their prices went up by nearly two percent, with that of canned food surged 20 percent and frozen meat 10 percent, which Wong described the results as "not positive news".

The watchdog also received 27,382 complaints last year, a 11 percent drop from 2020. Among them, 54 percent were related to services, while other complaints were mostly related to products.

Despite the number of complaints have dropped, the amount involved has been doubled to HK$1.17 billion, which the watchdog said many complaints were related to sales of properties and suspended operation of beauty parlor chains.

As citizens spent more time at home during the pandemic, the watchdog received over 2,500 complaints about electrical appliances in last year, the highest in five years.

"It's very natural that they would see the need to replace the electrical appliance to suit their needs, for example a better air conditioner, vacuum cleaner and things like that. That gave rise to complaints as to the quality of the goods and maintenance services," said council chairman Paul Lam Ting-kwok.

The council also revealed the top 10 news which consumers were most concerned last year including the closure of theatre chain UA Cinemas, the Legislative Council passed the municipal solid waste charging bill and two blocks under construction at the Pavilia Farm III residential estate by New World Development have to be rebuilt.