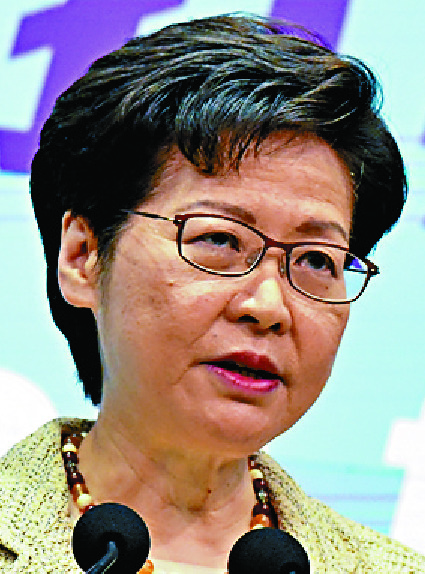 Foes of Gay Games kicked by lam
Chief Executive Carrie Lam Cheng Yuet-ngor yesterday criticized legislators for "divisive" comments about the Gay Games set to be held next November.
Those criticisms came in a Legislative Council meeting last Wednesday, when several pro-establishment members opposed a call for officials to assist organizers of the games in booking government sports venues due to a fear the event would be linked to the same-sex marriage issue.

Among them, Junius Ho Kwan-yiu declared that holding the event in public was "disgraceful" and said any economic benefits from the event would be "dirty money."

Without mentioning her targets, Lam said yesterday before the Executive Council meeting that it was much regretted some legislators became "a bit emotional" in expressing their views during discussions about the Gay Games.

Lam said she could not condone personally or as the chief executive remarks by individuals that would "unnecessarily divide society and even raise hatred among certain sectors in the community."

Her administration, she added, had "no problem" with the purpose of the Gay Games, which is to promote inclusiveness and diversity, and officials would provide help in leasing government venues.

Responding to Lam's words, Ho denied becoming emotional and said it was his way of expressing himself.

He does not discriminate against sexual minorities, Ho went on, but homosexuality could not be encouraged in case "natural" people are sidelined.

Lam was also asked to address concerns of the creative industry about new guidelines under the Film Censorship Ordinance. They include the guideline that films deemed to be endangering national security can be classified as not suitable for exhibition.

She admitted that the guidelines have caused "some anxiety" among people involved with the film and culture sectors, which officials would discuss with them to try to allay concerns.

Meanwhile, Lam did not think a speech on Saturday by Luo Huining, director of the central government liaison office, in which he attacked people who called for an end to one-party rule, put pressure on administration to take action against the organizers of Hong Kong's June 4 vigils.

Lam said whatever action the administration took would be in accordance with the law.