Exco member Jeffrey Lam bringing together a coalition of businesses to coordinate a bonanza package for vaccinated individuals.
Businesses in Hong Kong will offer a raft of freebies ranging from flight tickets, staycation packages and theme park visits to deals for buffets and films to entice residents into getting vaccinated against Covid-19 amid the city's sluggish inoculation rate.

The revelation by Executive Council member Jeffrey Lam Kin-fung came a day after the Post reported that billionaire Michael Kadoorie's Hongkong and Shanghai Hotels (HSH), which runs the luxurious Peninsula Hotels chain and the iconic Peak Tram, was offering its 1,500-strong workforce cash and benefits to get vaccinated, among similar efforts by other operators in the hospitality and construction sectors.

On Friday, Lam, from the Business and Professionals Alliance, and who also represents the business sector in the legislature, told the press he was bringing together a coalition of businesses to coordinate a bonanza package for vaccinated individuals in Hong Kong.

"The response so far is positive," he said. "The sector would like to contribute to the effort to get people vaccinated."

One eye-catching item raised by Lam centred on 500,000 flight tickets that the Airport Authority previously bought to promote tourism once the pandemic eased. Lam said those should be given for free to residents who were already vaccinated, for travel to other Asian destinations that had brought their coronavirus situation under control.

On Thursday, the Post learned that the city's construction sector, together with the government, would offer tens of thousands of workers on-site vaccinations at venues in Kai Tak on May 27 and 28.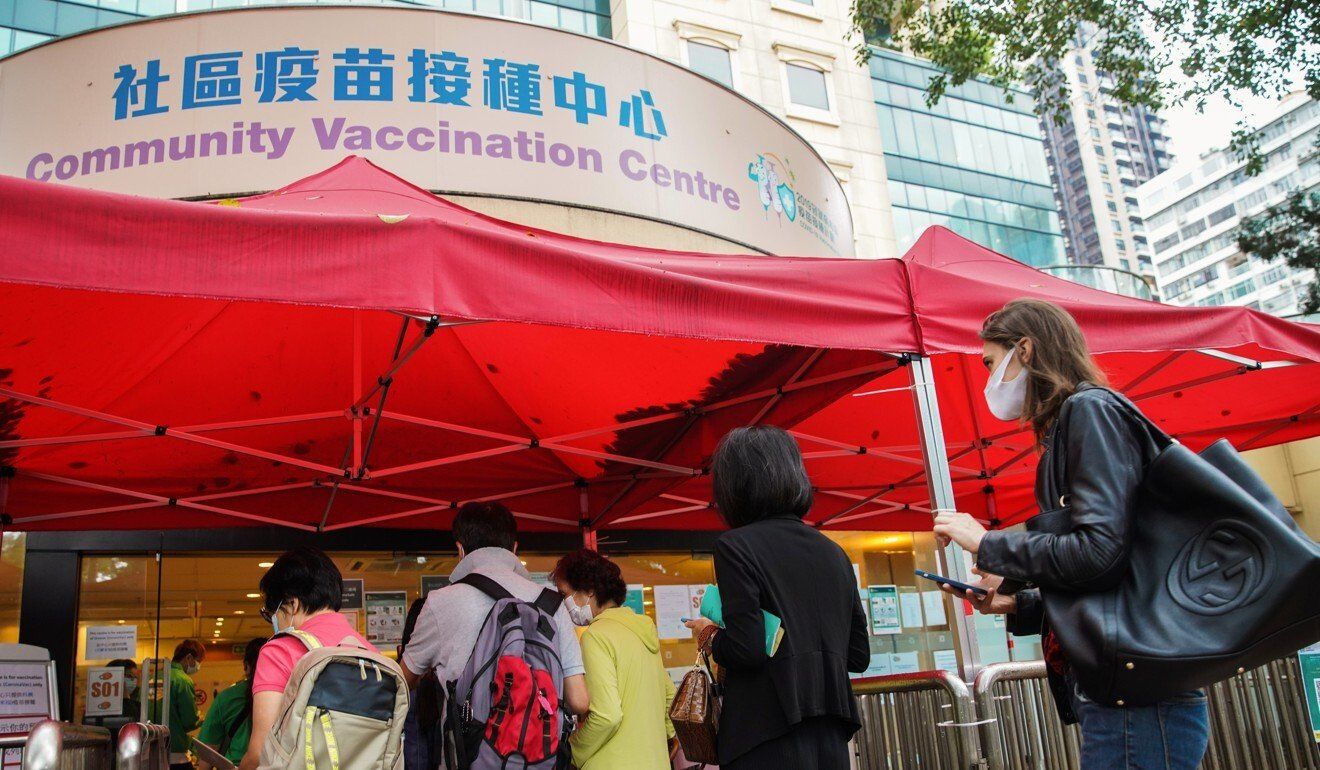 Hongkongers queue up at the Central Library in Causeway Bay for jabs.

The move followed a push by authorities last week to loosen a raft of social-distancing regulations for businesses and sectors on the condition their staff, or in some cases customers, had been vaccinated.

Health secretary Professor Sophia Chan Siu-chee had said the city's vaccination rate – which was below that of Singapore and Britain – was too low to warrant any bargaining power with mainland China on reopening the border.

As of Thursday, more than 2.05 million vaccine doses have been administered in Hong Kong. About 1.21 million people, or 16.2 per cent of the city's population, have received their first dose. The figure for those with a second dose was 837,144 people, or 11.2 per cent of all residents.

Experts have said the city will only reach herd immunity when 70 per cent of the population is vaccinated.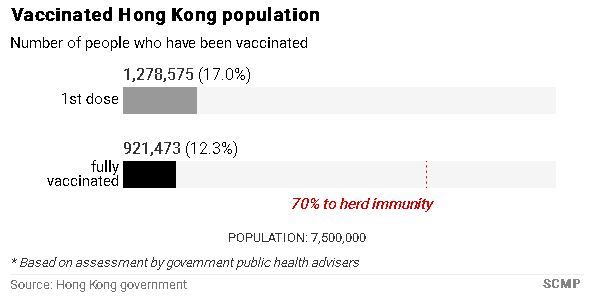 HSH is one of the few hotel groups offering perks to motivate staff on vaccinations. Each of its 1,500 employees will be offered HK$2,000 to get the jabs, and a further HK$2,000 for those in subsidiaries if 70 per cent of staff there complete their vaccination by August 31.

Workers would also be reimbursed on health-screening services if they had concerns about the vaccines, the group's spokeswoman said.

"Many of our colleagues are on the front line of the hospitality industry and we want to ensure they are protected against Covid-19, especially as the world is starting to open up again and we will hopefully welcome visitors back to Hong Kong in the near future," she said.

The move will cost the company HK$6 million (US$773,000) if 70 per cent of staff are vaccinated.

Economist Simon Lee Siu-po, a co-director of the International Business and Chinese Enterprise programme at Chinese University, said executive councillor Lam's latest suggestion might not be as attractive to Hongkongers as perceived.

"Hong Kong has quite a high per capita GDP, and a few gifts here and there won't be enough to overcome people's real concerns about vaccine side effects," he said.

He added that the appeal of the scheme would also depend on the destinations, as some places such as Taiwan and Japan would be popular with Hongkongers.

Hong Kong's hotel and hospitality sector has been dealt a serious blow after tourism came to a standstill with the city in near-lockdown mode since February last year.

Meanwhile, Hong Kong Construction Association president Eddie Lam Kin-wing told the Post the industry would further boost its vaccination rate from an existing 40 per cent with planned outreach services. Some 60,000 of 150,000 workers have been vaccinated, according to him.

Lam said the association was coordinating with the government, and outreach teams would administer either the German-made BioNTech jab or the Chinese-produced Sinovac vaccine next week across dozens of construction sites in Kai Tak as part of a trial run.

"Workers will have choices over whether to be vaccinated, and which vaccine they want out of the two," he said. "If it works out well, we may organise more outreach services."

A government spokesman said the Kai Tak area, which includes sites for the 4.7km Central Kowloon Route highway, was the first vaccination trial venue for the construction industry.

On Tuesday, the government's outreach team administered BioNTech vaccines to 170 employees of accounting firm Deloitte in their office in Admiralty.