New York's approach is focused on rezoning unused office buildings into flats, something Hong Kong can do with empty industrial and quarantine buildings. John Lee should use his executive powers to enforce a housing policy for the people and deliver long-overdue affordable homes.
New York City Mayor Eric Adams, like Chief Executive John Lee Ka-chiu, is a former police officer. Adams and Lee both took office last year, and they share one more thing in common – the daunting task of trying to solve a housing crisis in one of the world's most expensive cities.

Adams' solution is focused on rezoning unused offices into flats over the next decade as New York, like Hong Kong, faces a deepening housing affordability crisis at a time when offices are severely underused. Covid-19 upended the commercial real estate market, and the new normal of working from home has left vast amounts of office space dormant.

The New York City Office Adaptive Reuse Study was released in January, based on the findings of a study by a coalition of real estate professionals and government agencies. Dan Garodnick, chairman of the city's planning commission, said in the study that: "As our important commercial districts evolve in response to the last two years, we want to ensure that outdated office buildings can be converted to more in-demand uses, such as desperately needed homes for New Yorkers."

Lee can approach Hong Kong's housing crisis in a similar manner. Abandoned and empty industrial buildings, schools and other public and private buildings can be rezoned for affordable public and private housing.

The central business districts of both New York and Hong Kong are islands. Together with their outlying areas, both contain many abandoned building spaces that can be repurposed for housing.

Hong Kong encourages the conservation of its large stock of more than 1,000 industrial buildings. This policy not only repurposes the buildings but reduces construction and demolition waste. One of the conditions requires that 10 per cent of the floor area of such conversions be allocated for "specific uses".

These are generally aligned with community aspirations, such as the arts, culture, innovation and technology, social services, community healthcare, sports and recreation. But isn't the greatest community aspiration affordable housing?

Updating zoning laws to repurpose the use of buildings is always challenging. However, because of the housing affordability and availability crisis in Hong Kong, it is imperative for the government to use its powers to make housing officials, developers, contractors and other vested interests fast-track new zoning regulations to allow for the timely conversion of non-functioning buildings to affordable housing.

It is long past time to streamline and expedite the delivery of housing in Hong Kong. To do so, the government should set up a fast track, one-stop special housing commission in the Chief Executive's Office to search for viable alternatives to what is on offer today.

This commission would rationalise Hong Kong's bureaucratic housing policies and regulations that primarily benefit contractors and developers rather than the people. It would bypass the numerous housing departments and agencies controlled by politically connected vested interests that have a chokehold on housing policies and perpetuate delays of viable long-term solutions.

This temporary emergency response commission would operate until the housing crisis is resolved and new policy and regulations are adopted to replace the existing bureaucratic tangle of housing departments, agencies and regulations. Lee should use his executive powers to enforce a housing policy for the people and deliver long-overdue affordable housing in a timely and cost-effective way.

The lack of public consultation on the most important issue confronting Hongkongers has to be addressed. Why not have public consultations and allow housing advocates and their experts to give testimony directly about the needs of inadequately housed residents instead of having facts primarily filtered and presented only by government agencies?

As Secretary for Development Bernadette Linn Hon-Ho said at a Legislative Council meeting in December, the government needs to balance the goal of improved efficiency with proper public participation.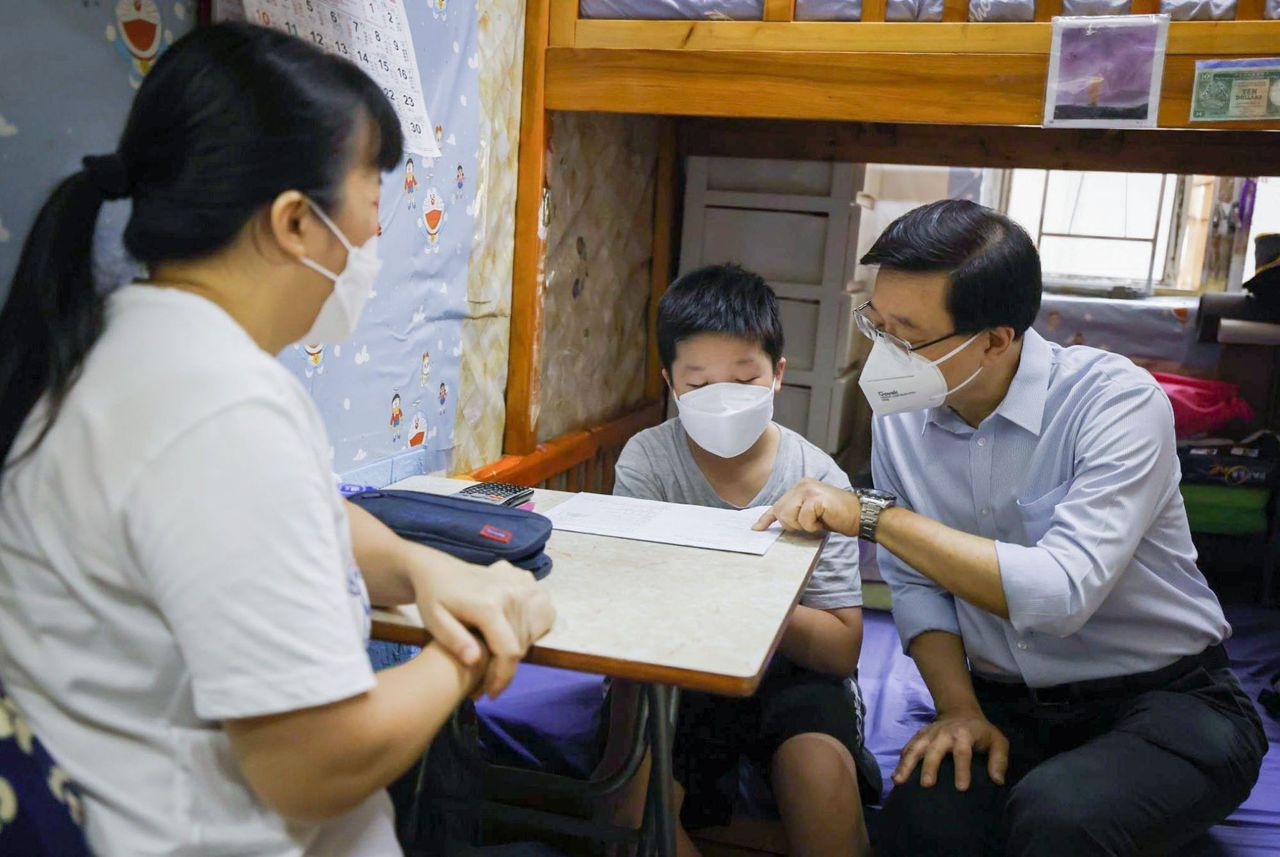 Chief Executive John Lee visits a family living in a subdivided flat in Sham Shui Po on July 30, 2022.

Lee can appoint an independent citizens complaint commission, similar to the Independent Police Complaints Council, for homebuyers and renters to lodge complaints against contractors, developers and landlords. He could also enforce the new rent control laws imposed on subdivided flats.

Executive powers can be adopted to convert rooms at Penny's Bay and other Covid-19 isolation facilities to transitional housing for families and young working people who are Hong Kong's future. Taxpayer money was used to build these facilities, so why not use them to house those in need?

Taking decisive action to end our housing crisis, including by repurposing vacant commercial buildings, would be a badge of honour for our chief executive.