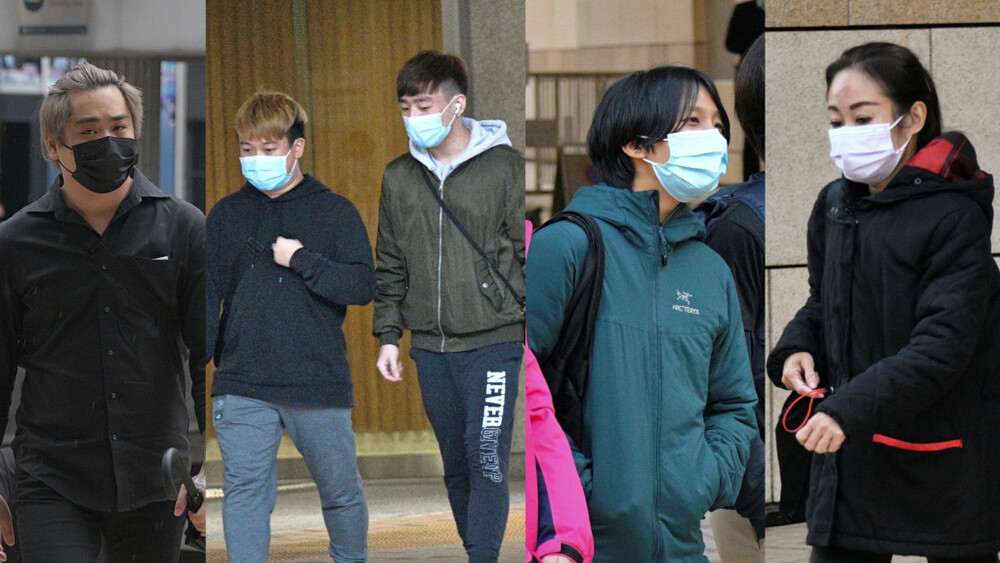 Five more jailed 37 to 48 months over PolyU saga in 2019
Five people, including two brothers, were on Wednesday jailed for between 37 and 48 months for participating in an unlawful assembly as they attempted to "rescue" protesters stranded within Polytechnic University during the social unrest.
The five defendants are assistant restaurant manager Aaron Jim Yat-long, 26, construction worker Leung On-sang, 26, property manager Fung Wai-yan, 28, self-employed Angela Leung King-chee, 46, and warehouse worker Leung On-Yat, 23.

All five were charged with rioting on Hau Fook Street in Tsim Sha Tsui on November 19, 2019. Fung pleaded guilty before the trial, while the other four were convicted in late July.

They appeared before judge Anthony Kwok Kai-on in the District Court today. Fung was jailed for 37 months, while both Jim and Angela Leung were sentenced to 41 months. On the other hand, the two brothers Leung On-sang and Leung On-Yat were jailed for four years.

Kwok said the five went to the riot well-prepared and ganged up with other protesters at the scene – some charged at the police defense line, and others were transporting weapons like Molotov cocktails.

Kwok added he was sure the clash would have become increasingly violent if officers didn't step in.

Although it was a tragedy to send these well-educated defendants with good backgrounds to prison, Kwok referred to previous cases and noted the sentences must carry a deterrent effect on the offenders.

The judge also stressed behaviors that disrupt public order must not be tolerated, otherwise, society will pay dearly.

In the previous session where the four were ruled guilty, the court heard the Leung brothers and Fung were wearing black T-shirts, helmets, and gloves stained with gasoline when arrested. The brothers' testimonies that they hid by a bike at the end of the alley out of fear were also rejected.

Although Jim was not wearing and carrying any protesters' gear at the time, Kwok ruled that this failed to weaken the prosecution's deduction that he rushed into the building and ditched all his gear.

As for Angela Leung, she was found with a can of black spray paint that was almost used up. Kwok believed she carried first-aid supplies to support and encourage protesters at the scene. Kwok also added she didn't stop and clarify her position as a paramedic when intercepted by police.