Plan changed because of increased acceptance of non-plastic alternatives for disposable items such as cutlery, straws and plates.
Hong Kong aims to bring forward a ban on single use plastic tableware provided by restaurants by two years, with the first phase of the measure to be in force as early as the last quarter of 2023.

The Environment and Ecology Bureau on Tuesday said the accelerated time frame was based on increased acceptance of non-plastic alternatives.

"At present, most of the suppliers in the market are already able to provide non-plastic alternatives … to disposable plastic straws, stirrers, cutlery and plates that are covered by the first phase of the regulation," the bureau said in a paper submitted to the Legislative Council.

"During the epidemic, people tend to use food delivery or takeaway services more frequently, resulting in an increase in the use of disposable plastic tableware; hence there is room to advance the implementation of the first phase of the regulation before 2025."

The amendments to the Product Eco-responsibility Ordinance will be presented to the Legislative Council's panel on environmental affairs next Monday.

The bureau's paper said a two-month public consultation carried out last year, involving about 8,000 submissions, found more than 90 per cent of comments supported the regulation of throwaway plastic tableware "progressively by legislation".

Restaurants will be prohibited from providing disposable plastic tableware including tableware, cutleries, straws and stirrers in the first phase of a two step plan.

Restaurants will also not be allowed to provide dine-in customers with single use plastic containers.

The sale or free distribution of other plastic products, such as hotel toiletries, umbrella covers, plastic cotton buds and toothbrushes, will also be forbidden in the first phase.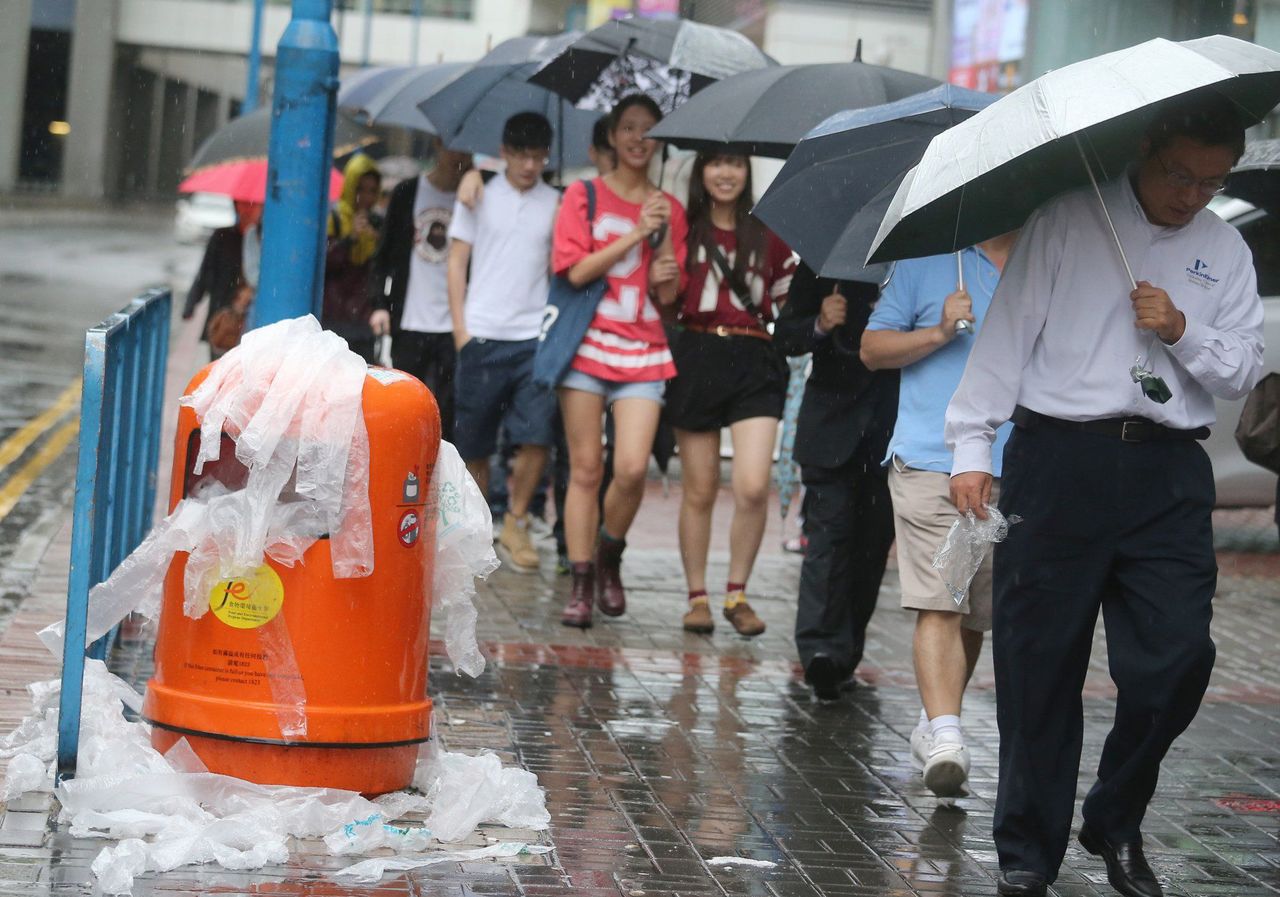 Throwaway plastic umbrellas covers overflow from a rubbish bin in Kwun Tong.

The proposal was among 24 recommendations made by the Council for Sustainable Development in April and designed to tackle disposable plastic products available at retail outlets, restaurants, shopping malls, hotels and commercial buildings.

The ban will be expanded to customers buying takeaway food in the second phase, provisionally set for 2025.

Exemptions, however, will be given in some circumstances, such as plastics used for medical or public health needs, emergencies, security and public security, or scientific, forensic or study purposes.

Authorities suggested a fixed penalty of HK$2,000 (US$255) if retailers or people in charge of food outlets ignored the ban.

People who breach the Product Eco-responsibility Ordinance are liable to a maximum fine of HK$100,000.

Lawmaker Elizabeth Quat of the Democratic Alliance for the Betterment and Progress of Hong Kong, the chairwoman of the panel on environmental affairs, welcomed the government's proposal and said that regulation of plastic use was a global trend.

"I have been following up on the timetable for plastic reduction for many years," she said. "The government must solve the related issues as soon as possible in a multipronged manner and keep up with the pace of waste reduction around the world."

Quat also suggested the authorities should promote research and development on Hong Kong-produced alternatives and encourage recycling programmes for single-use plastics.

The proposal was also welcomed by environmental groups, even though they said more could be done to cut plastic waste.

"Greenpeace urges the government to provide clear guidance to the business sector, especially encouraging the development of returnable food containers for takeaway, in order to achieve waste reduction at source," organisation campaigner Leanne Tam Wing-lam said.

The Green Earth highlighted that the authorities should give restaurants more reusable tableware options, instead of encouraging them to switch to disposable tableware made from other materials.

"The most critical part is that the Environmental Protection Department can provide enough support and education and carry out prosecution when necessary," the group's senior project officer Edmond Lau Shiu-long said.

Government statistics show that waste plastic in 2020 amounted to about 21 per cent, or 2,312 tonnes (2,548 tons) of municipal solid waste disposed of in landfill sites every day.