CLP Power says its first 132kV high-voltage cable successfully activated in Yuen Long, aims to complete works for remaining two cables by Tuesday.
A Hong Kong power company has completed the first phase of cable-laying works days after a fire on high-voltage lines triggered outages across three districts, while a lawmaker has suggested rebuilding a supply bridge destroyed in the blaze as an option.

The government said it received an interim report from CLP Power on Friday, which stated there was nothing abnormal about the cables involved before the fire.

CLP Power, one of two electricity suppliers in the city, said its first 132kV high-voltage cable was successfully activated at 3am on Friday in Yuen Long. It aimed to complete works for two remaining cables latest by next Tuesday.

"This new cable is able to reinforce power supply capability and enhance reliability of the power system in the region," the company said in a statement, adding it would closely monitor the supply and arrange deployment if needed.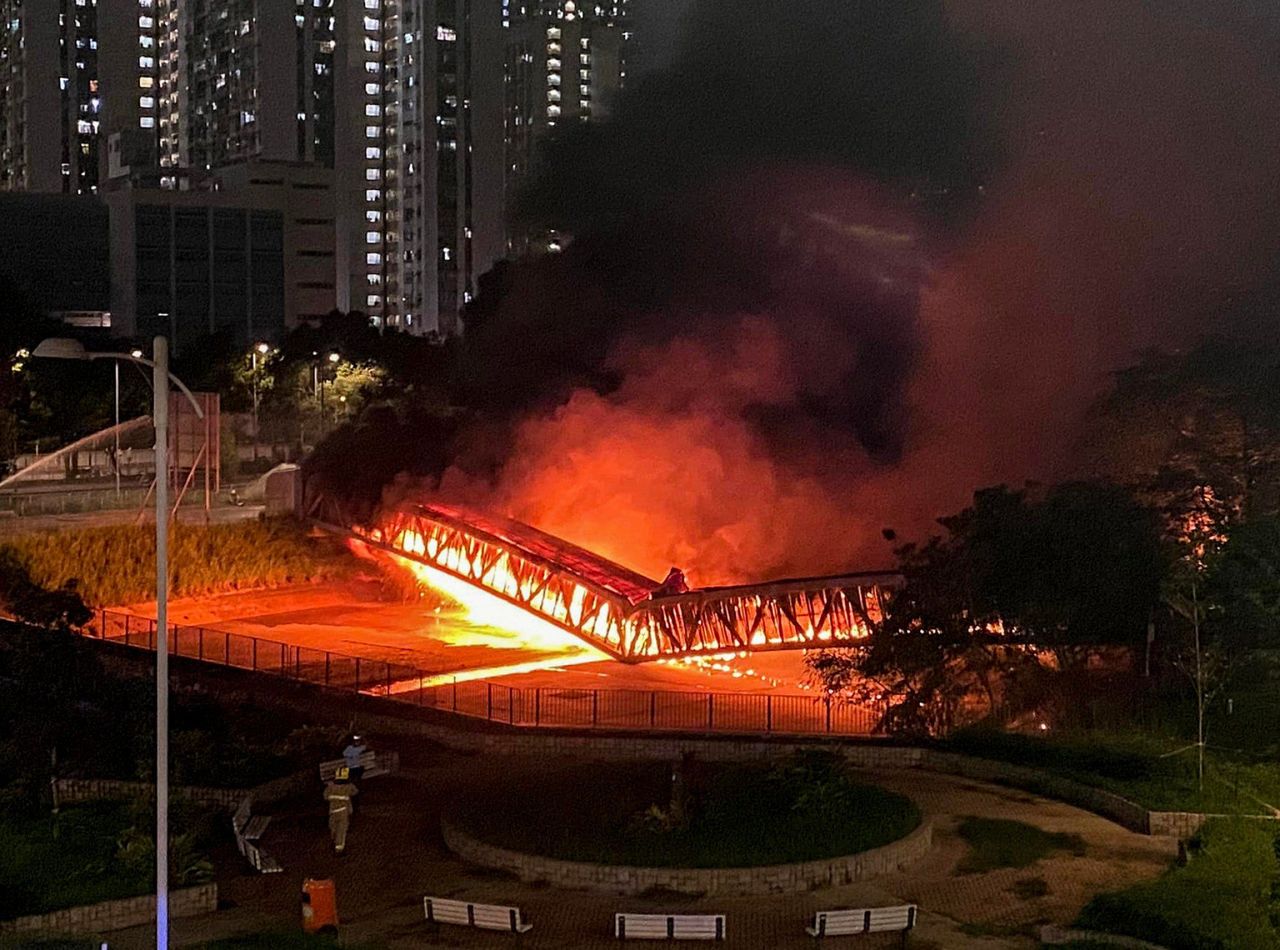 A fire from high-voltage cables in Yuen Long on Tuesday knocked out power for 160,000 homes for hours, as well as for restaurants in the district.

The fire involved a cable bridge over a river in Yuen Long, along Kwong Yip Street near The Spectra residential estate on Tuesday night. The blaze knocked out power for 160,000 homes for hours, as well as for restaurants in the district. By Thursday night, some households were still experiencing 10-minute blackouts.

The Electrical and Mechanical Services Department cited the interim report as saying the affected cables were not experiencing reduced or excessive voltage before the fire, and no cable joint was installed inside the bridge.

The report mentioned that the last inspection of the bridge took place in November and no site work was carried out before the incident. The company was conducting emergency structural reinforcement works to ensure safe access inside the bridge for investigation.

The operator for Next Station, a cafe located on Ma Wong Road in Yuen Long, said it suffered revenue losses of up to HK$5,000 (US$636) during a two-hour blackout on Tuesday night.

"The electricity suddenly went out. Some patrons left and we arranged refunds for them," the shop-owner, who only gave her surname as Ng, said.

"To play it safe, even though some food in our fridge such as milk and marinated meat had not gone bad, we threw most of it away," Ng said, adding she would not worry too much about future outages as these were beyond her control.

Lawmaker Chan Siu-hung, a retired engineer and a senior adviser to CLP Power's parent company, CLP Holdings, said the three new cables could "maintain reliability" of the district's power grid for now.

As for the area's long-term electricity supply, Chan said more time was needed for detailed reports on the fire to analyse its cause, but rebuilding the burnt cable bridge that had collapsed could be an option.

"In the end, it is about comparing cost-effectiveness, reliability [and timeliness of different proposals]," Chan said. "It is too early to decide to drop the cable bridge proposal. The design itself is desirable."

He suggested a wider bridge could be reconstructed over the river, or even three of such structures, each carrying one cable, lowering the risks of affecting the district's entire supply should a mishap occur.

Chan noted, however, that bridges were costly as they would have to withstand typhoons and support the heavy cables. Installing overhead cables could be cheaper and quicker, yet they might pose dangers to high-rise buildings, he warned.

He also raised a third option of burying power cables underground, but noted this would depend on space, given that Yuen Long was well-developed.