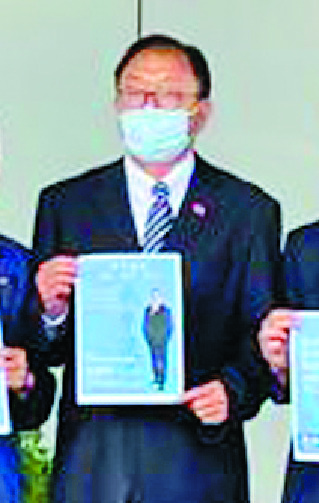 First names go into by-election ring
Wong Kam-fai, associate dean for engineering at Chinese University of Hong Kong, and Gary Wong Chi-him, a board member at the Chinese Association of Hong Kong & Macau Studies, are the first hopefuls to apply to run in the by-election for the Legislative Council's Election Committee constituency.
The two are among six names reckoned to have received Beijing's "blessing" to compete with four seats vacant.

The others are Adrian Ho King-hong, nephew of former Macau chief executive Edmund Ho Hau-wah, of the New People's Party, Shang Hailong, general manager of artificial intelligence software firm SenseTime, Chan Wing-kwong of the Democratic Alliance for the Betterment and Progress of Hong Kong, and Lee Kwong-yu of the Federation of Trade Unions

The polls on December 18 are to fill seats vacated after four legislators joined Chief Executive John Lee Ka-chiu's administration in July.

On yesterday's ninth day of the nomination period, Gary Wong, 39, was the first to submit his application to the Registration and Electoral Office, making his third attempt to become a legislator.

He lost in the 2016 election for the Hong Kong Island constituency and in last year's polls for the Election Committee constituency, when he came 42nd and could not join the 40-member group.

Showing up with Chinese People's Political Consultative Conference Standing Committee member Anthony Wu Ting-yuk and former secretary for constitutional and mainland affairs Raymond Tam Chi-yuen, Wong said: "Success or failure is not determined by just an election or two."

He noted he has experience in local affairs and also has a broad horizon on national and international levels, adding that he will promote the SAR's advantages with the mainland and promote Hong Kong to the world.

It is understood Wong has gathered 20 nominations, including from medical and health sector legislator David Lam Tzit-yuen and Heung Yee Kuk legislative representative Kenneth Lau Ip-keung.

Wong Kam-fai, also vice chairman of Hong Kong Alliance of Technology and Innovation, submitted his nomination accompanied by National People's Congress deputy Herman Hu Shao-ming, Legislative Council technology and innovation sector representative Duncan Chiu and his Election Committee counterpart Stephen Wong Yuen-shan.

Wong remarked that since IT veteran Sun Dong left Legco to become secretary for innovation, technology and industry the council has been in need of technology experts, and so he believes he is a solid candidate.

"My profession is to make judgments based on data," he said, "and I hope to make policies in a scientific way."

The Registration and Electoral Office confirmed the returning office had received two applications and noted the nomination period ends on Monday.