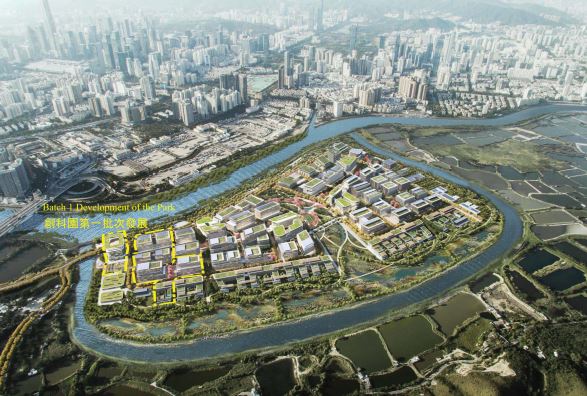 First buildings in Lok Ma Chau Loop tech park to finish in 2024
The first batch of eight buildings in Hong Kong-Shenzhen Innovation and Technology Park are expected to be completed by the end of 2024, acting secretary for innovation and technology David Chung Wai-keung said.
Speaking in a forum on Northern Metropolis on Monday, Chung said an InnoLife Healthtech Hub will be established at the park in the Lok Ma Chau Loop.

The hub will specialize in research and development in biomedicine, chemistry, physics, engineering and artificial intelligence, which will be applied to the aspects of disease prevention, diagnosis, tracing, medication, miniature robots for surgeries, as well as advanced treatment and rehabilitation.

"Hong Kong will continue to improve the ecological circle for IT development and join hands with Shenzhen and the Greater Bay Area in mulling policies to facilitate cross-boundary flow of talents and capital," he said.

"Construction at the Hong Kong-Shenzhen Innovation and Technology Park is being conducted in full speed and we expect the first batch of eight blocks will be commissioned in phases towards the end of 2024."

Chung said the Northern Metropolis mega development plan, raised by Chief Executive Carrie Lam Cheng Yuet-ngor in her Policy Address last month, including merging part of the IT Park with San Tin in Lok Ma Chau to form a 240-hectare San Tin IT City extending the park's overall size to 540 hectares.

He said the IT City will become an office-residence community for IT talents at the IT Park.

Speaking in the same forum, the government's strategic planning advisor for Hong Kong and Shenzhen cooperation Ling Kar-kan said population in the city's northern part will increase by 2.5 fold to over 2.5 million from the current 960,000 and jobs will increase by 6.5 fold from the current 110,000 when the Northern Metropolis comes true.

Describing the change as a "huge change to the imbalanced development in the north and south," Ling said: "We don't even have one university, one big hospital or an attractive cultural and recreational facility in the areas that will become the Northern Metropolis in the future."

"When we review what kind of public facilities to add to the Northern Metropolis in the future, we will think from a scale of a metropolis," he said.

Ling said the Northern Link expected to commence service around 2034 will be able to alleviate heavy patronage in East Rail and the Tuen Ma Line. The link will also become a key one in the SAR as it will be extended to the Lok Ma Chau Loop and the new Huanggang Port with co-location arrangements.

The link will come with an eastern extension to Lo Wu South, Man Kam To and Heung Yuen Wai.