Three office towers are part of large-scale 11 Skies commercial project run by K11 group, with firm hoping to launch additional facilities from next year.
Three newly constructed prime office buildings that form part of a large-scale commercial project near the Hong Kong International Airport are expected to achieve an occupancy rate of 65 per cent by the end of this year.

The three seven-storey, grade-A office towers of the 11 Skies project are operated by K11 Group, a unit responsible for project management at New World Group which was awarded the contract for the development and management in 2018, and have a gross floor area of 570,000 sq ft, with unit sizes ranging from 1,696 to 33,868 sq ft.

A representative for K11 on Tuesday said the firm believed customer interest in the project would increase because of recent discussions by the government with their counterparts in mainland China over a full border reopening and the launch of the "3+4" travel plan, which reduced Hong Kong's hotel quarantine period to three days, with an additional four under medical surveillance.

"The market has a positive response to the project," the representative said. "It will become a one-stop professional service hub for mainland and international customers."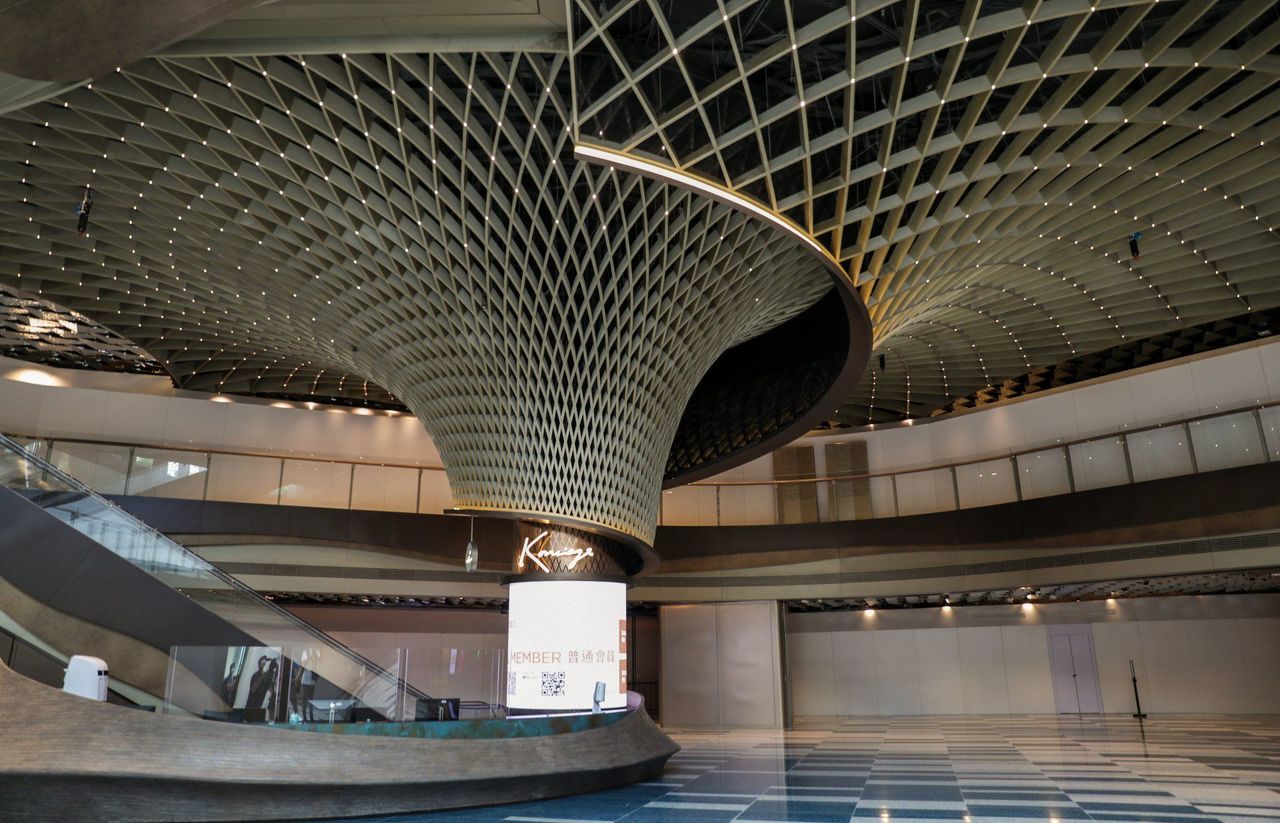 An interior view of one of the three office buildings forming the 11 Skies complex.

Located close to the city's airport and the Hong Kong-Zhuhai-Macau Bridge, the office towers have been marketed to wealth management and medical services companies, as well as cross-border business operations.

The buildings also feature 14 multipurpose stores which provide retail and back office spaces, which cover a total area of 200,000 sq ft. Tenants have already agreed to rent the spaces and are set to move in during the next quarter of this year.

More than 20 international and regional firms will lease office spaces there, including Bank of China's Hong Kong branch, Citibank, Standard Chartered, Trinity Health Enterprise and EC Healthcare.

The 3.8 million sq ft project, which is valued at HK$20 billion (US$2.55 billion), is set to launch several entertainment facilities in 2023, while a shopping centre outfitted with over 800 retail spaces and 120 dining options will open in phases from 2024.

Travellers from the Greater Bay Area would be able to reach the complex in up to 90 minutes by car, while the centre would also connect to the border checkpoint at Hong Kong-Zhuhai-Macau Bridge in 2024 via an autonomous transport system operated by the city's Airport Authority, a K11 representative said.

The Greater Bay Area is an ambitious initiative by Beijing to link Hong Kong, Macau and nine cities in Guangdong province into an integrated economic and business hub.

Visitors would also be able to travel by footbridge between the complex and the second terminal of the airport, the company added, while the six-minute walk from the railway station at the AsiaWorld-Expo would help attract local customers to shop and dine at the complex.

The operator said residents from West New Territories could reach 11 Skies in 30 minutes by car through the Tuen Mun-Chek Lap Kok Link, a sub-sea tunnel that connects the northwest New Territories to Lantau Island.

In addition to its own public transport terminal, the complex would provide almost 3,000 parking spaces, K11 said.