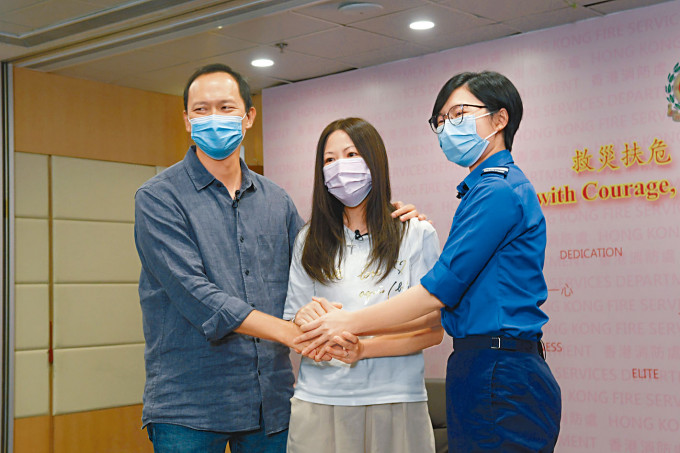 Firefighter helped save man's life by giving instructions on phone
A woman saved her husband's life by performing cardiopulmonary resuscitation according to instructions given by a firefighter on the phone.
She broke down in tears as thanked the firefighter in person recently.

The woman, surnamed Fung, was woken by her daughter at 4am sometime last November. The daughter said the father was "snoring" loudly.

But when the woman went check on her husband, she found that the man had vomited foam and showed the whites of his eyes.

She immediately called 999, and got her call diverted to firemen.

Firefighter Leung Suet-yee sent an ambulance to the family, and instructed Mrs Fung to perform resuscitation before ambulancemen arrived.

At that time, the man already lost consciousness and stopped breathing.

"I didn't even know where the heart is," Mrs Fung recalled. But she had no choice but to try her best, seeing her husband's face darkened and his body becoming more rigid.

"I kept pumping his chest and he vomited. I wanted to give up, but I knew I must keep going in order to save my husband," she recalled.

After she spent three minutes on resuscitation, firemen arrived and took over.

Doctors said the man suffered from hereditary heart disease and his heart had stopped beating for at least 20 minutes.

But he managed to wake up after spending four days in the intensive care unit. He has since fully recovered, thanks to his wife saving his life.

"When I hold my husband's hands and they are warm, I feel so blessed. I will treasure the time I spend with family," she said.

The husband thanked his wife and the firefighter for saving him.

He hoped citizens will not hang up on the phone immediately after calling 999, but to follow instructions and perform first aid on those who need it.