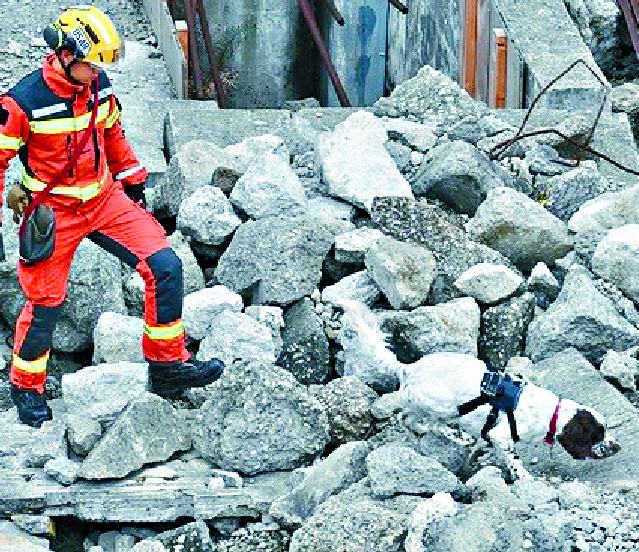 Fire services aims to breed more rescue-dog heroes
More rescue dogs will be bred to add to the current team of six after one of them performed outstandingly in the Turkey quake search mission in February, the Fire Services Department says.
The FSD now has six rescue dogs, and four others were raised and trained outside Hong Kong.

One of the two locally bred dogs, Umi, joined the rescue in Turkey and rescued four people together with its teammate, Twix.

Umi's handler, Chan Chu-hong, said Umi is perfect as a search and rescue dog.

Both of them were bred in 2021 through the joint efforts of the FSD and the Customs and Excise Department.

Authorities believe in-house breeding can better meet their training needs.

"The puppies received basic training and socialization training in a game-based mode at around two months old to help them develop a brave and friendly character. They could also adapt to the weather and terrain of Hong Kong," Chan said.

The department hoped to breed a new generation to help the people of Hong Kong. Chan said locally bred dogs could better serve training. Umi's experience in Turkey had contributed.

"We can now better simulate the environment of a quake-struck area when doing training. The training field will be designed with the smells of food, people's clothing and heavy machinery, and there will even be fire," Chan said.

"Canines will be more concentrated on searching if we impose such distractions in training," Chan added.

Another task for FSD rescue dogs is mountain searching. The number of mountain rescues has increased from 242 in 2018 to 1,014 in 2022.

In July last year, Umi and locally bred sibling Uma were deployed to search for a missing hiker on a mountain in Clear Water Bay. They also conducted searches after a No 3 alarm fire broke out in a warehouse in Fan Ling last August.

In the past, search and rescue dogs would make large-scale searches to detect human scents, but it was energy consuming due to the absence of a specific target scent.

Now the department has amended its strategy to train canines to target a specific scent.

"During actual rescue operations, we visit the missing people's home and collect their scents, such as those from pillowcases, shoes or clothing for the dogs to track," Chan said.