Private expenditure experienced a 1½-year contraction but continues to improve since the beginning of 2021, financial secretary says.
Hong Kong's finance chief expects the city's HK$5,000 electronic voucher scheme, which closed for registrations on Saturday, to further stimulate private consumption growth and boost the economy.

Financial Secretary Paul Chan Mo-po on Sunday said private consumption expenditure had experienced a 1½-year contraction but continued to improve since the beginning of 2021.

"After an increase of 2.1 per cent in the first quarter, it further increased by 6.8 per cent in the last quarter. As the effect of the consumer coupons began in August, it is believed the scheme will further stimulate the growth of private consumption," Chan wrote on his official blog.

As of Saturday evening, 6.92 million out of an eligible 7.2 million people had registered for the consumption vouchers, with the government releasing the first HK$2,000 (US$257) handout to about 75 per cent of applicants from August 1. The HK$36 billion (US$4.63 billion) scheme is designed to boost local spending and accelerate the city's economic recovery amid the Covid-19 pandemic.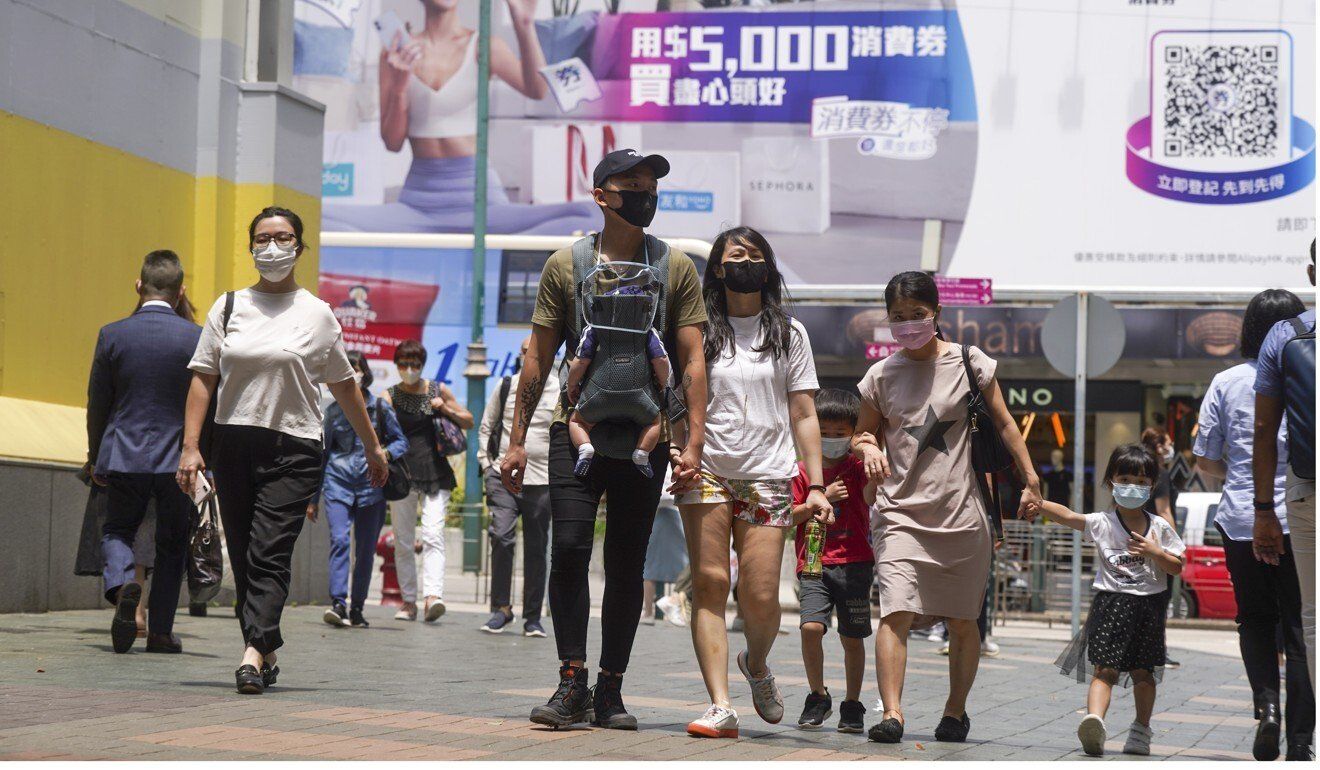 Handouts under the e-voucher scheme started on August 1.

Chan said the jobs market and unemployment rate would improve as private consumption increased given one-third of workers were engaged in the retail, catering, tourism, logistics and transport industries, which were closely associated with the consumer market.

He forecast the unemployment rate to further fall from the current 5.5 per cent and expected the economy to improve even more.

Taking into account the strong economic performance in the first half, Chan said, the annual growth forecast for the year had been revised up from 3.5-5.5 per cent, to between 5.5 per cent and 6.5 per cent.

"We believe the economy should continue to have room for improvement in the second half of the year, but momentum will also depend on the local and global pandemic prevention and control situation in the next few months," he said.

Meanwhile, with the registration period for the e-vouchers now closed, the government reminded residents choosing to upload a copy of their Hong Kong identity card for authentication purposes to complete the procedure by Monday.

Some applications submitted could not be processed as residents supplied inaccurate or incomplete information.

Those who wish to resubmit their applications may do so by handing in completed paper forms with a copy of their ID card to the Consumption Voucher Scheme Secretariat at 17/F, Pioneer Centre, 750 Nathan Road, Mong Kok, Kowloon, on or before August 31. Submissions can be done in person or entrusted to someone else.