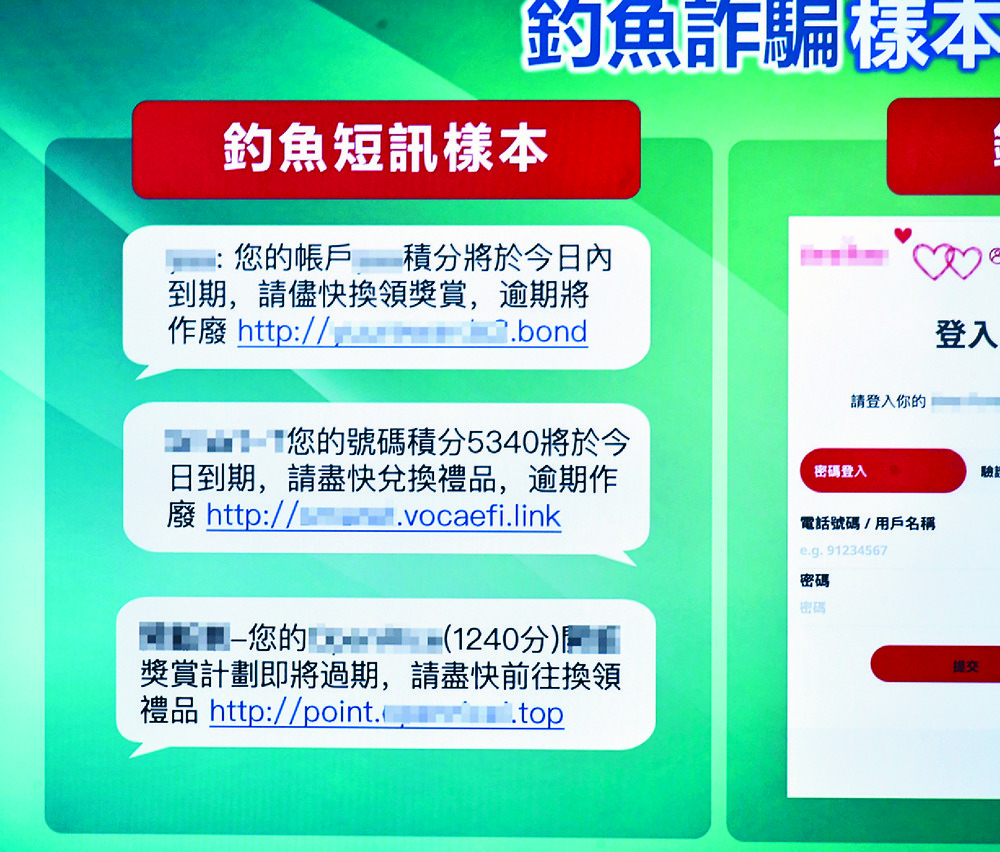 Fightback clicks as phishing scams mount
Police recorded 1,408 phishing scams involving losses of HK$26.1 million in the first three months of this year, with three quarters of fraudsters disguising themselves as telecom service providers.
Among victims, a 65-year-old male accountant lost HK$700,000 - most of his life savings - after clicking into a phishing website to redeem prizes.

Another victim lost HK$24,000 after an SMS told her that points in her reward program account were soon to expire. She entered credit card details on a form only to find her card was used on a Korean online platform.

The ages of victims ranged from 18 to 78, with around 25 percent of them from 51 to 60.

"Scammers target psychological weaknesses and fear of victims through emphasizing discounts or irregular activities of bank accounts using SMS," said Lester Ip Cheuk-yu, a chief inspector in the cyber security and technology crime bureau.

A common phishing method is to send shortened URL links of websites through phone messages or third-party instant messaging apps.

Once victims click on websites a malicious software is implanted in their mobile devices. Bank account information can then be stolen.

"Fraudsters are changing their methods according to our daily lives and habits," said Baron Chan Shun-ching, an acting senior superintendent in the bureau.

"Victims input their personal and bank account information after clicking into phishing sites," he said, so people need "to raise their alertness when encountering suspicious phone messages."

Phishing messages disguised as HKeToll, a smart mobility initiative for drivers to pay tolls remotely that was launched on May 7, were discovered in April.

The messages were that pay tolls had not been received - a claim meant to lure recipients into providing credit card numbers.

"Apart from local scammers a lot of victims received messages sent from abroad," Chan added. "The police are working on blocking overseas phishing messages."

Chan added that overseas cases are difficult to tackle due to cross-jurisdiction situations.

Additionally, victims usually realize they have been scammed weeks or months after falling into phishing traps.

To increase awareness about phishing police are pushing through public education, setting up search engines and collaborating with the telecom industry to block URL links and phone numbers.

So far the force and the Office of the Communications Authority have blocked access to over 30,000 suspicious URL links.

Scameter, a police anti-fraud search engine, allows people to identify and prevent online fraud by indicating the risk of fraud of suspicious calls, bank account numbers, emails and websites.

The force is now mulling over whether to set up a system to alert citizens when a bank account is related to scammers.

The Office of the Communications Authority will also introduce a trial SMS registration system by year's end.

Meanwhile, 34 people who were responsible for HK$3.6 million of losses in five large-scale operations in the first quarter of this year have been arrested.