Overwhelming percentage of principals also worry about the practicality of the screening rule, survey by Hong Kong Association of the Heads of Secondary Schools finds.
Only nine out of nearly 340 Hong Kong secondary schools polled in a survey intend to resume full in-person classes after the Lunar New Year holiday by meeting a government condition that all staff be regularly tested for the coronavirus.

The poll by the Hong Kong Association of the Heads of Secondary Schools, released on Tuesday, also found nearly 90 per cent of principals were concerned about the practicality of the screening.

Survey results released by the Professional Teachers' Union last week flagged up similar concerns, with about 90 per cent of about 12,000 educators polled saying the Education Bureau's plan was unreasonable and would prove ineffective in containing the virus.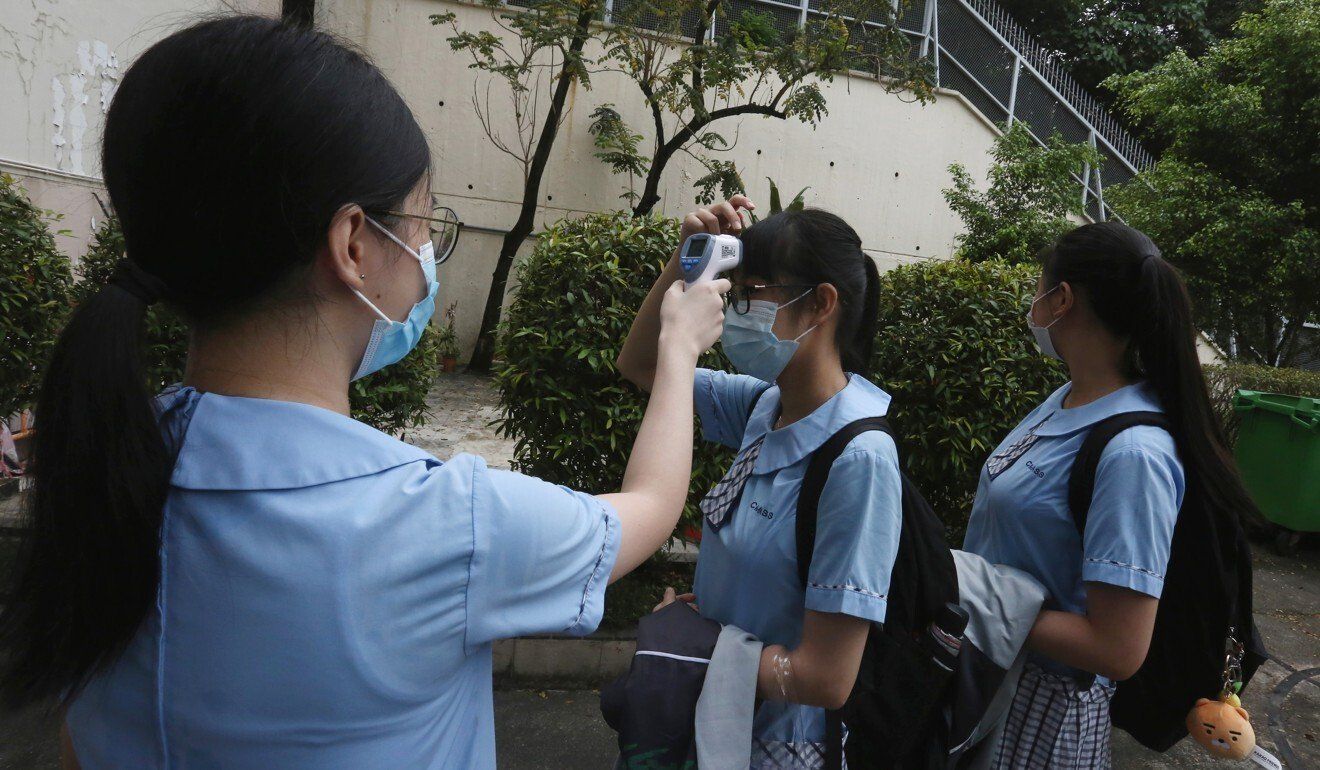 Secondary school students have their temperatures checked before entering campus.

The education minister has defended the scheme, arguing it is simply an option for schools seeking to resume full classes, while city leader Carrie Lam Cheng Yuet-ngor has hinted the government might relax social-distancing measures to allow more pupils to return to school after the holiday.

The bureau announced last week that schools would be allowed to bring up to a third of their student body back to the classroom after the festivities, but all staff would have to undergo Covid-19 tests every two weeks in order for every pupil to return.

Most pupils have been doing their lessons online since early December, owing to social-distancing rules, with only small groups – no more than a sixth of a school's student body – allowed to return to campuses for tests or classes from last month. But many educators argue the screening rule places an unfair burden on the schools.

The poll conducted by the secondary school heads association between Saturday and Monday found 94 per cent of the 338 schools planned to only bring back up to one-third of students after the coming holiday. The number of respondents accounted for nearly 90 per cent of the group's 378 members or two-thirds of the 500 secondary schools in the city.

It found 89 per cent of principals questioned the feasibility of screening all staff members every two weeks, while about 85 per cent raised concerns over the legal basis of asking teachers to get tested. Some 82 per cent believed parents, teachers and management held conflicting views on the issue.

A quarter of school heads said they would consult their teachers on the bureau's plans for regular testing, while 34 per cent of schools said they had no plans to do so, and another 41 per cent said they had not yet made a decision.

"We regret that the Education Bureau has insisted it goes ahead with its suggested testing plans," said Michael Wong Wai-yu, the association's honorary executive secretary. "The local pandemic situation is still fluctuating and even with 100 per cent of teachers tested, it might just give a false sense of safety."

Wong also asked whether the testing plan had backing from health experts and warned it would add to the administrative burden schools faced, especially in relation to part-time teachers responsible for extracurricular activities.

More than 130 pupils and teachers at Shau Kei Wan Government Secondary School were sent into quarantine on Monday after two Form Six students tested positive. Both had sat an exam in the same school hall earlier this month.

Wong said the incident showed contagion risks continued to challenge the community and the city might not be ready to fully resume classes.

Cheung Yung-pong, the honorary chairman of the Aided Primary School Heads Association, told the Post some primary school principals were also lukewarm towards the regular testing plan.

"Among the principal representatives from the 18 districts [in Hong Kong] of our association, so far none has said they would be participating in the testing plans [for full class resumption]," he said.

Cheung, principal of SKH St James' Primary School, said his school had no plans yet to screen all staff and would only bring back Primary Six pupils – or a sixth of its student population – on the week after the Lunar New Year holiday ended on February 22.

But he agreed the bureau's plan offered an option for schools to return to normal teaching, particularly those that charged fees such as international and private schools, as well as some kindergartens.

Secretary for Education Kevin Yeung Yun-hung on Tuesday again rejected the schools' concerns and hoped teachers and principals would not feel any pressure.

"If all staff at a school are willing to undergo regular virus tests, it could further reduce health risks at schools," Yeung said. "Under this circumstance, more pupils can be allowed to return to campus. This is just an option and we are not requiring schools to do so."

Pandemic-prevention guidelines would be updated soon to require pupils inform their schools if they lived in buildings issued with a compulsory testing order, he said. They would not be allowed to return to campus until they produced a negative test result.