Of the 829 young patients studied, only 34 per cent received CPR while less than 7 per cent had help with AED.
Patients aged 40 and under in Hong Kong who suffer cardiac arrests outside hospitals are almost 10 times more likely to survive if emergency first aid procedures are applied promptly, researchers have found, but very few receive such help.

Among 829 cases involving young patients, only 34 per cent received cardiopulmonary resuscitation (CPR), while just 6.8 per cent were assisted with an automated external defibrillator (AED). Only 4 per cent lived.

The findings, revealed on Wednesday, are part of the city's first large-scale analysis of patients who suffered cardiac arrests outside hospitals. Polytechnic University researchers studied a total of 22,014 such cases gathered between December 2017 and December 2020.

The research, commissioned by the SADS HK Foundation, which supports patients with sudden arrhythmia death syndrome, also found that just 1.8 per cent of all cases survived and were discharged from hospital.

This survival rate was "extremely low" when compared with Asian countries such as Japan and South Korea, said Dr Axel Siu Yuet-chung, a specialist in emergency medicine, adding that the low application rate of CPR and AED was the main reason.

"Unfortunately, when someone faints on the street, most people may only call 999 or stand aside and film the scene with their phones instead of rescuing the person," he said.

"The golden opportunity to save the individual will be lost as brain cells will begin to die after four minutes of cardiac arrest."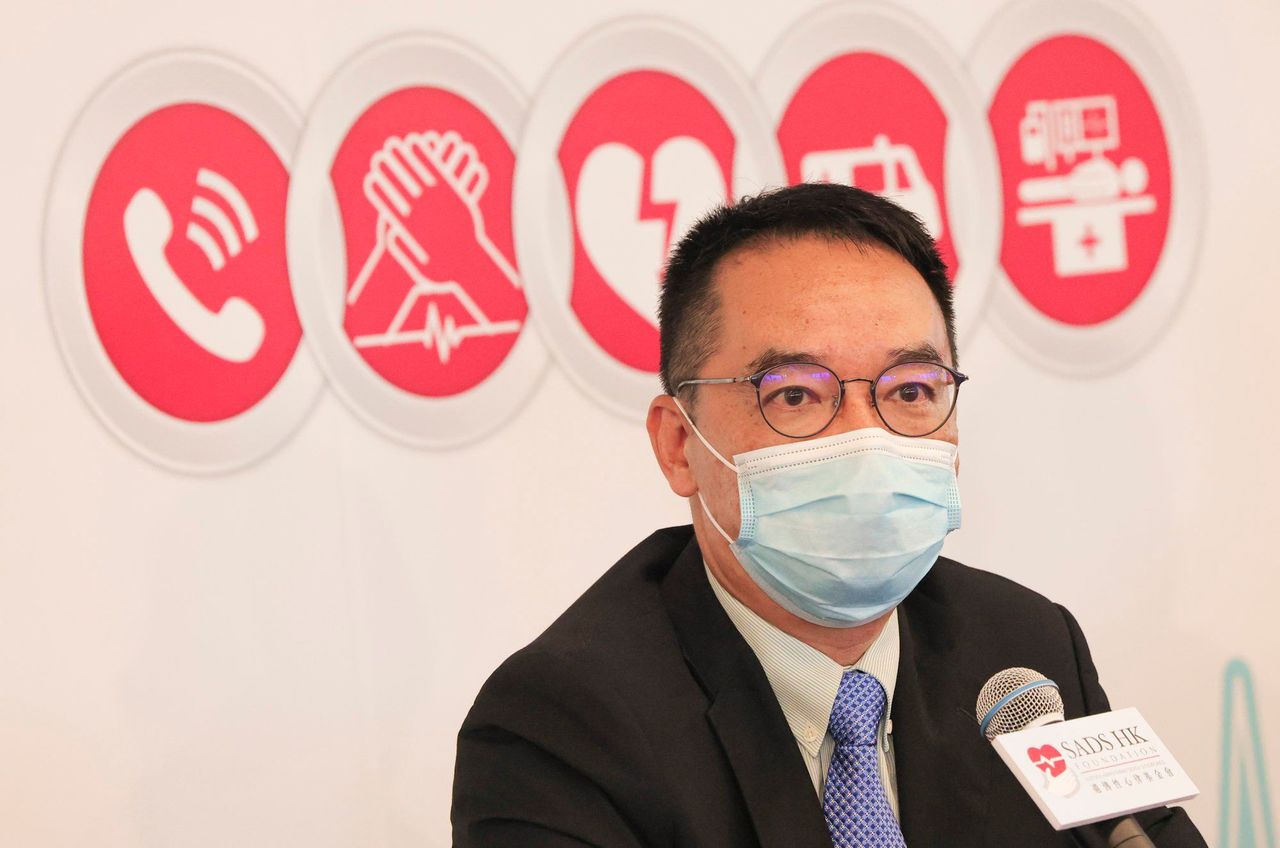 Dr Axel Siu Yuet-chung, a specialist in emergency medicine.

He noted that without the aid of CPR or AED, patients who suffered cardiac arrests outside hospitals would see their survival rate plummet by as much as 7 to 10 per cent every minute.

Conversely, applying these emergency aids could markedly improve their chances of living.

The study showed that for patients aged 40 and under, survival rates upon arrival at the hospital would go from 14.6 per cent and 15.8 per cent without emergency measures to 24.8 per cent and 44.6 per cent respectively if CPR or AED were applied.

Their chances of recovering and getting discharged would also increase, from 1.6 per cent and 2.7 per cent to 9.2 per cent and 25 per cent respectively.

"When the patient's heart stops, there will be no blood going to the heart and the brain. With CPR, we can act as an artificial pump by using our hand to pump the blood to the heart and the brain so that we can maintain the survival of these organs," Siu said, adding that CPR alone could reduce death rates by 4 to 5 per cent per minute.

"The use of AED is like rebooting a computer so that the [heart's] rhythm can be organised again. With the organised electrical rhythm, [the heart] can pump again."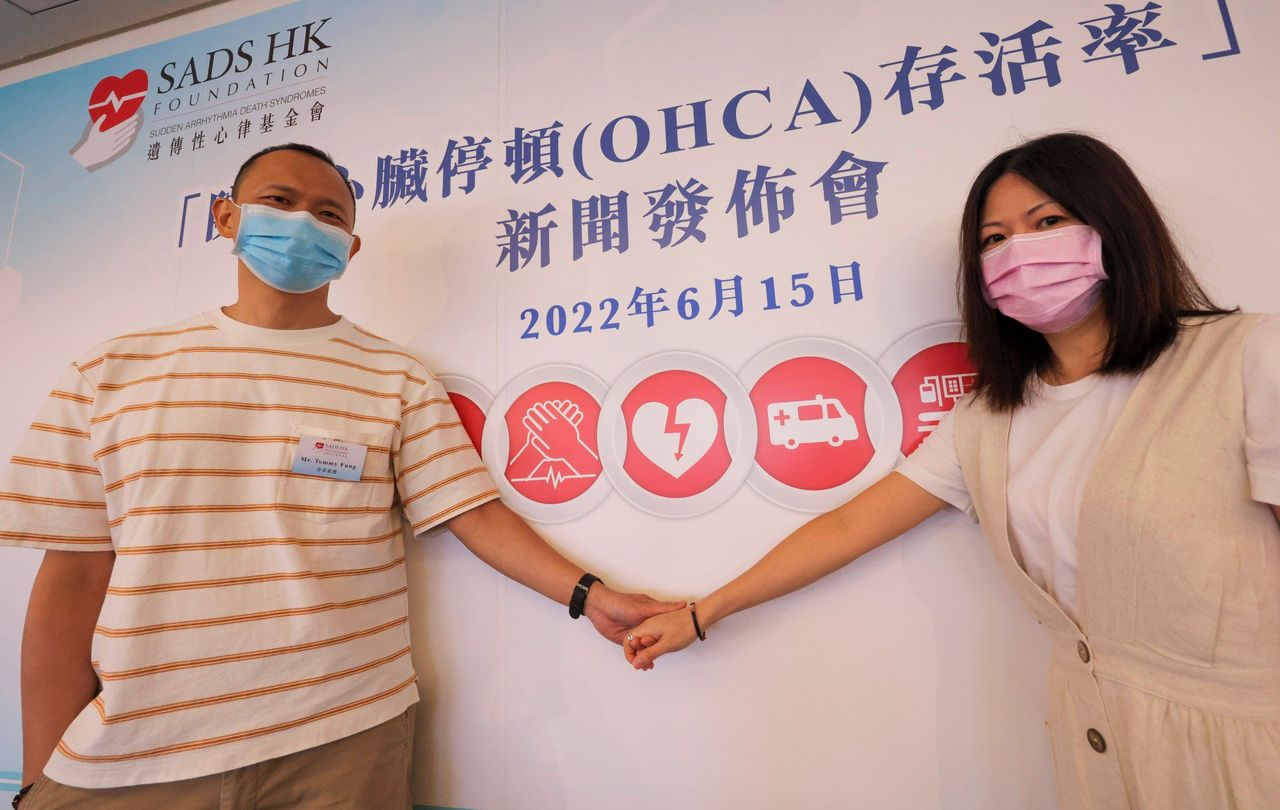 Tommy Fung Sze-Chit (left), a patient who suffered a cardiac arrest outside hospital, and his wife Tamey Lui Man-yee.

Tommy Fung Sze-chit, a 46-year-old IT worker, suffered a cardiac arrest two years ago in his sleep. By the time his wife realised what had happened, he was already foaming at the mouth and his heart had stopped beating.

His life was saved after the emergency call handler taught his wife to perform CPR on him before the ambulance arrived. By the time he arrived at the hospital, he had not been breathing spontaneously for more than 20 minutes.

"I am extremely lucky that I do not suffer from any after effects," he said. "Many doctors had told me the CPR performed at the scene was the turning point."

Siu suggested that authorities could include the teaching of CPR and usage of AEDs in the mandatory curriculum in schools, install more AEDs around the city, identify the locations of all AEDs by building a registration system and develop a mobile app that showed AEDs' locations.

"We really hope that CPR can be performed or AEDs used on patients as soon as possible. It may have a great impact on patients' families," he said.