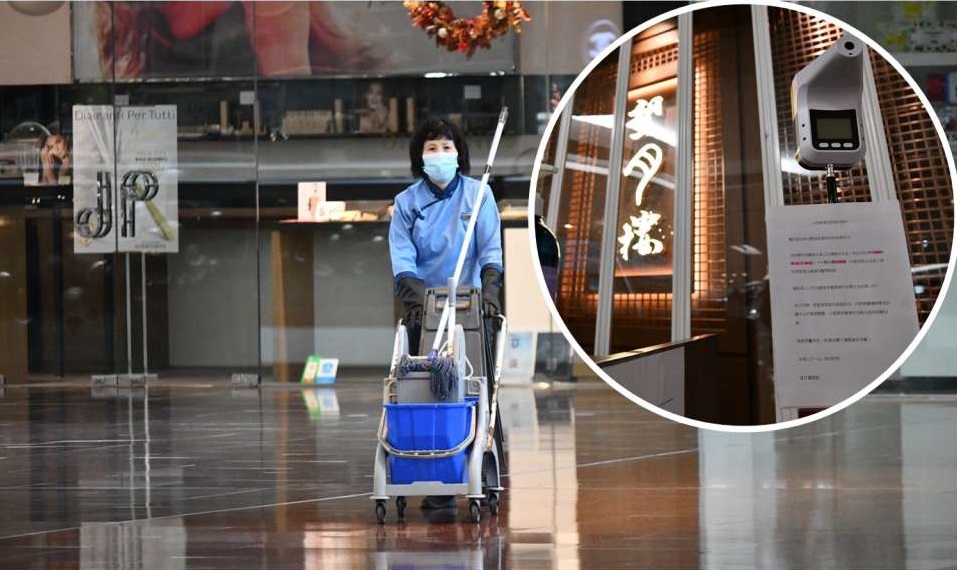 Festival Walk workers queue up for tests amid Covid fears
Dozens of people - including Festival Walk workers and visitors - queued up to get tested for the coronavirus at the shopping mall on Friday morning, after the authorities issued a compulsory testing order in connection with an Omicron case.
Staff and customers who were in the Kowloon Tong mall on Monday afternoon must take a test by Saturday after a Cathay Pacific employee who dined at Moon Palace restaurant there was found to have the highly contagious variant.

In the queue for tests was a restaurant staff, who said he was there to get tested given the Omicron variant is highly contagious, worrying he could have also contracted the virus.

Also in line is an office worker whose office is located in the same building as the mall, saying she was not worried as she maintained good personal hygiene.

Moon Palace remained closed for disinfection on Friday, but the Apple store, where the aircrew member also visited, was open for business.

Meanwhile, in view of the infection, the city's health experts suggested that Hong Kong has been hit by an Omicron outbreak, warning the territory must now brace itself for a "super-spreading" event.

Speaking on a radio program on Friday, government pandemic expert David Hui Shu-cheong and respiratory medicine expert Leung Chi-chiu both said it is highly likely that the construction worker's infection occurred at the restaurant.

Hui said according to his understanding, the man was sitting a few tables away from the aircrew worker, on the afternoon of December 27.

"There is surely a local transmission in the Moon Palace [restaurant]... We have to see if there are other diners who got infected," he said.

Leung also said he believed there had likely been an Omicron outbreak at the restaurant, warning that more people could come down with the virus.

"For this episode we have quite a lot of number of people exposed to a potential dangerous mode of super-spreading event airborne transmission. And the other imported cases, some of them have been going to bars and they may also have taken public transport. All these are likely to generate a super-spreading event," he said.

"If we have two super-spreading events affecting quite a number of persons at the same time, then the fifth wave will surely come," he added.

Asked if New Year celebrations, such as the Tourism Board's New Year's Eve countdown concert, should be canceled in light of the Omicron fears, Leung said people should at least be cautious.

"Up to this stage, we are still having a proven outbreak in a single setting. It could be difficult to persuade our public to stop all the New Year celebration activities," he said.

"The one thing we need to do is take care. We try to avoid situations that involve a lot of mixing of people, especially with strangers. If we can restrict our contact with a few families we are acquainted with during the celebrations, that will minimize our chance of exposure. Even if we go to any of these major celebration events, try to avoid moving around in the venue."

Hui, meanwhile, urged people to avoid gatherings, wear their masks properly and maintain hand hygiene on New Year's Eve.