The U.S. Federal Deposit Insurance Corporation (FDIC) is preparing to place First Republic Bank (FRC.N) under receivership imminently, a person familiar with the matter said on Friday, sending shares of the lender down nearly 50% in extended trading.
The U.S. banking regulator decided the troubled regional lender's position has deteriorated and there is no more time to pursue a rescue through the private sector, the source told Reuters, requesting anonymity because the matter is confidential.

U.S. officials have coordinated urgent talks to rescue the lender in recent days as private-sector efforts led by the bank's advisers have yet to reach a deal, according to three sources familiar with the situation.

The FDIC, Treasury Department and Federal Reserve are among government bodies that have orchestrated meetings with financial companies about putting together a solution for the troubled lender, two of the sources said.

The FDIC asked banks including JPMorgan Chase & Co (JPM.N) and PNC Financial Services Group (PNC.N) to submit final bids for First Republic Bank by Sunday, Bloomberg News reported on Saturday.

The banking regulator reached out to banks late Thursday seeking indications of interest, including a proposed price and estimated cost to the agency's deposit insurance fund, the report said.

The FDIC said in an email: "We would not comment on or confirm whether we are bidding an open institution," in response to a request for comment.

PNC Financial declined to comment on the Bloomberg report. JPMorgan did not immediately respond to a voicemail and email seeking comment.

Separately, the Wall Street Journal reported on Friday that JPMorgan and PNC are vying to buy First Republic following its seizure by the government, which could come as soon as this weekend.

If the San Francisco-based lender falls into receivership, it would be the third U.S. bank to collapse since March. First Republic said this week its deposits had slumped by more than $100 billion in the first quarter.

Shares of the bank closed down 43%, worsening a stock rout that has wiped out 75% of its value this week. The stock lost more than half of its value on Friday and touched a record low of $2.99.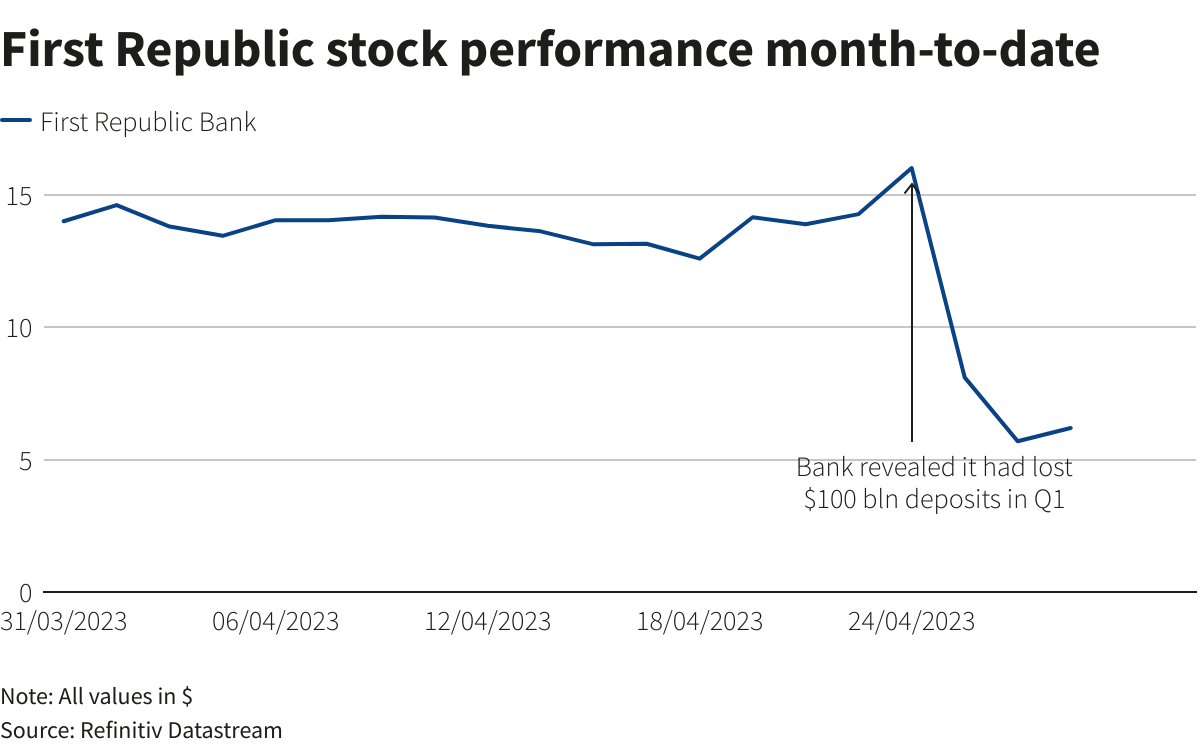 At its lowest, the bank had a market capitalization of nearly $557 million, a far cry from its peak valuation of more than $40 billion in November 2021.

Shares of some other regional banks also fell, with PacWest Bancorp (PACW.O) down 2% after the bell while Western Alliance (WAL.N) was down 0.7%.

News of the imminent move to put First Republic in receivership came the same day the Federal Reserve and FDIC detailed their supervisory lapses before deposit runs caused the collapse of Silicon Valley Bank and Signature Bank in March.

The Fed's assessment of its inadequacies in identifying problems and pushing for fixes at Santa Clara, California-based SVB came with promises for tougher supervision and stricter rules for banks.

Large banks had orchestrated an earlier lifeline for First Republic, injecting into the bank $30 billion in combined deposits from U.S. banking heavyweights, including Bank of America Corp. (BAC.N), Citigroup Inc. (C.N), JPMorgan and Wells Fargo & Co (WFC.N).

But First Republic struggled to find support from larger banks or private equity firms on its proposed move to create a so called "bad bank" or sell assets such as securities and its mortgage book.

The large banks who placed the deposits either declined to comment or were not available to comment.

First Republic, which reported its first-quarter earnings on Monday, had said it plans to shrink its balance sheet and slash expenses by cutting executive compensation, paring back office space and laying off 20% to 25% of employees in the second quarter.

John Guarnera, senior corporate analyst at RBC BlueBay Asset Management, said the First Republic case is an "evolving situation."

"The rest of the regional bank system feels like it's in a different place than where FRC is," he said.